COP26 art installation created by students goes on display in Edinburgh Church
Published on 8 November 2021
An art installation, created by high school pupils and themed on the environmental crisis, was unveiled during yesterday's Sunday service at a Church of Scotland in Edinburgh.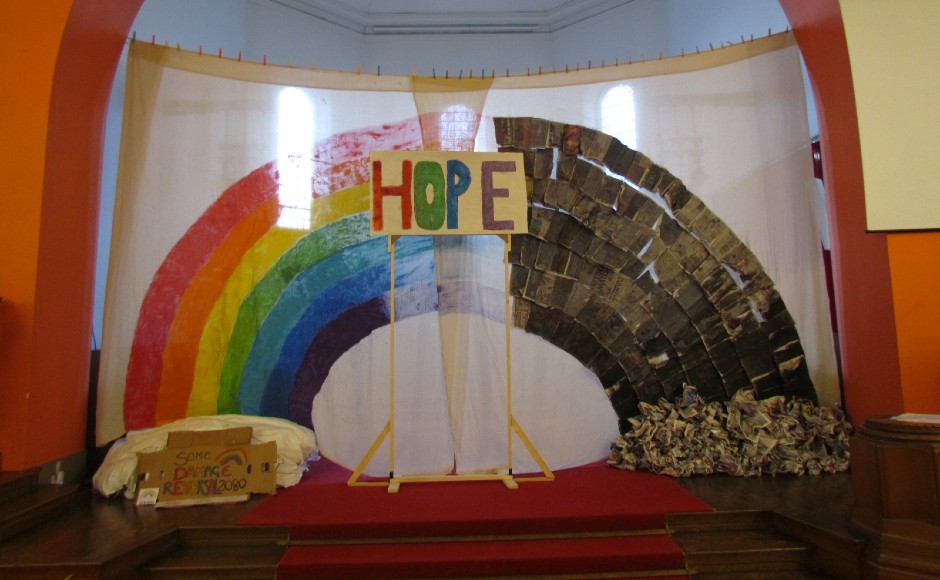 Five students from Holyrood High, a Catholic school in the east of the city, have worked in partnership with Richmond Craigmillar Parish Church over the last few weeks to create the work.
They have been doing it as part of the school's 'caritas' or charity outreach and the exhibition will be open to the public during COP26.
For the ambitious piece, the church space has been divided and two separate futures post-COP26 have been imagined.
These alternative timelines lead up to the sanctuary which has been covered with large curtains.
Participates are invited to walk the path and discover what lies beyond the veil.
Zoe Divito, one of the students, said: "As a result of this project we feel very strongly about raising awareness about COP26 to the wider community."
Hannah Lovie, who also helped to make the installation and whose great-aunt is a much-loved member of the church, said: "We are very grateful that we have had this opportunity as it's our future that's at stake."
The project co-ordinator Mark Birkett said: "We are at a crossroads.
"We can choose to continue down a path that will lead to destruction and suffering for ourselves and for others, or we can choose to begin walking down a new path of renewal and hope.
"We invite you to a pilgrimage where you will experience both possible futures, all the time getting closer to the mystery that resides in the sanctuary.
"One of the great difficulties we face is imagining a different world.
"I hope the art installation can, in a small way, aid in this process of spiritual revival."
Speaking about the display, Rev Liz Henderson, who is the minister of Richmond's Craigmillar, said: "The church looks amazing.
"It's wonderful how everyone around the church has got involved.
"Mark and the team have created a display that looks at climate change for a spiritual perspective."
Visitors can view the exhibition daily from 9am to 1:30pm, Tuesday 9 - Friday 12 November (these are the church cafe opening hours). Enter from Richmond Cafe.
If you are inspired by the work of Richmond Craigmillar church and would like to support the work they do you can donate via the button below. You can now donate to any of our churches through our website or you can choose to donate to the national church funds. Your money will be used to further our charitable activities and support our missional work.