Church of Scotland members and ministers sing up a storm with Noah sea shanty
Published on 11 February 2021
A group of Church of Scotland ministers, elders and members have taken inspiration from the recent maritime musical trend sweeping the nation and swapped sermons for sea shanties - with their own nautical number telling the story of Noah.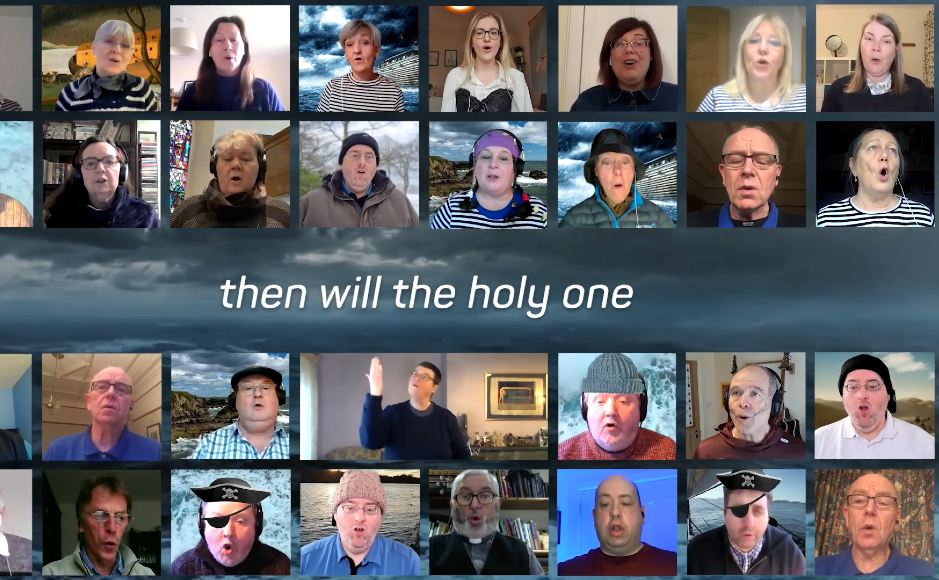 The catchy song is based on the traditional tune 'Wellerman', which was made famous by former postman Nathan Evans performing it on the social media platform TikTok.
Written by Rev Peter Johnston, of Ferryhill Parish Church in Aberdeen, and arranged by organist Kevin Haggart, the song is designed to tie in with worship planned for Sunday 21 February, with the hope that the lively format will encourage people to engage with the Bible.
Mr Johnston said: "With sea shanties becoming all of the rage over the last few weeks, I was on leave and my daughter had been listening to loads at the moment. It then popped into my mind to write a sea shanty for the story of Noah.
"Those taking part are scattered from all over - from the North East, to Ayrshire, Lanarkshire and everywhere in between. There was only a week to get submissions in so it was a tight turnaround for all the different parts," he said.
"We provided a backing audio file for each part - each of the voices had its own guide track. Then folk would listen to that whilst filming themselves singing and I put it all together in an audio mix.
"Each individual person did their own thing in their own area and then sent the file in.
"It's been produced ahead of time so if congregations would like to use it in their online worship they can.
"We're focussing on the end of the story of Noah - the Covenant sealed by the rainbow, which is the positive part of what is quite a dark story.
"I was wanting to tell the story in a way that didn't shy away from the darker elements of it but was also joyous at the same time and gives us a hopeful resolution to it.
"If it helps people to get into the story, that's great."
One of those taking part is Rev Mary Whitaker, who is the minister for St John's Deaf congregation in Aberdeen, and regularly takes part in signing songs produced by Ferryhill Parish Church.
The song has been recorded to accompany material created by Spill the Beans, a quarterly publication of resources edited by Mr Johnston and produced by people in Scotland to support churches in their worship.
A copy of the lyrics and a downloadable version of the video for use in worship is available on the Ferryhill Parish Church website.