Chaplain to the Queen takes up "daring" new role to transform the Church
Published on 27 September 2021
A former Moderator of the General Assembly is taking up a new role which is set to "revolutionise" the Church of Scotland in Berwickshire.
Rev Dr Susan Brown has been appointed as a Worship Advisor within the Presbytery of Duns and will help congregations continue to thrive without a parish minister of their own.
She will spend four days a week supporting people in preparing and delivering worship and one day serving as the new minister of Greenlaw Parish Church.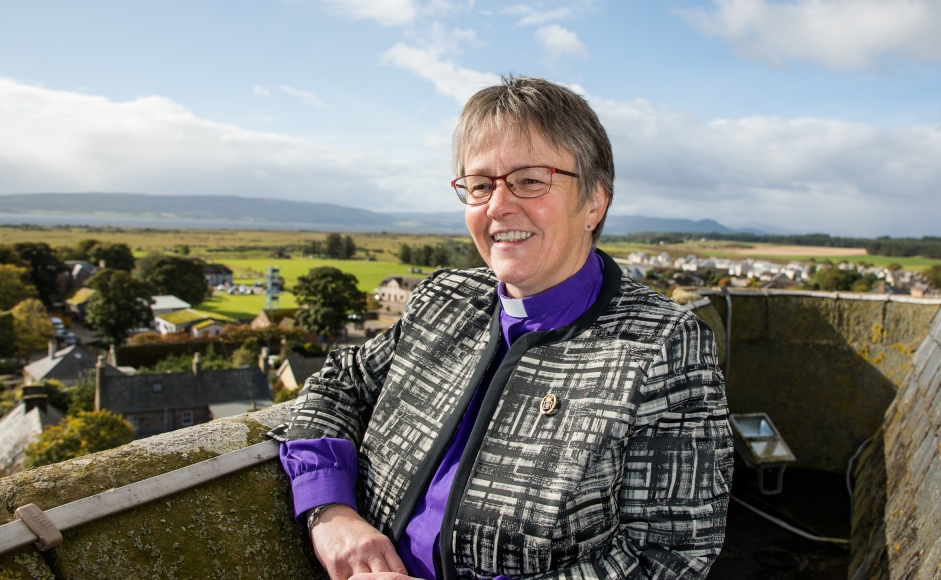 Dr Brown, who was Moderator in 2018-19 and is a Chaplain to Her Majesty the Queen, will be introduced into her new hybrid role on Thursday evening.
"It is great to see a little presbytery grappling with the challenges of ministry in a very rural area and daring to come up with such a creative way of helping communities to be living, serving and inspiring places that are passionate about God and the Gospel," she said.
"Berwickshire has a long Christian history and we look forward to continuing and building on that great legacy."
Revolutionary progress
Rev Dr Dane Sherrard, clerk to the Presbytery of Duns, said the appointment of Dr Brown, convener of the Church of Scotland's Faith Impact Forum, heralded the start of a new era.
"We are absolutely delighted to be welcoming Susan to our presbytery," he said.
"It is a tough challenge that she is accepting but it is one which can start to revolutionise the way that we worship God in Berwickshire.
"Over the years, the number of ministers serving our parishes has dropped until now we are faced with a future of only four full-time ministries in the whole of our county, including Berwick-upon-Tweed.
"But we have twenty-three places of worship and several very enthusiastic congregations which will not be able to have a minister of their own.
"We drew up a plan – and it's not universally agreed as yet – as to how we might be able to support congregations in the future."
Dr Sherrard said it is proposed that each of the other three full-time ministers, who would dedicate one day a week to a specific parish and the other four days serving all the congregations within the presbytery, would have distinct functions.
He explained: "One would support congregations to develop their own pastoral care, one to help congregations develop their mission and outreach and one to support congregations in developing Christian educational programmes and outreach to schools.
"It's an ambitious vision but one which begins to seem possible with the appointment of Susan Brown who is brimming over with ideas of how to do this and we are a bit in awe of where she will lead us.
"In some ways in seems so modern and revolutionary but in other ways it is a rediscovery of the ancient idea of the priesthood of all believers.
"As others catch this vision and are inspired by Susan's leadership, we are looking to see the Church in our area begin to grow again."
Bespoke solutions
In May, the General Assembly approved a "common sense" plan to reduce the number of full-time equivalent ministry posts to 600.
Commissioners agreed a target for the Church to have no more than 60 charges vacant at any one time by the end of 2025.
The move, which comes against a backdrop of falling membership numbers and long-standing financial challenges exacerbated by the COVID-19 pandemic, was described as the most "far-reaching and difficult planning task" since the Church was reorganised in 1929.
It represents a reduction of around 200 posts but takes account of the fact that 40% of all current full-time ministers of Word and Sacrament are over the age of 60 with significant numbers, perhaps as high as 60%, projected to retire over the next 10 years.
Each presbytery is expected to make best use of the posts to develop the Church's mission, priority area churches should not be penalised and bespoke solutions to local problems will be offered.
Dr Brown has stepped down as the minister of Dornoch Cathedral in the Highlands after 23 years to take up the new challenge.
Reflecting on leaving her role, which saw her becoming the first woman to take charge of a cathedral in the UK, she said: "It has been such a privilege to be part of people's lives at the best and worst of times.
"It's hard leaving so many friends in and around the community and the county but the fresh challenge of a very different role, is one I am looking forward to.
"I am so grateful for the love, support and friendship of people over the last two decades and will carry so many warm memories with me."
Very inspiring
Morag Macaskill, depute Session Clerk of Dornoch Cathedral, said: "We are sad that our minister has left us but we are excited about the new challenges that she faces.
"Susan inherited a healthy congregation and she helped the people of Dornoch to grow in their faith.
"Her services were always very inspiring and imaginative and her work to drive Dornoch Cathedral forward was just fabulous.
"The congregation will now spend time considering what we are looking for in our next minister."
Dr Brown and will be soon joined in Greenlaw by her husband Rev Dr Derek Brown, an NHS Highland chaplain, who is retiring next month.
Carol Trotter, Session Clerk at Greenlaw Parish Church, said Dr Brown would be a "breath of fresh air" for the congregation and presbytery.
"I have met Susan a couple of times and it is a privilege that she is coming to Greenlaw because the congregation never expected to have such a high-profile minister," she added.
"We are chuffed.
"I am looking forward to her services and I envisage morning worship sometimes taking place on our village green in front of our historical town hall.
"We are all looking forward to her Introduction on Thursday night."
Greenlaw Parish Church has been without a full-time minister since Rev Tom Nicholson retired last May after 25 years in the role. Donate to Greenlaw Parish Church