All Aboard - Moderator takes the helm of canal boat and sets sail
Published on 18 October 2021
The Moderator of the General Assembly took the helm of a new canal boat part-owned by a congregation in Edinburgh.
Lord Wallace piloted the "All Aboard" down a stretch of the Union Canal on Saturday during a visit to learn more about how Polwarth Parish Church is using the vessel for community outreach work.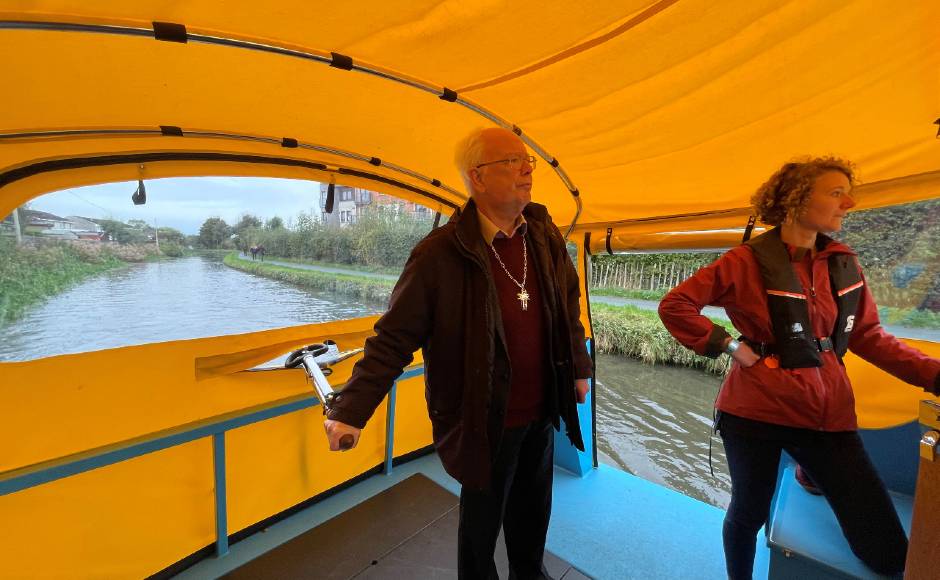 The congregation and a social innovation charity called People Know How teamed up to buy the 60-ft long bright blue and yellow wide-beam vessel for spiritual and educational pursuits.
Custom designed with a galley kitchen, toilet, and flexible social space, it is a wheelchair accessible, safe space to gather, socialise and improve wellbeing and community cohesion.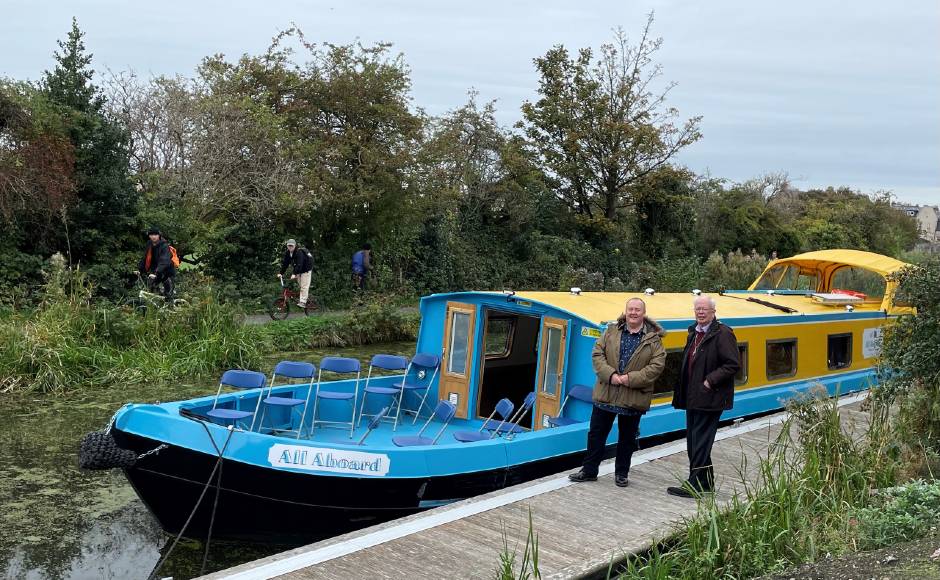 Lord Wallace said: "This is a remarkable initiative and I have thoroughly enjoyed my afternoon on the canal.
"It is a unique project and Polwarth Parish Church is taking great advantage of the fact the building is right beside the canal to provide a different form of outreach."
Lord Wallace is currently on a Presbytery of Edinburgh visit and was accompanied by his wife, Lady Wallace, Rev Jack Holt, minister of Polwarth Parish Church, his wife Sandra, local church members, Rev Michael Mair and Glenn Liddall, chief executive of People Know How.
Calming experience
More than 250 people attended the official launch of "All Aboard", which is moored outside the church, at the end of September.
A wide range of community groups connected to the congregation and charity have expressed interest in using the boat with some excursions already taking place.
A group of elderly people from nearby St Michael's Parish Church, adults with learning difficulties, those affected by homelessness and groups of refugees from Afghanistan who have settled in Edinburgh have enjoyed trips up and down the canal, which connects Edinburgh and Falkirk.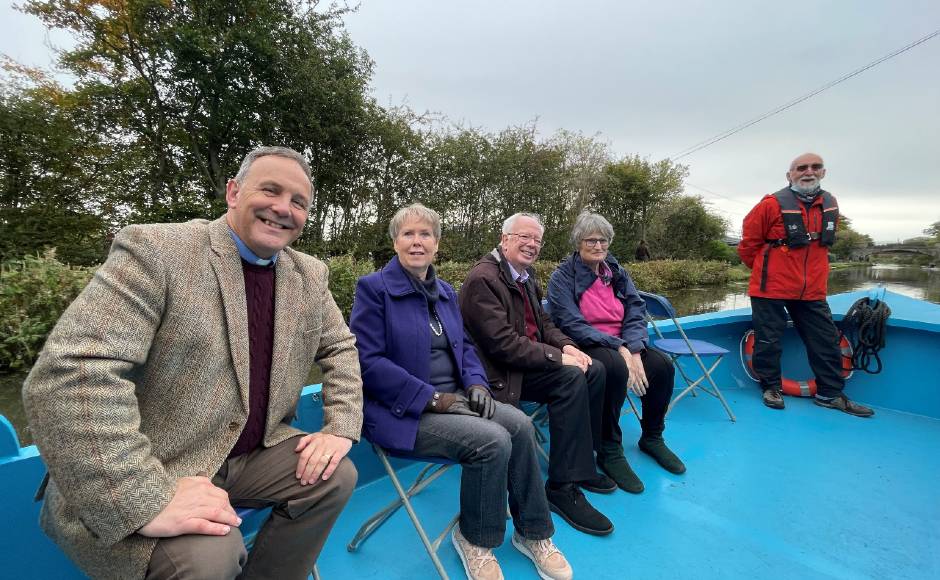 Mr Holt said: "I am delighted that the Moderator of the General Assembly was able to come aboard our new boat and hear about how it will be used to further the mission of the church.
"We are already starting to see the fruits of our ambitions and I hope this will give him a sense that despite the challenges that the Church is facing, this is another example of a new enterprise spearheaded by a local congregation taking off."
Mr Holt said the congregation worked towards buying a boat for nearly 10 years and is part of the church's beautiful Union Canal-side church gardens project, which is currently highlighting the climate crisis ahead of the United Nations summit in Glasgow next month.
A group of young Christian climate activists who are walking a 1,200-mile route from Cornwall to Glasgow for the conference are due to take a trip on "All Aboard" on Saturday.
Mr Holt said the congregation is in discussion with CrossReach, the operating name of the Church's social care council, to see how mental health service users can utilise the boat.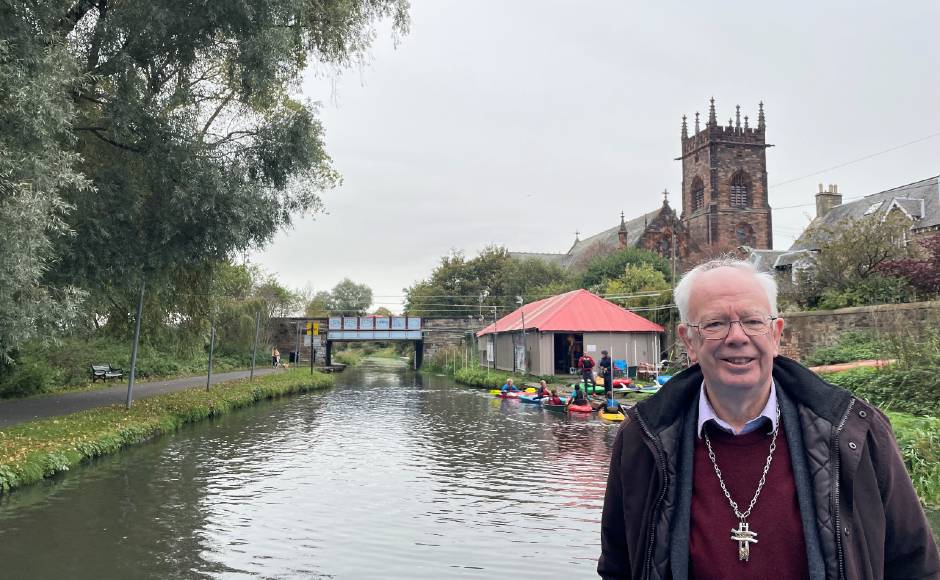 Mr Holt said: "The church is committed to being a place of wholeness and wellbeing and we encourage people to come and sit in our gardens.
"The pace of the boat is slow – around 4mph - and travelling along the canal through the city into the countryside should provide a sense of peace and calm and create an atmosphere in which we can help support and encourage people who are struggling."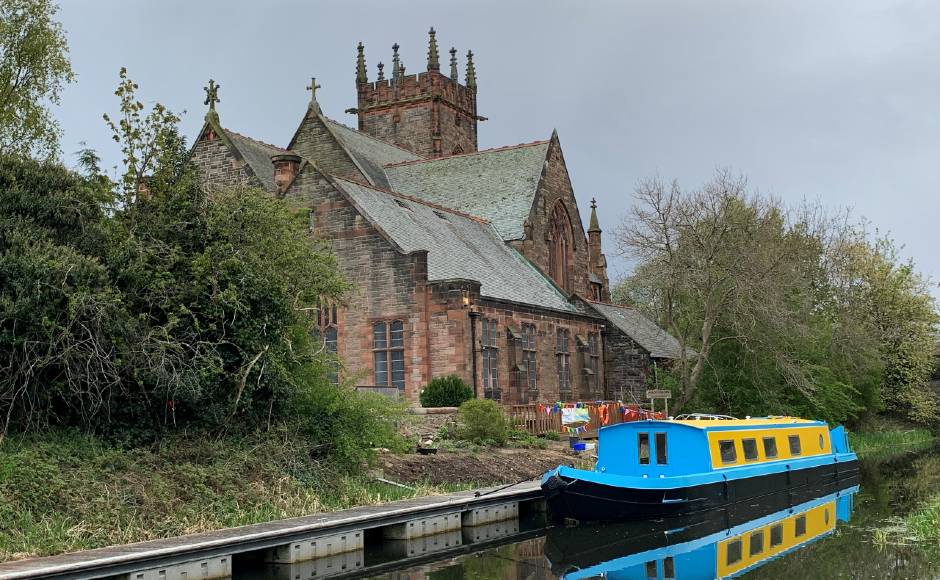 Anna Philbrick is the "All Aboard" co-ordinator who is responsible for the day to day management of the project, which has been recognised in the House of Commons and Scottish Parliament
It will initially be a three-year post due to the funding in place which will also be used to cover the cost of training a volunteer crew every year.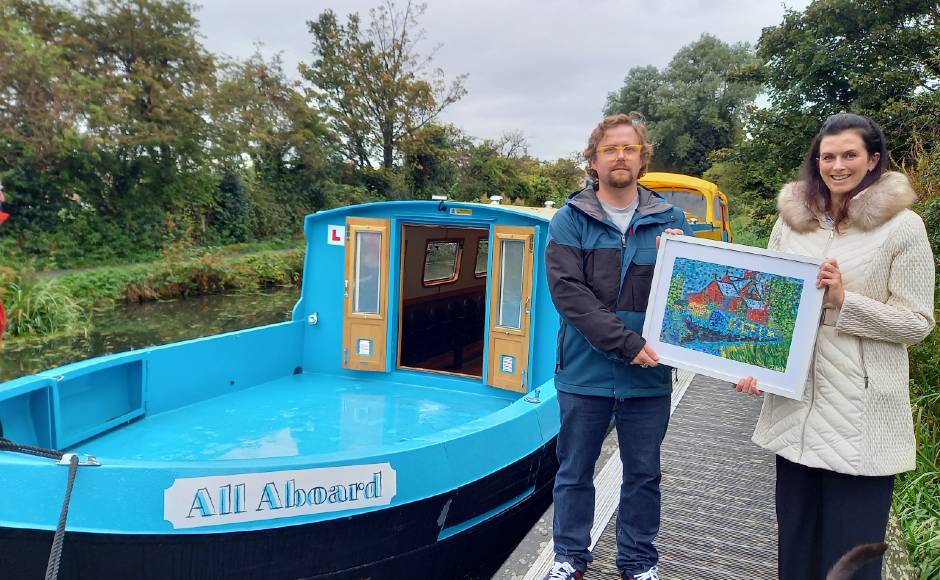 "All Aboard" is available for use by other church denominations but is not for hire to the general public.
In July, Polwarth Parish Church members, Dawn and Len Purves, became the first couple to use the boat for their wedding reception.
Their ceremony was conducted inside the building by Rev Jack Holt.