Moderator embarks on first 'online' presbytery visit to West Lothian
Published on 2 March 2021
The Moderator of the General Assembly is starting his first online presbytery visit today.
Rt Rev Dr Martin Fair is meeting with members of churches in West Lothian and a variety of organisations that they support over the next five days.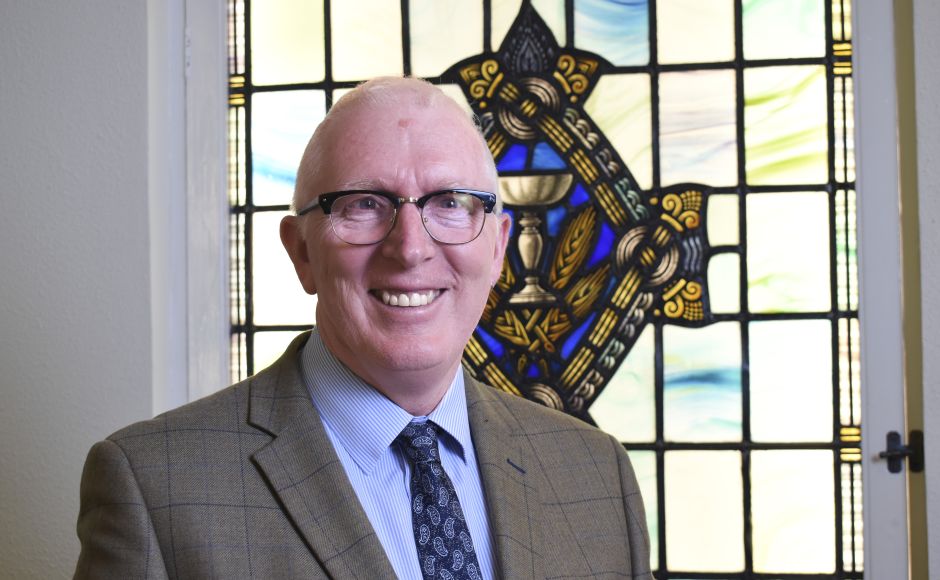 The events will all be held online due to COVID-19 restrictions which means people cannot meet in person to reduce the likelihood of the virus spreading.
Nevertheless, Rev Thom Riddell, clerk to the Presbytery of West Lothian, described the visit as "significant" for church members and said there is excitement in the air.
Listening and learning
Dr Fair said: "This is the first of my three presbytery visits so I'm very much looking forward to engaging with folks across West Lothian - even if it is just on video conferencing platform, Zoom.
"I'll be speaking on a few occasions but I'm very much looking at this as a listening exercise.
"It is vital in my role as Moderator that I'm listening to what people are saying - the things that are going well and also the frustrations and challenges of this particular year."
Dr Fair is meeting with representatives of The Bridge community project in Livingston this morning.
It values the support of several local churches and welcomes the opportunity to share how their service improves everyday lives through a free financial wellbeing service, affordable counselling and peer support groups.
The Moderator is meeting with members of West Lothian Presbytery this evening and tomorrow night he will chat with representatives of Ignite, a group that supports young people across the region.
The discussion will focus on uncertain times and looking ahead into the future.
On Thursday, Dr Fair will meet with the West Lothian Faith Group which provides a forum for faith communities to get together to share ideas and experiences.
And on Friday, he will be chatting with the BUSY Project which supports young people who will be asking him to join in with some of their fun online activities.
What is the church called to be?
Churches across West Lothian are encouraged to broadcast a special online service on Sunday morning.
It includes music, video clips of local people providing a Bible reading and a prayer and a sermon which focusses on Jesus cleansing the temple and chasing out the market stall holders from John 2:13-22.
Dr Fair will ask viewers to ponder: 'What might need to be cleared away from the Church today in order for it be more fully what it's called to be?".
On Sunday evening, the Moderator will join a session of Fresh Expressions of Church and Pioneering in West Lothian, hosted by Rev Dr Liam Fraser, minister of St Michael's Parish Church in Linlithgow.
The course was created to give churches the knowledge and skills they need to listen to local people, discern where God is leading them and the courage to forge new types of worship communities.
The group hope to hear a little about the Moderator's experience of mission during his ministry and some of the things that his congregation, St Andrew's Parish Church in Arbroath, Angus, have done to reach out to their community through the Havilah project.
Established in 2006, it supports people living with addiction and struggling with mental health.
Appreciation
Mr Riddell said: "Although the Moderator's visit cannot be in person, it is still significant to the congregations.
"Many people will appreciate joining in the online service and will look forward to hearing him speak.
"There is an air of excitement around the visit and members of Presbytery are looking forward to hearing the Moderator at our meeting this evening."
Dr Fair is scheduled to embark on online visits to the Presbytery of Perth in late April into early May and to the Presbytery of Abernethy in mid-May.