Stay connected with the Church of Scotland
Published on 26 March 2020
Updated 28 March
Church buildings are closed. Worship has moved online. We are living in unprecedented times and across the country - and the world - churches are exploring how to connect our congregations when we are unable to gather together in shared worship.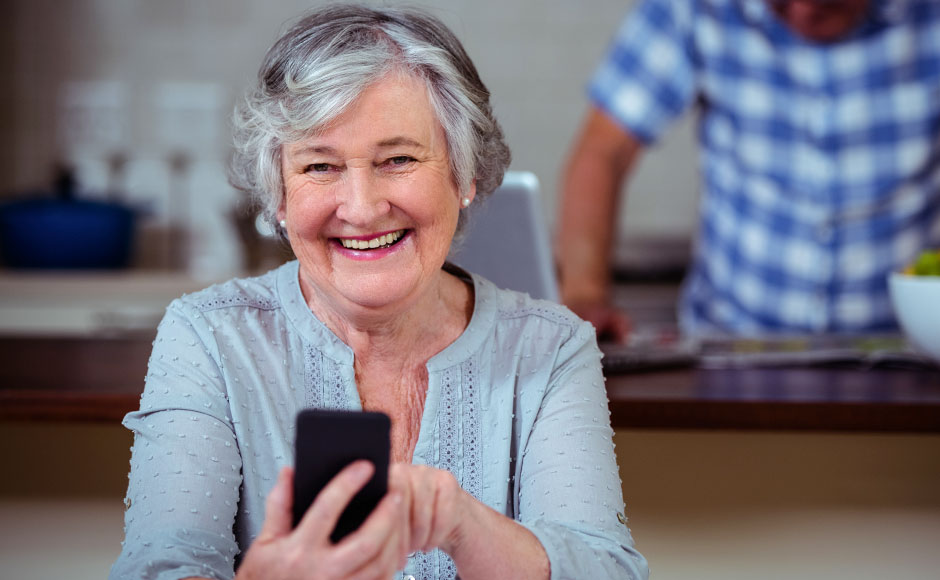 Yet we are also inspired as we see local churches rise to this new challenge with creativity and steadfast faith. So here are just some of the ways that you can still stay connected with the Church of Scotland as we navigate through this difficult time.
Across the length and breadth of the Church people have been sharing their faith online, including the Moderator of the General Assembly of the Church of Scotland, Rt Rev Colin Sinclair.
You can watch the Moderator's message for Palm Sunday 5 April on his Facebook page from 7:30 am. (You will need a Facebook account to see it here) The sermon will also be available on the Church of Scotland's YouTube channel. During Holy Week we will also publish a reflection from the Moderator in the same places on Good Friday, 10 April and on Easter Sunday, 12 April.
One of our ministers, Rev David Prentice-Hyers, the minister at Troon Old Parish Church, filmed a Facebook video reassuring his congregation that, whilst worship services were on hold, "we are still the body of Christ, and we are still part of one another. Physical distance doesn't need to mean social or spiritual isolation."
While physical services are cancelled, a number of churches are moving to offer online worship, and local church groups are working out ways to give invaluable support – as safely as possible – to those with the greatest need in our local communities.
We will be aiming to provide guidance and ideas for how congregations can connect with each other and offer spiritual practices for members to follow in their own time.
Online
Whilst we are aware that not everyone is able to access online services, for those who can, it has proved an incredible source of comfort at this time. Here are just some of the ways we, and our partners, are providing a spiritual connection online:
The Church of Scotland:
Every week day from 10am, the Moderator of the General Assembly of the Church of Scotland, Rt Rev Colin Sinclair, will be leading a short reflection live on his Facebook page.
Every morning, we publish shareable daily prayers, blessings and reflections on Facebook and Twitter.
Weekly Worship is a regularly updated series on our website designed to inspire those planning worship. Each week features themes, prayers and sermon ideas based on the Revised Common Lectionary and the all-age worship magazine, Spill the Beans. It also includes musical suggestions from the Church of Scotland Hymnary.
We have provided two Weekly Worship videos which you can find on YouTube , Facebook,and the Worship section of the website. Subtitles are available for those who are hard of hearing.
Our online Church of Scotland Hymnary allows you to listen to and search the breadth of music available in the Church Hymnary 4th edition (CH4).
Our Priority Areas team is running a series of free online Community Check-in events for conversation and worship for their congregations, running between March and June. As well as sharing news, they will join together in prayer. It will be a time to reflect, be still, connect with God and also with each other.
Live-streaming of local church services
Some local churches across the Church of Scotland already stream their services online, and others are in the early stages of setting this up to meet the growing demand. For a list of some of those who are planning to regularly stream services through video, audio or catch-up, please visit our Kirk Services Online page.
During such an unprecedented situation for us all, it has been heartening that so many of you to have been in contact to let us know that you will be live streaming some form of worship service from now on.
However, with hundreds of congregations requiring support from the Communications Team at present, and to avoid confusion, we would encourage those of you who are planning to live stream on a temporary basis to publicise the information on your own channels (i.e. social media/your church website/email updates) and to contact your Presbytery/surrounding churches to see if they can do the same.
Offline
For those who do not have the access or technical capabilities to use online resources, there are still ways to keep engaged with the Church of Scotland at this time. Here are some ideas to get you started:
Bible studies and reflections
Rev Dr Lezley Stewart, the Kirk's Recruitment and Support Secretary, suggested that one of the best things to do during this time is to "ground ourselves in God".
"It's really important in this time to practice care of self in a holistic way – body, mind and spirit," Dr Stewart said.
"The best way to be a resource and strength to others, is to begin from a place where we have something to give.
"Sometimes it's hard for us to put ourselves at the centre, when we are used to thinking of others first, but spending time in contemplation, acknowledging our own thoughts, fears and hopes before God is really important.
"As we ground ourselves in God, so we find a place from which some peace and calm can shape our days.
"Take time to engage with daily reflections and not just wall to wall news!
"Take time to pray, and perhaps choose a Psalm or Scripture passage each day to aid your reflection.
"As we connect with God and one another in this way, we remind ourselves that we are part of something much bigger, and that we do not rely on our own strength in all that we are facing."
Keeping in touch with ministers
All of our ministers are taking steps to keep in touch with their congregations in a myriad of new ways, in whichever way works best, and with the relevant safeguarding protocols in place.
Whilst some of these ways may include local church Facebook pages, Twitter, Instagram and Whatsapp, your local ministry team may want to work individually with those members of the congregation who may need support either by letter or telephone.
Radio and television
BBC Radio 4 and BBC Radio Scotland both broadcast a weekly Sunday service. Premier Christian Radio is also available all week. Other radio stations are available.
Songs of Praise on BBC One wlll come from Glasgow Cathedral on Palm Sunday 5 April at 1:15 and will feature artist ID Campbell speaking about his work at St George's Tron Glasgow. You can also see it on catchup.
BBC One Scotland will be broadcasting their new half-hour weekly show, Reflections at The Quay, every week. You can catch up with the last episode on BBC iPlayer.

On Sunday 21 March's edition, Very Rev Lorna Hood, former Kirk Moderator, and Fr Michael McMahon from St Conval's, Linwood, shared reflections for Mothering Sunday and Lent. Hymns came from St Andrews Cathedral Glasgow and St Machar's Cathedral, Aberdeen, with music from Rachel Hair.
On Sunday 29 March, Reflections at the Quay will be broadcast on BBC One Scotland at 11:15am. The programme will feature Rev Jane Howitt of St Rollox Church of Scotland and Fr. Dermot Preston from St Aloysius Glasgow.
On Palm Sunday 5 April Reflections at the Quay will be broadcast on BBC One Scotland at 11:15am. The programme will feature Rev Joanne Hood of St John's Hamilton and Fr David Wallace of Our Lady of Lourdes, Cardonald.
Life and Work magazine
Remember you can stay in touch with Life and Work, the Church of Scotland's magazine. They are still looking for stories for their weekly parish news (and daily web uploads). You can email them at magazine@lifeandwork.org
Volunteering in local communities
Church groups such as St Paul's Youth Forum's 'Blackhill's Growing', based in one of our Priority Areas, are running projects to deliver food and other resources across their community, where it's needed most, as well as supporting those who struggle with poverty, health and social isolation.
It is anticipated that the current outbreak of COVID-19 will cause general disruption to services both essential and non-essential, including the volunteer community.
We know that many other local churches, like Glasgow St Paul's and St Cuthbert's in Edinburgh, are involved with vital projects such as foodbanks, delivering meals to homeless people and other forms of community outreach for those in need.
With this in mind, the Safeguarding Team has set up a page with questions and answers they are receiving with regards to volunteering during this period. Please note, the content of this page will continuously be updated as and when required.
You can also email the Safeguarding Team for more guidance.
Keep up to date with our COVID-19 guidance
For more information and advice, please keep up to date with our 'Advice for Churches: COVID-19 (Coronavirus)' web page. This page will be constantly monitored and revised as new guidance is issued from the Scottish and UK Governments.
We're always interested to hear what our local churches are up to, so if you'd like to share what your church is doing to support your communities during this time, please email Media Relations.
We can't promise we will be able to use your news, but we are always appreciative of keeping in touch with our congregations.
If there is something you would particularly like more information on let us know, too, and we will try to signpost you to the right place.