Praise the Lord - congregations welcome new ministers
Published on 29 October 2020
A former electronics engineer and an ex- chartered accountant are today taking up new roles as full-time ministers.
Rev Morag Crossan is being inducted into Canonbie United linked with Liddesdale Church in the Scottish Borders.
Chris Hay is being ordained and inducted into Arbroath West Kirk in Angus.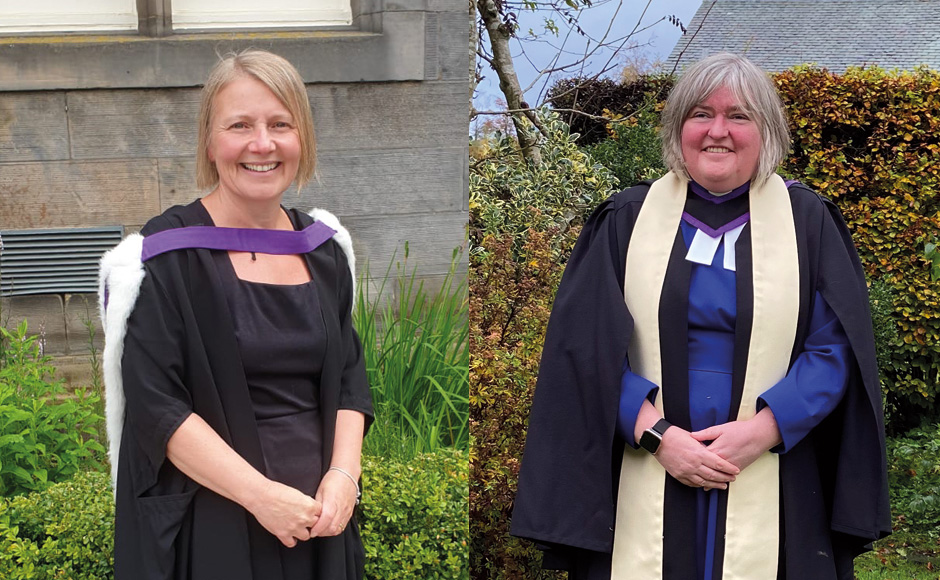 Both women, who know each other from training events, said they are very excited and looking forward to taking up their new roles.
The path to ministry of Word and Sacrament has been a long one for Miss Crossan of Dalmellington in East Ayrshire.
She worked as an electronics engineer for a large American computer company before retraining as a youth and community worker.
The 49-year-old spent ten years as a ministries development staff worker (MDS) at Dalmellington linked with Patna Waterside Church.
Life experience
Miss Crossan became an OLM (Ordained Local Ministry) in 2016 and was attached to Dalmellington Linked with Patna Waterside, serving as its interim moderator.
After transferring to full-time ministry, she did placements at St Columba's Church in London and Monkton and Prestwick North Parish Church in Ayrshire.
Miss Crossan said: "It seems like a long way round and a long journey to ministry but I am glad of all the experiences that will stand me in good stead as I go into my first charge.
"I look forward to joining the church which is in a beautiful part of the country.
"These communities still value those around them and have been through so much this year with floods and then the COVID-19 pandemic but they are resilient and determined to look to the future."
Miss Crossan, who was also mentored by Rev Eleanor McMahon, said she took the view that community is at the "heart" of ministry.
"I look forward to walking with people in all circumstances and to be a witness to the Gospel that is lived out in everyday life," she added.
"In these times of change for the Church, it's exciting to begin my ministry and I hope to use my background in IT to start an online presence."
A small service in accordance with COVID-19 restrictions is being held at Canonbie Church this evening and is expected to be livestreamed on its Facebook page and later available on YouTube.
God's love
Mrs Hay, 54, was born in Manchester and moved to Glenrothes in Fife with her family in 1995.
She and her husband Mike were involved in youth work at St Columba's Parish Church in the town for 20 years.
After finally responding to God's call, the mother of three attended the University of St Andrews and did placements in chaplaincy at Perth Prison and throughout Kirkcaldy Presbytery.
She said: "After almost six years since I started the process to becoming a minister, I'm really looking forward to my ordination.
"It is the end of one chapter and the start of another."
Arbroath West Kirk has been vacant since Rev Alastair Graham retired in March 2019, a month after a union was formed between Arbroath West and Knox's Church.
Mrs Hay said: "I am looking forward to walking alongside the Arbroath West Kirk family and community in the ups and downs of their lives, sharing God's love and care and encouraging people to experience the fullness of a life lived following Him.
"As the growing of the two churches together has been interrupted by COVID-19, I hope that we will be able to grow and develop together."
Mrs Hay, who has moved to Arbroath with her husband, is being ordained and inducted during a ceremony that will be recorded and available to watch on the church's website.
The Church is actively looking for the next generation of ministersand is seeking women and men of all ages who feel called to serve.
Being in ministry can be challenging, yet rewarding, and requires leadership, resilience, compassion and energy.