Moderator to visit army sites across Scotland
Published on 18 February 2020
The Moderator of the General Assembly of the Church of Scotland is being hosted by the Army as part of a five-day visit to sites across Scotland.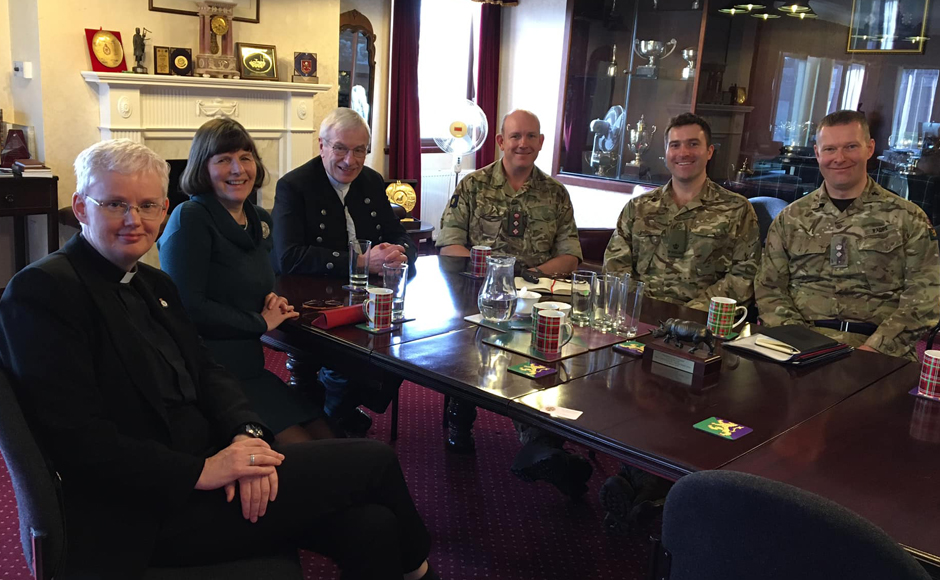 Rt Rev Colin Sinclair began the tour by visiting 51st Infantry Brigade and HQ Scotland in Stirling.
Speaking about the visit he said: "One of the highlights each year in the Moderator's diary is to spend a week with one of the forces.
"This year Ruth and I will be spending time with the Army in Scotland. We will be visiting their work in Stirling, Glasgow, Leuchars, Kinloss and Fort George.
"We look forward to learning what the Army is currently doing and what it does back at home when not on active service in some field of action.
"We will be learning about the issue of mental health and the Army's response and also simply meeting Army personnel and chaplains and hearing their stories."
On the second day Mr Sinclair will attend an Army mental health awareness briefing in Glasgow.
During the following days he will visit service men and women in Leuchars in Fife, in Kinloss in Moray and finally at Fort George near Inverness.
Rev Duncan Macpherson, Senior Chaplain Scotland, said: "The Royal Army Chaplains' Department is delighted and honoured to host the Moderator's visit to the British Army this year.
"The Army continues to be committed to living in and working alongside the communities of Scotland.
"For many Service Personnel Scotland is our root, our home, and where our families and our hearts reside.
"It means a great deal that the Church of Scotland continues to support and care for Service Personnel.
"The visit of the Moderator is a clear encouragement and demonstration of the Church's commitment and care to the Armed Forces."