Growing wave of momentum for statue of Jane Haining
Published on 29 January 2020
Momentum is growing for a statue to be erected in honour of Scotland's heroine of the Holocaust.
MSPs and MPs have said it would be an appropriate way to recognise the bravery and sacrifice of Jane Haining who refused to abandon Jewish girls in her care and died in Auschwitz Birkenau.
She was the matron of the Scottish Mission School girls' home in Budapest, Hungary and repeatedly refused to come home after the Second World War broke out because the pupils, many of them orphans, needed her.
Speaking during a Holocaust Memorial Day debate at the Scottish Parliament yesterday, South of Scotland MSP Joan McAlpine paid tribute to the "remarkable woman who stood up for others and paid the ultimate price".
"Jane is honoured in Israel as Righteous among the Nations and has a memorial in Dunscore Church, in her home village," she added.
"I agree that the time has come for us to pay her a lot more attention in Scotland.
"The time has come for some sort of national memorial."
Journalist Neil Mackay, who wrote a feature on Miss Haining in the Herald on Sunday this week, wrote on Twitter: "Scotland needs to build a statue to Jane Haining.
"She's a national hero, a hero of the Holocaust."
Kirsteen Oswald, MP for East Renfrewshire, said she agreed.
She said: "Jane Haining was the best of us - selfless and dedicated
"On Holocaust Memorial Day, her spirit is one we should all reflect on."
Former MP for Moray, Angus Robertson, said: "Scottish heroine and Holocaust victim, Jane Haining, is commemorated as a Righteous amongst the Nations at Yad Vashem.
"It is high time there was a statue of her in Scotland."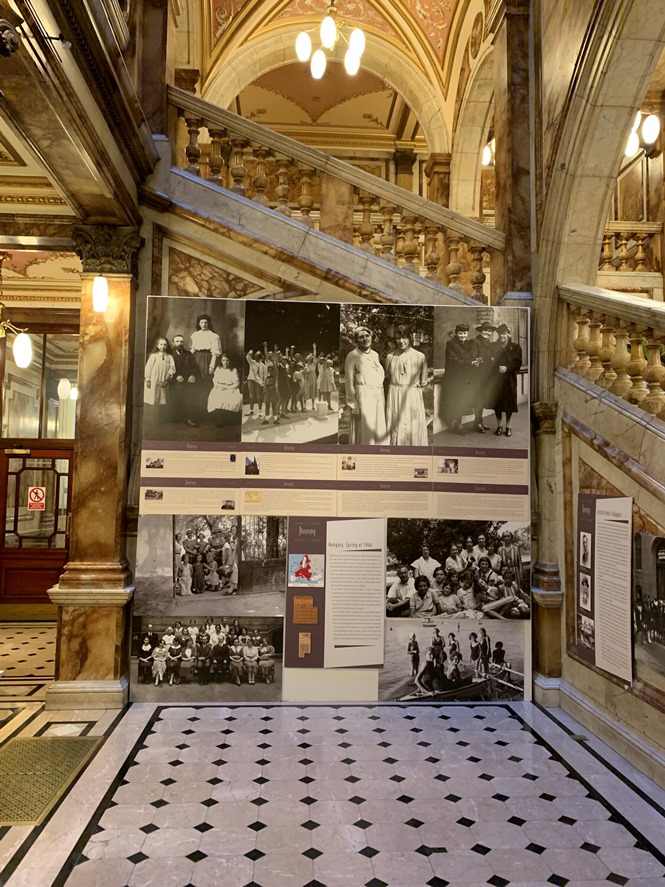 South of Scotland MSP Paul Wheelhouse, a Scottish Government minister, backed Mr Mackay's call.
"If there was ever a time we needed to remember people like Jane, it is now," he said.
In addition to a memorial cairn in Dunscore and an exhibition in the local church, Miss Haining, who has a street named after her in Budapest, is immortalised in stained glass windows at Queen's Park Govanhill Parish Church in Glasgow, where she attended before moving to Hungary, and on a plaque on a cairn on Carlton Hill in Edinburgh.
Speaking in the Holyrood debate, Green MSP Ross Greer said: "As Jane Haining's story has gradually been uncovered in recent years, I have been pleased to see momentum growing behind proposals for a statue or other fitting memorial to her, to join the cairn (in Dunscore) and the stained-glass window at Queen's Park Govanhill Parish Church.
"It is our responsibility never to forget, and to never stop telling those stories."
Aileen Campbell, Cabinet Secretary for Communities and Local Government, said people should be heartened by the stories of courage and bravery of those who fought for freedom and liberty and chose to save lives and offer hope during the Holocaust.
"People such as Jane Haining - she paid the ultimate price for her bravery in Auschwitz 75 years ago."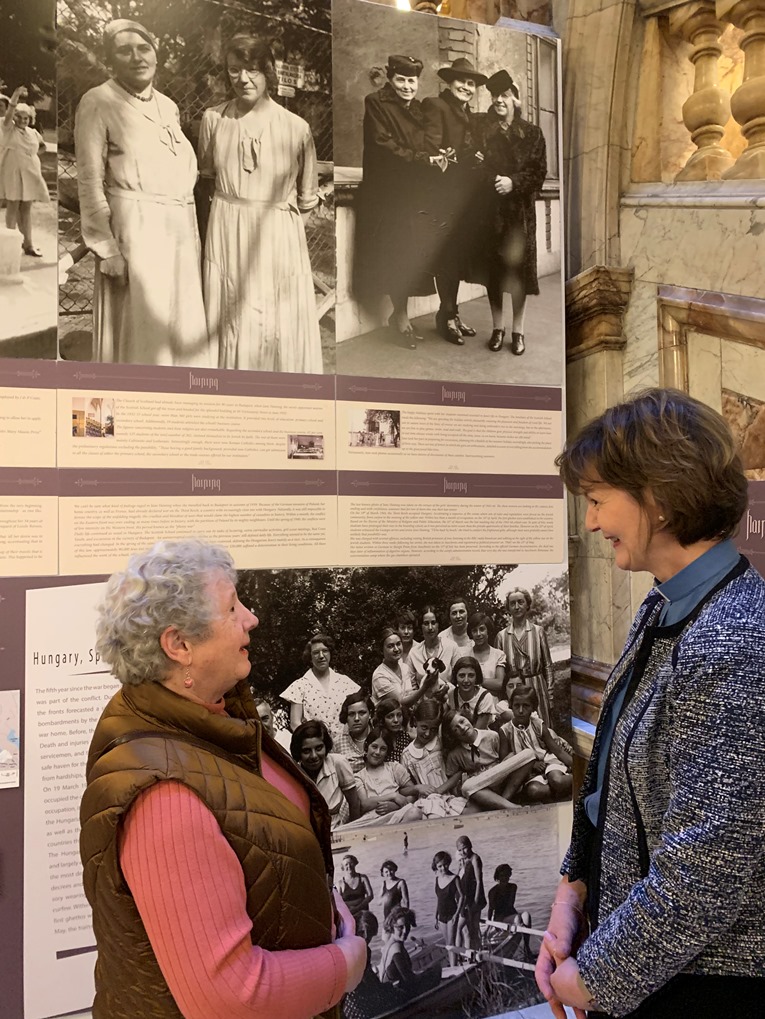 An exhibition on the Kirk missionary's life and sacrifice is currently on display at Glasgow City Chambers until Friday.
It was created in painstaking detail by the brilliant team at the Holocaust Memorial Centre in Budapest.
The pieces on display do not represent the entirety of the exhibition but it is a fantastic insight into the life of the Christian martyr.
Scottish Secretary Alister Jack, Iain Lindsay, UK Ambassador to Hungary and Lord Provost of Glasgow, Philip Braat attended the opening on Monday along with representatives from the Kirk and Jewish community.
Rev Ian Alexander, interim head of the Faith Impact Forum of the Church of Scotland, said: "We have worked hard to share the story of Jane Haining with as many people as possible since we found her handwritten will in an archive in 2016.
"We are pleased that there is growing recognition that she is a unique figure in Scottish history whose story of bravery, selflessness, compassion and faith inspires us all."
The exhibition runs until Friday and thereafter at Queen's Park Govanhill Parish Church.