Swapping classrooms for cassocks: new parish ministers inducted
Published on 8 February 2020
Two former primary school teachers have swapped classrooms for cassocks to become the Church of Scotland's newest parish ministers.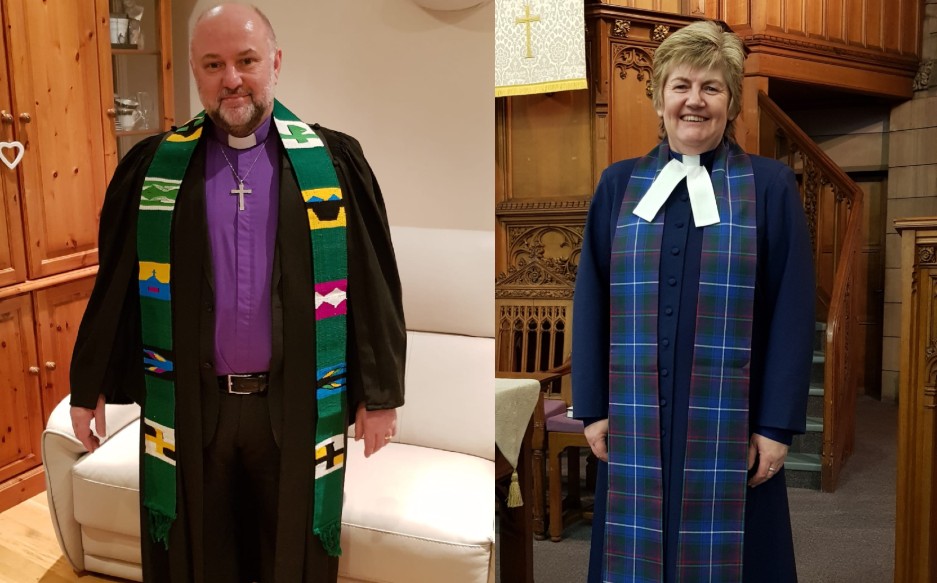 Rev Dawn Laing was ordained and inducted into Alloa Ludgate Church in Clackmannanshire last week.
Rev Carl Irvine, an ordained local minister (OLM) since 2017, moved to his new role at St Andrew's Parish Church in Inverurie, Aberdeenshire on the same day.
They said they are both passionate about working with the local community and feel that many of the experiences gained from teaching will be valuable in their new roles.
Something special
Miss Laing, who has moved to Alloa from Kennoway, in Fife, said: "I'm looking forward to bringing people to worship in different ways.
"It is important as each person learns in a different ways.
"I'm excited to learn about people's journey of faith.
"Everyone has something special to offer - God calls us in different ways and values us each for who we are."
A keen singer in the Dunfermline Choral Union, Miss Laing says that although she had never been to Alloa, her new church's profile "jumped out at me".
Over the course of a rewarding career, which included a year on a Fulbright Teacher Exchange to Connecticut in the USA, Miss Laing was also an elder in the church for 20 years with roles as the worship coordinator and with the Girls' Brigade.
"I had said that I wouldn't leave Buckhaven unless God had something really big to make me change the job I was doing", she said.
"I'm delighted that the congregation at Alloa Ludgate chose me - it's such a privilege and I'm looking forward to seeing how God rolls out his plan.
"Everyone has been so warm and welcoming."
An opportunity
Mr Irvine is thrilled to have had the opportunity to move to parish ministry, which came about after he was offered early retirement.
Speaking about his new role he said: "I thought the chance had passed me by, but God had other ideas.
Reflecting on similar skills from his previous role, Mr Irvine said there are "so many".
"There's the teaching side, the public speaking, the relationships you build," he added.
"For me it really is about developing relation with the community - they won't care about what you believe unless they believe you care."
Having already qualified as an OLM, Mr Irvine's path to a parish was shorter and involved placements in Meldrum and Bourtie Parish Church, and Kintore Parish Church.
During this time he learnt much about what he describes as the "hidden part of ministry - the meetings, popping in and seeing people, walking the parish."
The keen cook will be joined in the manse by his wife Suzanne, without whom he says "he couldn't have done it", and their Jack Russell, Chip.
They also have four children aged between 17 and 29 years old and aside from a busy family life, Mr Irvine hopes to get back into swimming and golf, though "not at the same time" he jokes.
If you have a calling to ministry you can find out more in the vocations section of the website.