Fife elder tells us why she loves her church
Across the country churches large and small are making a difference in their communities with acts of kindness inspired by faith. During the lockdown, their contributions have offered a lifeline to many people confined indoors.
Caroline Watson, an elder at Dalgety Parish Church, shares with us her pride in her home congregation and its response during the health crisis.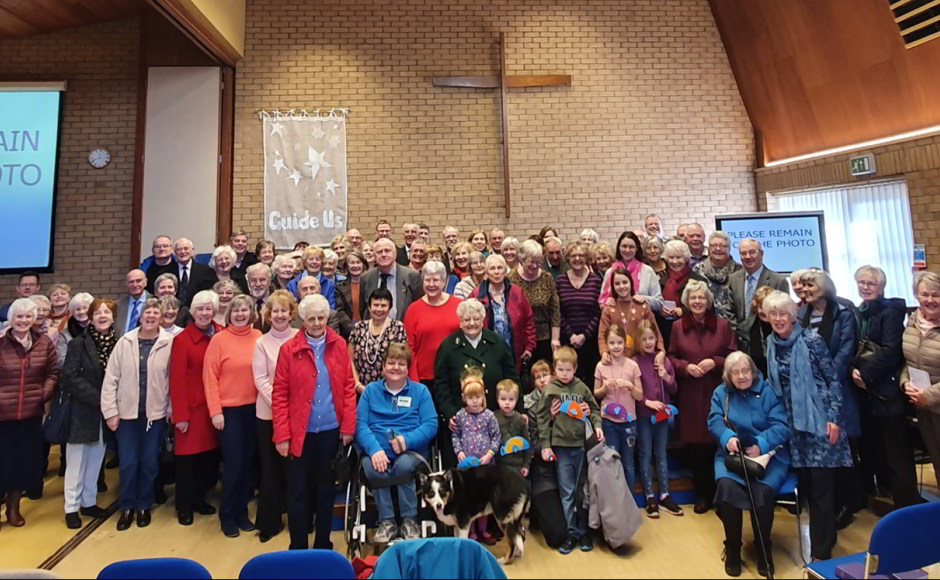 Our Church is a big church with a hardworking congregation who love to have fun as we journey with one another and with Jesus.
I was brought up in a different denomination. My grandfather was Pentecostal and my early impressions of the Church of Scotland were that alongside the frills and ruffles the members were profoundly serious and that I would neither have the knowledge nor the personality to 'fit in'
All that changed later when I came back to the church as an adult. My local church was Church of Scotland and I realised that it was vastly different from how I had imagined. I was met with such warmth and kindness.
During the lockdown, our minister Rev Christine Sime began doing a daily reflection on Facebook every morning at 10am. Her reflections are quite jolly, and they are keeping up everyone's spirits. She helps us feel that we are all in this together and we will all get through this together.
Sometimes Christine's reflections are challenging and they always help us to make time for God in these strangest of times. Her energy and willingness to adapt and learn new things through this pandemic have been inspiring.
During the health crisis our congregation members have been remarkably busy. They have been making face masks in both children's and adult sizes for Frontline Fife - a local charity that supports the homeless in an array of different ways. They have also knitted hearts and delivered them to Henderson House, the local care home and to funeral directors.
The hearts were knitted in pairs—one for the loved one and one for the family to keep. I am not a knitter but I was touched by the number of hearts the congregation made and with such attention to whom they were going.
We're all very glad that the numbers of people with this infection are coming down now, but I know that if we do get another spike our congregation will be right there with donations of food, time and we will be ready to support in every we can.
Recently we shared an online communion and we made a video with many of the congregation taking part remotely. As Christine says: "We are the church, not the building". Our online communion service was a beautiful way to illustrate this.
Lots of people took part, from our oldest member Katie, who is 103, to one of our youngest, Sophia who is five. It was quite emotional to see everyone and remember we truly are all in this together.
We've also made a TikTok style video with the congregation passing the Bible to one another from their own homes. It was a way again to bring our congregation together and share God's love with many people.
In just the last few weeks it is as if we have time-travelled through two centuries and I feel that as a congregation we have absolutely stepped into a new century together. Dalgety Parish church like many others has shown that radical change is possible and we are determined to keep the momentum going.
I have been fortunate to avoid the boredom and loneliness felt by so many during lockdown. We have five daughters and I have been very busy keeping them happy, schooled and occupied. We are a blended family—we have four daughters including two teenagers and our youngest is five. Our family life is complex, confusing, and exhausting at times, but hugely fulfilling.
I can't help my girls with every subject but one of our elders, Winnie, is a former maths teacher and, when she saw how bedraggled I was trying to home school my daughters she immediately offered to tutor them on Zoom.
She had already been helping my eldest who is now in S6 but has also been helping my daughter in S4. I wonder if she knew what she was getting into when she offered to help.
Every week people have been walking by our house waving through the window, so we see their friendly faces or stopping for a brief chat outdoors. And they are doing that for people who are shielding too, as well as keeping in contact by phone.
Christine went to great lengths to set up two reflection phone lines so those who are not online can call and hear a short daily reflection or a longer Sunday sermon. She really goes the extra mile to make sure everyone is welcomed and included.
In fact, I have felt welcomed and accepted since my very first visit to Dalgety Parish Church. And while it may sound dramatic, I credit my church with helping us save the life of one of my daughters.
She was born at 23 weeks, weighing just over a pound and she had a lot of health problems. When I brought her home from the hospital she was a scrap of a baby and I had to bring her oxygen tank with us everywhere we went. She was christened in hospital and I was told she was unlikely to survive.
One of the first places we went outside of our home was to the church. And the congregation just wrapped their arms around us and made us feel so loved. They looked after us as a family, brought us dinners and thoughtful gifts. They prayed with us and for us.
Even now remembering that time brings up a million emotions for me.
As the first months passed by, the doctors told us she would have long-term health problems, but over the years she has proved all those predictions wrong. I am happy to say my daughter is now a healthy girl and exactly where she should be for her age.
I know I could not have coped as well as I did if it hadn't been for all the care we received, and I firmly believe my daughter would not be alive today if not for our church family.
God's love and protection came to us in the form of Dalgety Parish Church.