Conference will boost work with asylum seekers and refugees
Published on 14 February 2020
Leading Christian scholars, activists and practitioners are coming together for a day conference in Edinburgh on 14 March to share ideas and promote common work on migration and support for asylum seekers and refugees.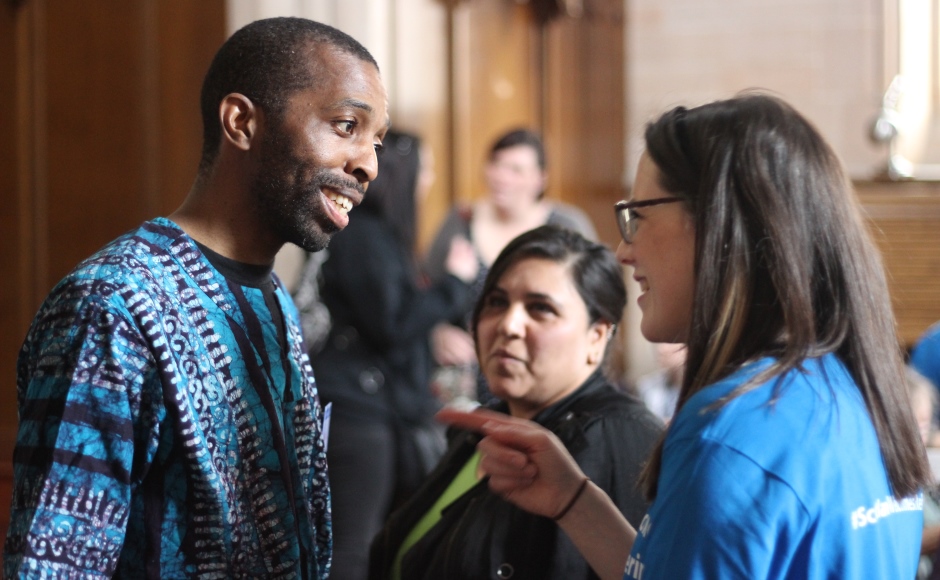 The Sanctuary in Scotland Conference will be opened by the Rt Rev Colin Sinclair, Moderator of the Church of Scotland General Assembly and will hear from leading experts from Scotland, the UK and Europe. Book now
Showing hospitality
David Bradwell, co-ordinator for Scottish Faiths Action for Refugees, who has been helping to organise the event, encouraged people of faith to attend.
"It's an opportunity for learning and sharing, a chance to pray together and reflect on how we respond to issues relating to humanitarian emergencies, refugee integration and what role the Churches can play," he says.
"We have a great line up of contributors who will share ideas about theology and hospitality, the Church of Sanctuary initiative and what can be done to equip and support parish ministers and others working alongside individuals and communities of refugees.
"Welcoming the stranger and showing hospitality and the hand of friendship are at the heart of the Christian message. At times of crisis and political hard-heartedness, it is more important than ever that we recommit to our values of love and hope."
Scottish Faiths Action for Refugees is the Church of Scotland's refugee co-ordination project which has been running since November 2015. It is a partnership with the main Christian, Jewish, Muslim and Interfaith organisations in Scotland.
Speakers and Contributors
The Conference will take place at Central Church, Tollcross, Edinburgh and will be opened by the Moderator, Rt Rev Colin Sinclair who will lead a time of prayer and worship.
There will be a range of expert speakers:
Dr Jayme Reaves, the Coordinator for the Centre for Encountering the Bible at Sarum College in Salisbury.
Sabir Zazai, Chief Executive of the Scottish Refugee Council
Rev Dr Inderjit Bhogal, Church of Sanctuary
Dr Torsten Moritz, General Secretary of the Churches' Commission for Migrants in Europe
Sally Foster-Fulton, Head of Christian Aid Scotland
Bob Fyffe, General Secretary of Churches Together in Britain and Ireland
Experienced activists and practitioners will also lead group workshops:
Sabine Chalmers, Scottish Faiths Action for Refugees
Karina Martin, Welcome Churches
Carly Whyborn, RESET Community Sponsorship
Barry Hughes, St Mark's Church, Stirling
Margaret Donnelly, Justice and Peace Scotland (Dungavel IRC solidarity gatherings)
Book your tickets for Sanctuary in Scotland
Book your place at Sanctuary in Scotland
The conference will take place at Central Church, Tollcross, Edinburgh.Doors will open at 10am for registration and will start at 10.30am. Lunch will be provided. The conference will finish at 3.30pm
Tickets are free for students and people without income. Otherwise tickets are £10 plus £1.37 admin fee. The conference will be in English.
Church of Scotland ministers can apply for study leave funding, including for travel and accommodation where necessary and the option of pulpit supply for Sunday 15 March. Ministers in their First Five Years can also claim this as part of the develop allowance. To find out more please contact the Training Task Group or enquire via the Ascend website.
The Sanctuary in Scotland conference has been supported by the Churches' Refugee Network of Churches Together in Britain and Ireland and Action of Churches Together in Scotland. It is supported through the New Scots Integration Programme, and part funded by the European Union's Asylum, Migration and Integration Fund.