Church art sale will support Christian Aid
Published on 21 October 2020
St Andrew's and St George's West Church in Edinburgh is going ahead with its annual art sale this week, with hand sanitisers, physical distancing and a limit on the number of people allowed in the church to ensure the event is safe to attend.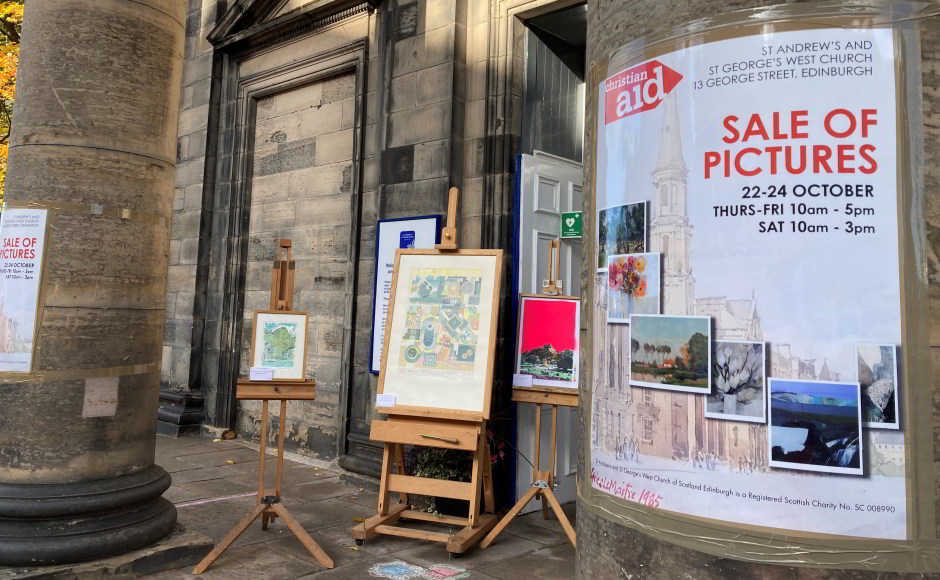 Now in its 10th year, the popular event that raises money for Christian Aid promises a fine selection of paintings from a number of eminent Scottish artists.
The 'Sale of Pictures' is taking place at St Andrew's and St George's West Church on George Street between 22-24 October.
Sale will support Christian Aid's Autumn Appeal
Notable highlights this year include a painting by Ann Oram called 'The Botanics in Winter', a silk-screen print by Sir Eduardo Paolozzi, a Peter Howson print and a Richard Demarco print.
Head of Christian Aid Scotland, Sally Foster-Fulton said,
"We are so grateful that the 10th art sale will go ahead this week, I know an incredible amount of hard work has been taking place behind the scenes to make this happen.
"This year has been hugely challenging for us all and though we are far from back to normal we are grateful this event can allow people an opportunity to browse and purchase a painting while raising money for Christian Aid.
"The money raised will go towards our Autumn Appeal, which is highlighting our work in countries like Nicaragua in South America where communities have joined forces to overcome the crises of poverty and injustice. And it'll support our ongoing work in some of the world's poorest countries, helping our global neighbours, who like us are facing additional challenges caused by coronavirus but in really fragile contexts, with no access to the basics, like clean water and soap and with no safety net or NHS."
Last year's sale raised £14,000 for Christian Aid.
An impressive collection
Special arrangements are in place to make the sale as safe as possible in line with current Scottish Government guidelines, with social distancing and limited numbers of people allowed into the church at any one time and hand sanitisers stationed around the church.
Earlier this year the May Christian Aid 'George Street Sale'– thought to be one of the largest charity book sales in the world - had to be cancelled because of the pandemic and related lockdown restrictions. Organisers are delighted the 'Sale of Pictures' will go ahead.
Commenting on the selection of pictures that will be on sale this year, Scottish art historian Professor Duncan Macmillan said,
"Pictures need to be seen to live, but some of this impressive collection of paintings and prints have no doubt been hidden in attics, storerooms and dark places.
"Donating them now to be seen and sold, as so many people have done, will serve a very good cause, but also bring the pictures back to life. It's win-win."
A small number of specialist Scottish books are being sold via an online catalogue and details can be found on the church's website. Please note there will be no books for sale in the church.