Praise the Lord - congregations welcome new ministers
Published on 24 September 2020
Congregations across Scotland are welcoming four new ministers as they embark on a new phase of their spiritual journeys.
Tim Mineard is being ordained and inducted into St Andrew's Parish Church in Barrhead in East Renfrewshire this evening.
St Rufus, Botriphnie and Grange Church in Keith, Moray will also officially induct Rev Wiekus van Straaten into his role later today.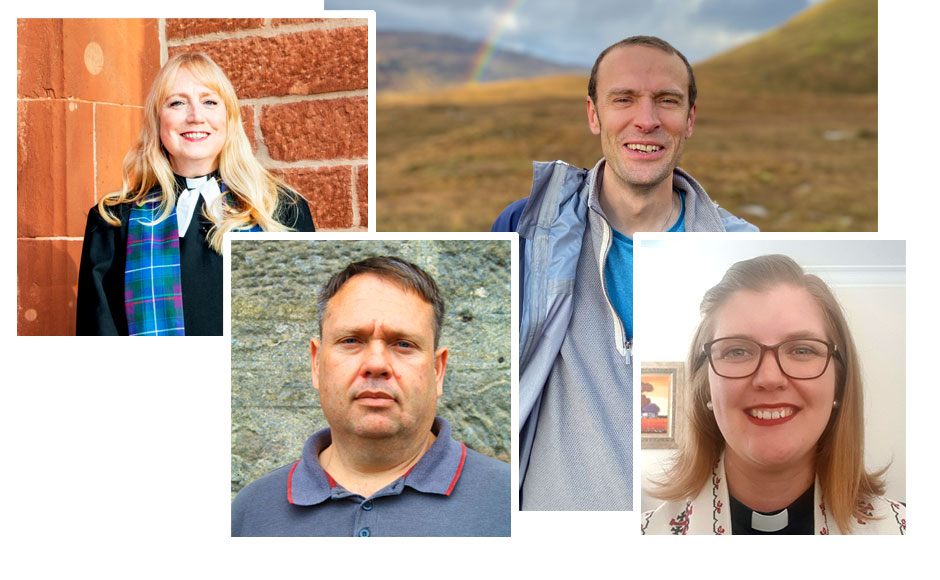 Lorna Tunstall is being ordained and inducted into Clyne linked with Kildonan and Loth Helmsdale churches in Sutherland tomorrow.
Rev Hanneke Janse van Vuren will be inducted to serve Strathbrock Parish Church in Broxburn, West Lothian on the 29th of September.
'Walking among my people'
The Moderator of the General Assembly, Rt Rev Dr Martin Fair is expected to attend Mr Mineard's small ordination ceremony this evening.
He and his family are moving to Barrhead from Carnoustie in Angus and they are members of St Andrew's Parish Church in nearby Arbroath where Dr Fair is the minister.
Mr Mineard, 47, said: "I'm absolutely thrilled to be starting as the minister of Barrhead St Andrews and we've already been overwhelmed by the generous welcome and love shown by the congregation.
"I can't wait to start walking alongside 'my people' and sharing the love of God with them as we journey forward together in serving the town."
The former Dundee charity worker said he is "pretty gutted" that the ceremony will be small due to COVID-19 restrictions but pleased that people will have the opportunity to watch it online.
Mr Mineard grew up in Gravesend in Kent and is married to Fiona, a Dundonian with whom he has two daughters, Lucy, 19, and Emily, 15.
Dr Fair will be "preaching in" his friend, a University of St Andrews graduate, for his first service as an ordained minister on Sunday.
Overjoyed and thrilled
Mrs Tunstall, 53, said she is "overjoyed" to have been unanimously chosen by members of Clyne linked with Kildonan and Loth Helmsdale Church to be their minister.
The small ceremony is being conducted from within the church via video conferencing.
Mrs Tunstall and her husband Mark will move into a manse in Brora which she described as a "homecoming" because they stayed there for 10 weeks in 2017 when she did a training placement at Dornoch Cathedral with Very Rev Dr Susan Brown.
The former telecommunications project manager said: "I am overjoyed and thrilled and terrified in equal measure.
"I couldn't have been made to feel more welcome by members of the congregations.
"When I stayed in Brora three years ago, I was imbued with a calm, peaceful inward feeling and really felt that God was calling me to this area.
"Susan Brown, who has had an enormous impact on my ministry journey, describes Dornoch as a thin place - where the gap between heaven and earth seems to narrow- and I feel the same way about Brora."
Church at heart of community
Mrs Tunstall studied theology at New College in Edinburgh between 2016-19 and while at Dornoch Cathedral she also spent time working alongside Very Rev Dr Susan Brown's husband, Rev Dr Derek Brown who is a NHS chaplain at Raigmore Hospital in Inverness.
"I am very pastoral in my ministry and love being part of a community and want people to know that the doors are open for everybody," she said.
"I am looking forward to walking alongside people and putting the church back into the heart of the community and the community back in the heart of the church.
"God is not finished with Scotland and I was encouraged to see that over the lockdown period, people who would not ordinarily cross over the threshold of a church were engaging with online services."
Mr van Straaten is being inducted into Kirk of Keith: St Rufus, Botriphnie and Grange Church over the video conferencing platform, Zoom
The 46-year-old South African, who was ordinated as a minister of the Dutch Reformed Church in 1999, said: "I am delighted, I feel blessed and I am looking forward to join our spiritual family."
Mr van Straaten is married to Ansie with whom he has three children, Nalize, 17, Wiekus junior, 15, and Mihandri, 12.
Life in the Kingdom
Reflecting on why he moved to Scotland, he said: "In 2018, I experienced a growing conviction, after reflecting on my calling, and realised that God was preparing me for a new challenge.
"After reflection, praying and doing research on the principles, history, policies, and objectives of the Church of Scotland, I came to realise that I can identify with them to a great extent."
Mr van Straaten carried out a 12 month familiarisation placement at St Ninian's Church linked with Auldearn and Dalmore Church in Nairn.
He said: "I place a high premium on scriptural preaching that equips the congregation for everyday life.
"I believe that, through preaching, God is building His Church into an instrument of service and life in the Kingdom."
Beacon of hope
Mr van Stratten said he is very much in favour of carrying out home visits.
"The personal contact between the minister and member is invaluable and it gives the minister the opportunity to serve members in their circumstances," he added.
"As a minister, we have to empower members to comfort, provide and, if possible, bring the gospel to others who are in need, pain, or vulnerable.
"The Church needs to function as a beacon of hope and tracking station for God."
The church has been without a full-time minister since 2015 when Rev Dr Kay Gauld left to take up a new post at Insch, Leslie, Premnay, Oyne Parish Church in Aberdeenshire.
Creativity
A small induction ceremony to induct Ms Janse van Vuren into Strathbrock Parish Church is being held at St Nicholas Parish Church in Uphall on the 29th of September.
The 34-year-old grew up in South Africa and was ordained as a minister in the Dutch Reformed Church in the town of Somerset East in the Eastern Cape province in 2012.
She served there until March last year until she moved to Scotland and carried out an 18 month familiarisation placement at Ness Bank Church in Inverness under the guidance of Rev Fiona Smith.
Home away from home
Ms Janse van Vuren said: "Despite the very difficult circumstances, I am looking forward to this new journey of ministering in Strathbrock Parish Church and finding new and creative ways of being church in this unknown era of COVID-19.
"My time with Ness Bank and the amazing people there was marked with wonderful generosity, open-minded and open-heartedness to accept me as I am - strange accent and all.
"I felt so loved and part of the church family from the get-go - a real home away from home.
"I can only hope and pray that I can carry that feeling and all I learned from them forward with me into my new charge."