Praise the Lord - new ministers called to serve churches
Published on 7 October 2020
Congregations at the opposite ends of Scotland are preparing to welcome new ministers.
Elsie Macrae will be ordained and inducted into the linked parishes of Moffat St Andrew's Kirkpatrick Juxta and Wamphray in Dumfries and Galloway tomorrow.
A service with a limited number of people due to COVID-19 restrictions will be held in St Andrew's Parish Church.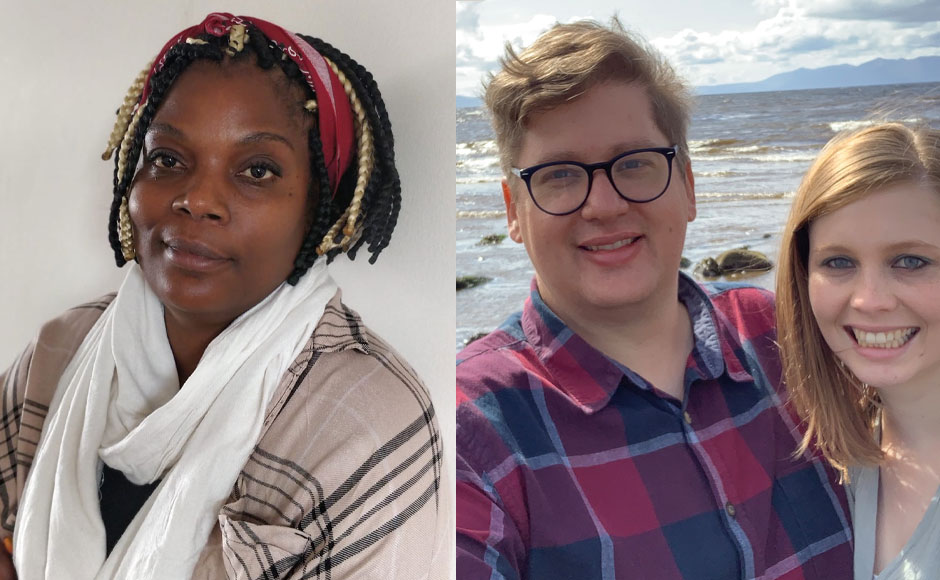 Rev Eddie Enslin, 34, has swapped the Dutch Reformed Church in Johannesburg, South Africa to take up a post at Mortlach and Carbrach Parish Church in Moray which has been without a full-time minister for more than seven years.
He will be inducted into the charge tomorrow during a service held online.
Love of Jesus
Born in Malawi and educated in Swaziland in Africa, Mrs Macrae is a former Aberdeen-based oil industry services engineer who decided to embark on a new journey in 2016.
The 42-year-old who is married to Colin with whom she has two children, Caitlin, 12, and Ethan, 7, said: "I am really excited to be the new minister at Moffat: St Andrews, Kirkpatrick Juxta and Wamphray.
"We have only been here a few days and we are overwhelmed by the love the people have shown.
"Things might be different with so many restrictions in place but I believe the Gospel is reaching many more homes than ever before.
"I am looking forward to walking with the people in the community, sharing the Gospel and the love of Jesus ."
Mrs Macrae, who studied theology at Highland Theological College in Dingwall, said the Church must be at the heart of the community.
"For eight years I resisted the call to ministry until one Friday evening in April 2016, when the session clerk at New Deer St Kane's Parish Church in Aberdeenshire called to say there was no one to preach that Sunday and the only person she could think of was me.
"As they say, the rest is history."
New challenge
Donald Walker, session clerk at St Andrew's Parish Church, said: "We have been seeking a new minister for two years and we are delighted that Elsie is joining us and we are looking forward to embarking on a new phase of our journey as a church."
Mr Enslin, who grew up in Vanderbijlpark, is moving to Moray with his wife Carlien and their Collie dog, Levi.
He said he is looking forward to the new challenge of serving a rural parish in Scotland.
"I am thankful that the leadership of the church have been able to adapt to the current circumstances, making it possible to be inducted over an online forum," he added.
"This is something that would have been unimaginable a decade ago and the way the church has had to adapt in a very short time has been testament to the resilience, and at times stubbornness, of its members and leaders.
"I am hopeful for the future of the church because the change we are often so fearful of has been thrust upon us and we have seen that we were able to continue.
"It has been proven that it does not belong to us but to God."
Compassion and inclusion
Mr Enslin said the impact of the COVID-19 pandemic on communities must not be underestimated.
"The fear, loss and emotional impact is far-reaching and there is a lot of work to do in showing the love, compassion and inclusion of Christ to communities deeply affected by this crisis," he added.
"I hope as individuals, and as part of the bigger church, we can rise to the challenge."
Liz Cameron, session clerk at Mortlach and Cabrach Church, said: "The Congregational Board and Kirk Session are delighted to welcome Eddie as our new minister and also his wife Carlien.
"We are looking forward to having them in the parish for many years and I hope they enjoy living in this beautiful part of Scotland and have fun getting used to the local accents.
"We are sorry to see our Interim Moderator, Rev George Rollo, leave because he has been with us for most of the last seven years and has been a tremendous support to all of us in the church."