New minister swaps New Jersey for East Lothian
Published on 2 December 2020
Rev Hayley Cohen, 30, who is due to be inducted into Northesk Parish Church in Musselburgh on Thursday 3 December, is one of our newest recruits into Kirk ministry.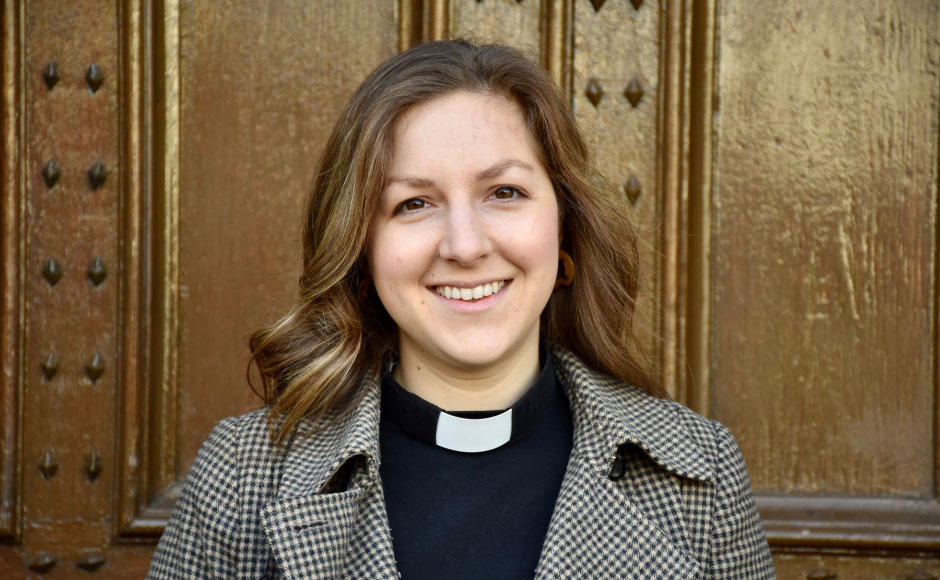 Originally from New Jersey in the U.S.A. and brought up in an interfaith family with a Jewish father and a Christian mother, Hayley spent a year of her studies abroad at the University of Edinburgh, which is when she "fell in love with Scotland".
"I really enjoyed studying religion so I decided to become a Religion major. It was only then that the idea of becoming a minister began to enter into my mind," Hayley said.
"Through a discernment group led by the university chaplain and discussions with pastors I knew, I began to feel that God was calling me to ministry.
"In my third year of university, I studied abroad at the University of Edinburgh and took all my classes at New College.
"I also met my now husband, Ross, who was studying theology there. When that year ended, I knew I wanted to return to Scotland and I also knew I wanted practical ministry experience before heading off to seminary to begin my training in the Presbyterian Church (U.S.A.)."
Hayley got in touch with the then Presbytery Clerk for Edinburgh, Rev Dr George Whyte (now Principal Clerk), to explore the idea, and ended up becoming a parish assistant for the late Rev Louise Duncan at Balerno Parish Church.
"This year with Louise and Balerno planted a very strong seed in my heart for parish ministry in Scotland," Hayley said.
"Louise was an incredible role model in ministry and she gave me opportunities to discern, question, and really try-on the idea of being a minister. The congregation of Balerno was very supportive of my calling and helped me practice and hone my pastoral skills."
After her year with Balerno, Hayley returned to the U.S.A. to obtain her Masters of Divinity at Princeton Theological Seminary, where she first trained for ministry with the Presbyterian Church (U.S.A.).
"At the end of my degree, I didn't feel quite ready to apply for churches in the U.S., something just didn't feel right about it," Hayley said.
"So, I applied to work at Tantur Ecumenical Institute in Jerusalem as a program assistant for a year and got the position.
"I spent 14 months living and working in the Holy Land, getting to know the land where Jesus lived and the people who call that complicated place home.
"Even though the position wasn't a parish ministry position, I found my calling being affirmed by the pilgrims that I worked with and my colleagues at Tantur."
'Overwhelmed with gratitude'
During her time in Jerusalem, Hayley felt the call to ministry in the U.K. Her now husband Ross went on to pursue a PhD at Durham University, before beginning his ministry training for the Scottish Episcopal Church.
"While I was in Jerusalem, I began to enquire into the process of transferring my ordination process from the PC(U.S.A.) to the Church of Scotland," Hayley said.
"The Church of Scotland was an obvious choice for me to transfer into. We both loved Scotland, I had the experience of working in parish ministry in Balerno, and it just felt like I had this constant longing to return to Scotland every time I left it.
"When Ross and I got married and moved to Durham, I went to an admissions conference and was accepted to transfer into the Church of Scotland."
Hayley's probation year was spent with St Andrew's Clermiston in Edinburgh with Rev Alistair Keil as her supervisor. She had a "wonderful" time there and learned many lessons that will serve her when going into her own charge.
"Keeping healthy in ministry is all about finding balance," she said.
"There were times during my probation when things were very quiet and there wasn't much 'to do' and then there were times where I just wouldn't stop working.
"I like being busy and having tasks to tick off a list so when it wasn't busy, I'd feel guilty for not doing more.
"In my probation, I learned that rather than feeling guilty, I needed to embrace the quiet moments and take them as time to read, reflect, and be still, to boost my energy for the moments when it got more hectic.
"You can't share an empty cup with someone else. Even Jesus needed rest from the crowds now and again."
A classically-trained vocal soprano
Outside of ministry, Hayley enjoys birdwatching, cooking, painting, yoga and knitting. She is also a classically-trained vocal soprano and loves singing.
When asked what she would say to those feeling the call to ministry in the Church of Scotland, Hayley said:
"My advice to anyone feeling called to the Church of Scotland is speak to a minister you know, who knows you, and who you trust.
"The most helpful thing for me when I began to feel called to ministry was to speak to ministers I knew, that knew me, and that I trusted: they asked me questions, they encouraged me, they challenged me, and they gave me opportunities to 'try on the mantle of ministry' with practical experience.
"I've been discerning and pursuing a call to ministry since I was 18 and, in this last week leading up to my ordination and induction, I have been so overwhelmed with gratitude as I've been looking back on my journey, seeing how God has moved through my life to prepare me for my ministry."
Hayley's induction will be streamed live on Northesk Parish Church's YouTube channel at 7pm on Thursday 3 December.
Explore your calling
The Church of Scotland is actively looking for the next generation of ministers. If you feel a call to ministry, please explore our Vocations pages and get in touch with our recruitment team at ministry@churchofscotland.org.uk.
We also have a selection of Discernment webinars coming up in the new year – the next of which is being held on 19 January. Find out more and sign up to take part.