Congregations get "creative" to mark Remembrance Sunday
Published on 7 November 2020
Churches across Scotland and beyond are holding special online services to mark Remembrance Sunday.
Worship leaders are determined to ensure that the pandemic will not stop the commemorations of armed forces personnel who have died in wars and other military conflicts since 1914.
Some services are pre-recorded – featuring wreath laying at cenotaphs and memorials - while others will be streamed live from inside churches in accordance with COVID-19 restrictions.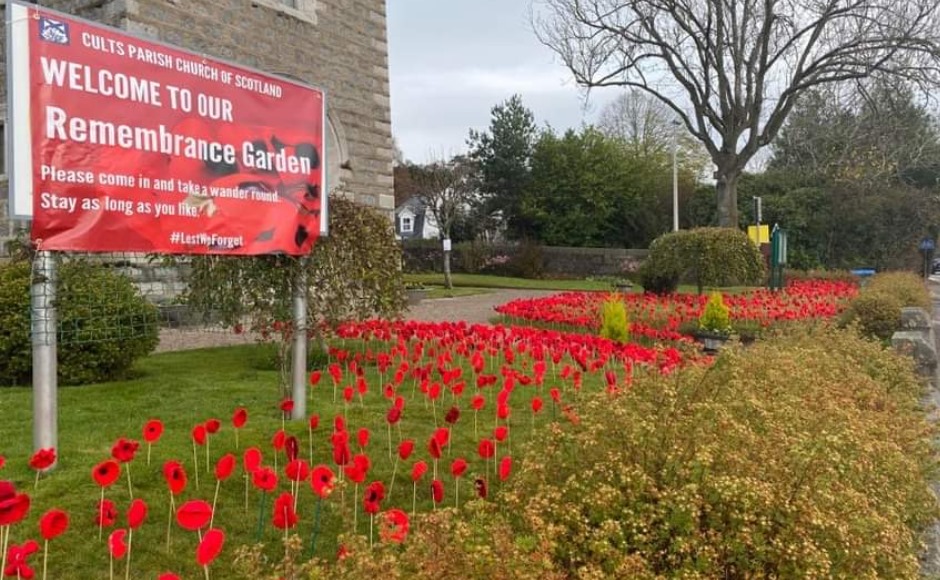 Windows at Rosyth Parish Church in Fife are currently lit up in red from the inside in the evening to commemorate the war dead from the parish.
And the exterior of the front of Roslin Parish Church in Midlothian has been spot lit in the same colour as a mark of respect from 5/6pm-10pm.
Every single parish in Scotland has been blighted by the horrors of war and beautiful poppy displays can be found inside and outside hundreds of churches.
Cults Parish Church in Aberdeen has created a special Remembrance Garden for people to pay their respects outdoors.
Minister, Rev Shuna Dicks, said: "We wanted to offer a way of people marking Remembrance Sunday in a way that was safe and didn't encourage people gathering at a certain time.
"This is an important season for many people as they remember loved ones and family member's service and sacrifice."
Mrs Dicks and the ministers of churches in the west of Aberdeen are hosting an online service on Sunday at 10.30am.
Fairmilehead Parish Church in Edinburgh also have a Remembrance Garden and have made a lovely video which gives people a virtual tour.
Minister, Rev Cheryl McKellar Young, has pre-recorded a service which will be available to watch tomorrow from 10.30am.
Rt Rev Dr Martin Fair, Moderator of the General Assembly, said: "I'm grateful to congregations which have this year found creative ways to remember those who gave everything for what mattered most.
"I hope that many people will be comforted by special poppy gardens, outdoor displays and the provision of online services."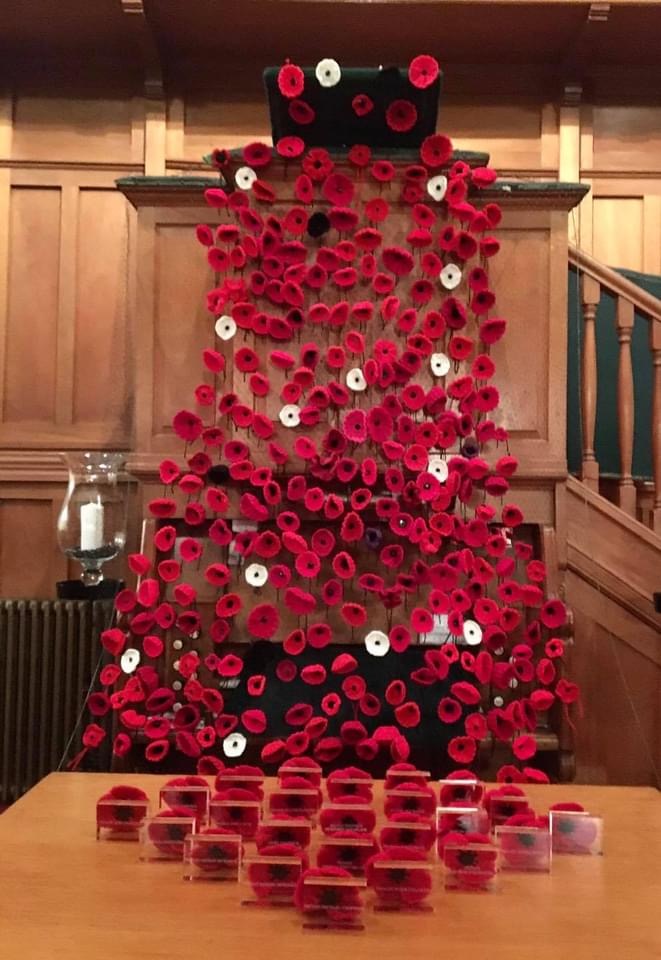 Dr Fair is leading the National Remembrance Sunday Service at the Scottish National War Memorial at Edinburgh Castle.
He said: "The greatest visionaries are those who are able to look forward because they know what's behind.
"As we continue to think about our nation, the world and what building back better might look like, it's never been more important that we understand where we've come from.
"Heaven help us if we forget those who gave everything for what mattered most."
Communities Secretary, Aileen Campbell MSP, said: "This year, as every year, it is important to commemorate the enormous sacrifices of the two World Wars and other conflicts.
"But the pandemic has made that much harder as the risk of people gathering in numbers is too great.
"In order to prioritise suppressing the virus to save lives, we have been encouraging those who wish to pay their respects to do so safely and I'm delighted to hear that so many churches across Scotland have been finding innovative ways to do this.
"Remembrance Sunday is a time for us all to reflect and remember the sacrifices made by servicemen and women, both past and present, and I am heartened so many people are managing to do so despite the challenging circumstances we all face at present."
With hundreds of churches across Scotland and beyond, it is impossible to list all the online services on offer - starting between 10.30am and 10.50am with observance of a two minute silence at 11am - and we encourage you to check with your local church.
Below is a snapshot of some of the events being held tomorrow.
Pandemic or not, silence and remembrance continues
Greyfriars and St Nicholas Parish Churches in Lanark, South Lanarkshire are holding a pre-recorded ecumenical service from 10.40am which will be available on demand later.
Greyfriars minister, Rev Bryan Kerr, said: "We cannot stand shoulder to shoulder with one another but we can join our hearts and souls in remembrance.
"We have been working to ensure the community have an opportunity to remember with all of the usual elements people are used to.
"People who do not have internet access can call our on demand audio service on 01555 807519 (local call charges apply) and listen to the service live."
Ms Campbell, who represents Clydesdale, said she is "honoured" to take part in a virtual wreath-laying at the Memorial Hall in Lanark.
Ministers in Lochaber in the west Highlands have also teamed up with ecumenical partners to host a service.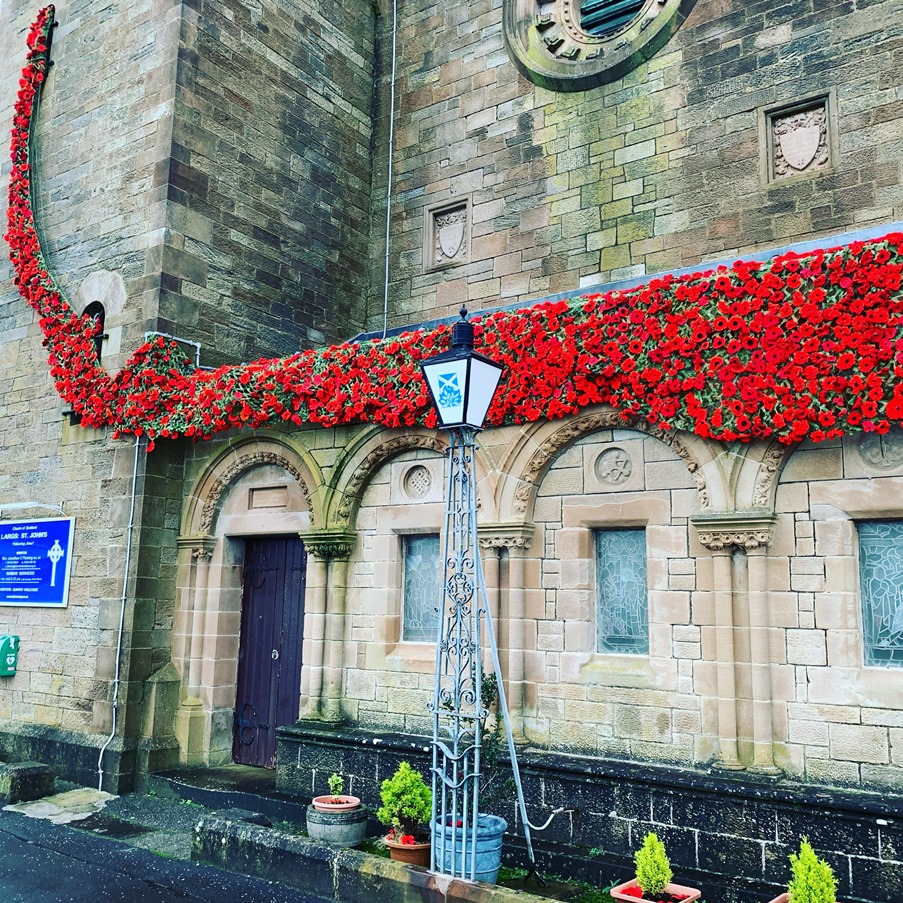 Rev Donald McCorkindale, minister of Strontian Parish Church is linked with Ardgour and Morvern parishes, said: "I think it matters to the whole community to know that even when the gatherings can't happen, we don't cancel and can do things differently.
"The silence and remembering continues."
In Shetland, the Church is hosting a live streamed Remembrance service on Sunday at 2pm.
Transition minister, Rev Fran Henderson, said: "The story of WWII is written on the very landscape of Shetland.
"May the dead rest in peace, and the scarred land bloom with flowers."
In Ayrshire, St John's Parish Church in Largs linked with Cumbrae is streaming a service live at 10am.
Minister, Rev Jonathan Fleming, said: "While gathering is difficult, we are determined to ensure that those who have paid the ultimate price in the name of freedom and those who continue to put their lives on the line each day are still honoured this year."
West Kilbride Parish Church in Ayshire have pre-recorded a service because COVID-19 restrictions mean the annual Act of Remembrance at the community war memorial has been cancelled.
The online service recorded for Tillicoultry Parish Church in Clackmannanshire has special meaning for minister, Rev Alison Britchfield.
The former Royal navy chaplain explained: "I was born on Remembrance Sunday and so was my oldest nephew so I that always had an important place in my family's life, particularly since my mother's oldest brother died on the Burma Railway.
"Two years ago I composed and wrote a Remembrance hymn and my organist arranged the music.
"The hymn was then sung by our church choir last year and a recording made which is included in the service which is available to watch from 7am on Sunday."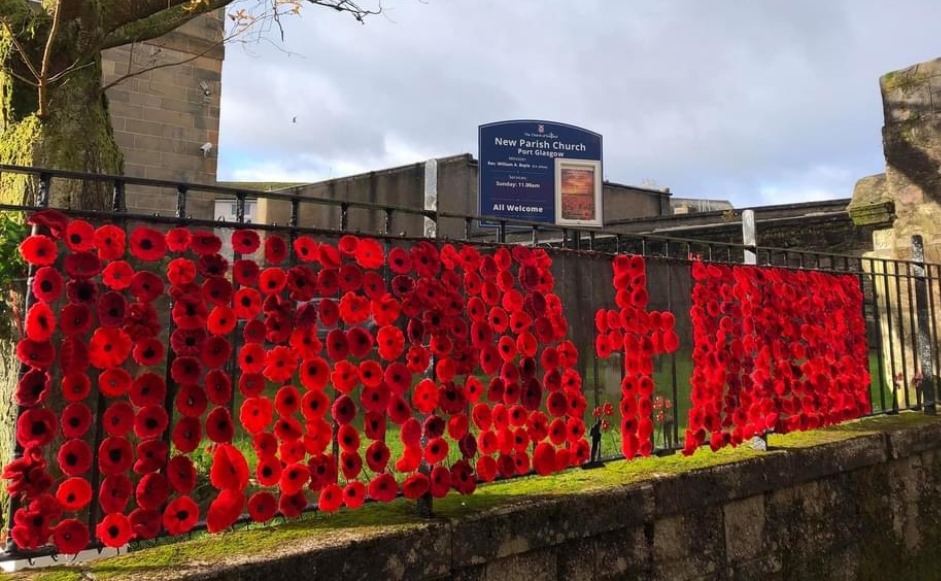 Cruden Parish Church in Aberdeenshire is broadcasting a service live via its Facebook page at 10.30 and will be followed by an Act of Remembrance held in the church.
In Linlithgow in West Lothian, St Michael's Parish Church has created a video featuring photographs of people in the Armed Forces who have died and family tributes.
The video will be live streamed on the church's website at 10.50am.
Caring for each other is a community task
Bridge of Allan Parish Church in Stirlingshire has recorded an ecumenical service which also involves members of the wider community.
Minister, Rev Dan Harper, said: "As we remember the sacrifices made in armed conflict, we cannot remove ourselves from the challenges we face because of COVID-19.
"The work of remembering, peacebuilding and the work of caring for each other is a task for community."
Port Glasgow New Parish Church in Inverclyde is live streaming a service at 10.50am on Facebook.
Minister, Rev William Boyle, said: "I think that it is great we have this new equipment to make sure people can still attend our Remembrance service either in person or online, especially as cenotaph gatherings are cancelled this year."
Newly renovated St John's Church in Gourock in Inverclyde is streaming a Remembrance Service on its website on Sunday.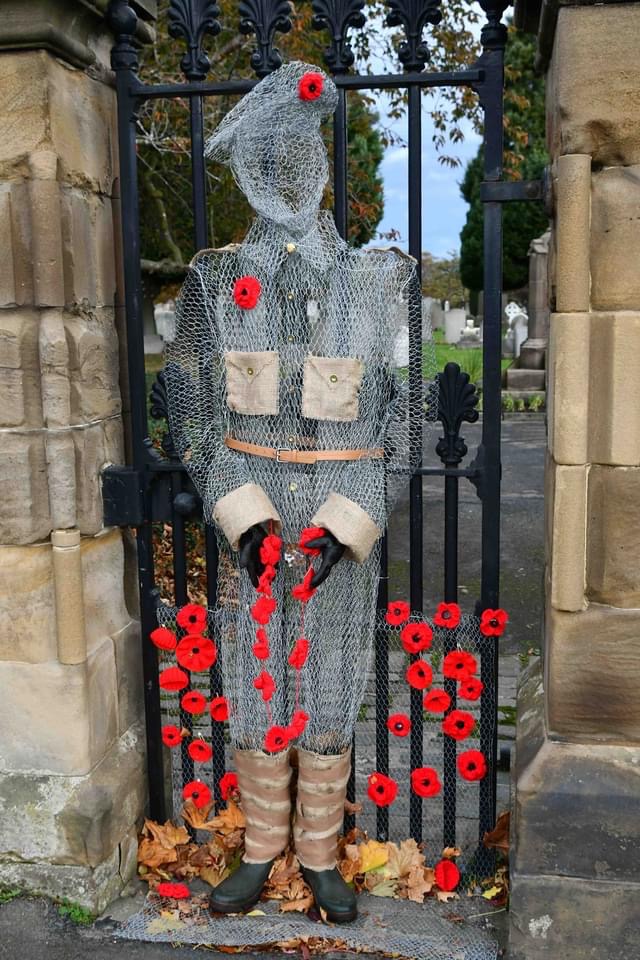 Minister, Rev Teri Peterson, said: "This will be the first service recorded live with others involved and we decided to delay opening of the building for Sunday worship so that we could record this act of Remembrance with more of the traditional elements
"It is a meaningful opportunity to give thanks for those who have gone before us and offered themselves in service to others and to use the whole of our church building and grounds without impediment for the first time in 15 months."
St Mary's Parish Church in Haddington, East Lothian is live streaming an ecumenical service at 10.50am.
It will be led by minister, Rev Alison McDonald, and Rev Liz O'Ryan of Holy Trinity Scottish Episcopal Church.
An unusual poppy display featuring the outline of a soldier has been installed on a gate outside St Mary's Parish Church.
Carrick Knowe Church in Edinburgh will be posting a pre-recorded service online at 10.30am tomorrow.
Martins Memorial Church in Stornoway on the Isle of Lewis is live streaming an online service at 10.50am.
In Perthshire, Rev Neil Glover, minister of Aberfledy Parish Church linked with the congregations of Dull and Weem and Grantully, Logierait and Strathtay, and his colleagues have pre-recorded a Remembrance Sunday service.
It features footage from war memorials across the area which people usually visit on the day.
In Dumfries and Galloway, Dunscore Church is holding events through the day involving the wider community.
Video clips will be compiled into an online virtual act of Remembrance which will be available to watch online the following day.
Kirk missionary Jane Haining, who died in Auschwitz during the Second World War, is celebrated in a permanent exhibition inside the church.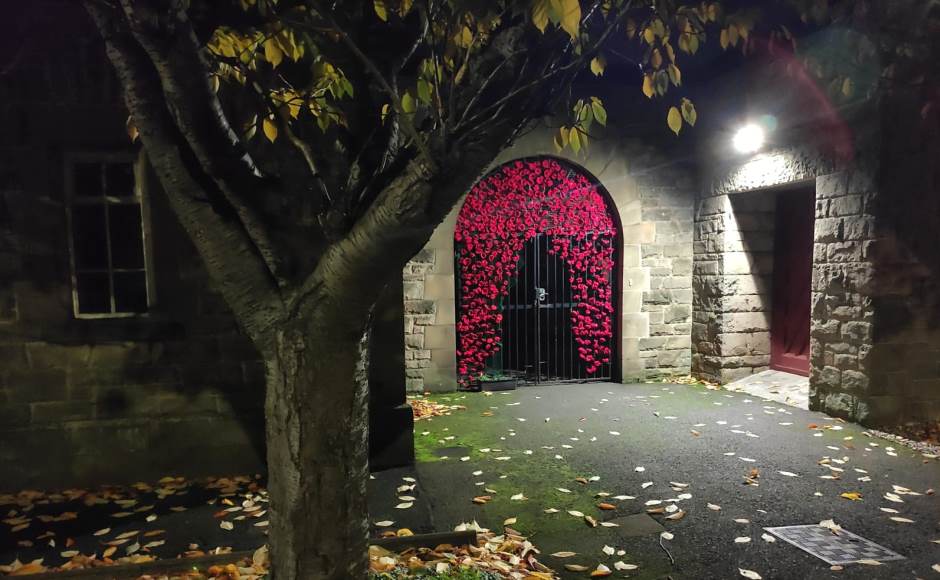 In the Scottish Borders, real life Remembrance services are being held in both Teviothead and Hawick: Wilton churches in accordance with COVID-19 restrictions.
Minister, Rev Lisa-Jane Rankin, said: "The men whose names are on memorials were members of our churches, valued members of society from all walks of life.
"They paid the ultimate price for defending our country in war and hope that we honour their memory."
St Columba's Church in London is live streaming a Remembrance Sunday service at 11am.