Thy Kingdom Come increased its impact in 2019
Published on 19 October 2019
The global prayer movement Thy Kingdom Come reached Christians in more than 170 countries in 2019 and 70% of those who took part felt more encouraged to share their faith.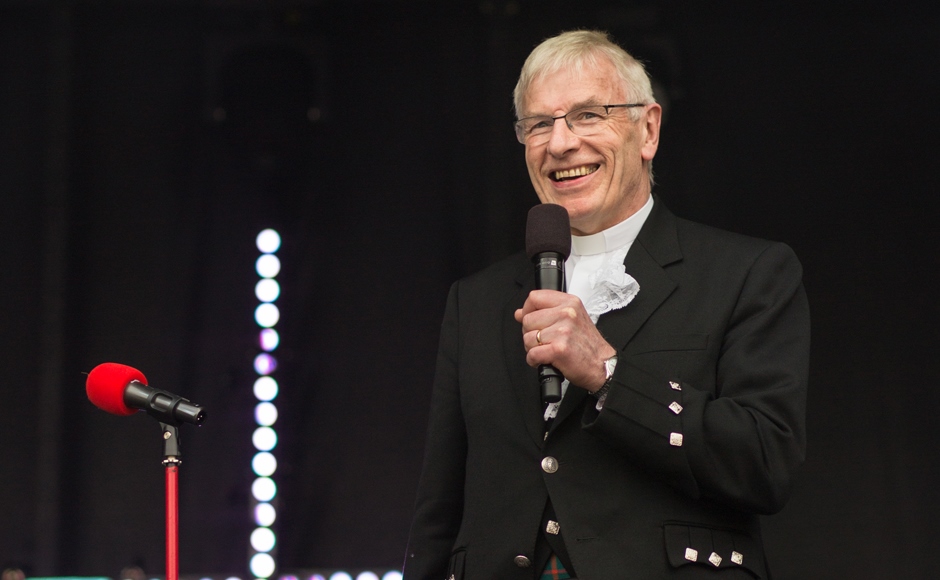 This year for the first time the Church of Scotland joined the prayer event which spanned the 11 days from Ascension to Pentecost.
The Kirk produced a Gaelic prayer diary for the initiative and Rt Rev Colin Sinclair joined faith leaders from around the world at Thy Kingdom Come's culminating event in London's Trafalgar Square.
The Moderator said he felt privileged to offer a prayer at the rally, which brought together thousands of believers for a celebration which featured choirs, music and worship led by religious leaders from across the United Kingdom.
"It is always easier to do something if others are also doing it," he said.
"One of the great strengths of "Thy Kingdom Come" was the sense of the Church coming together across denominations, cultures and geography to spend time in prayer in the ten days between Ascension and Pentecost.
"My wife Ruth and I were privileged to be present and to take part in the rally in Trafalgar Square. To see three Archbishops with other Christian leaders standing together side by side was very moving."
Bringing people to faith
Started by the Church of England in 2015, the ecumenical prayer movement began as an invitation from the Archbishops of Canterbury and York to the Anglican Communion to pray for more people to come to faith in Jesus during Ascension to Pentecost inspired by Acts 2.
Since then the movement has grown fast with Christians from all traditions and backgrounds taking part - hosting special worship services, prayer meetings, prayer walks, and continuous prayer sessions.
Thy Kingdom Come now includes millions of Christians praying across 65 different traditions and denominations across the world and has been praised by high-profile leaders, including Pope Francis, and Cardinal Vincent Nichols.
During this year's General Assembly, Her Majesty The Queen sent a letter to the Church of Scotland commending the initiative.
The Spirit at work
The Archbishop of Canterbury Justin Welby said: "Once again the Spirit's work in Thy Kingdom Come has humbled us, stretched us and taken breath away. I have previously said I cannot remember in my life anything that I have been involved in where I have sense so clearly the work of the Spirit.
"My sense of this only grows as we learn that this year we had engagement from followers of Christ in over 170 countries, take up across the denominations and traditions and the clear focus on seeking the empowering work of the Spirit for our effective witness.
I am looking forward to all God is doing in answer to our prayers."
Findings show impact
Key findings from the 2,600 people who contributed to the 2019 annual feedback survey show that:
90% of countries took part in They Kingdom Come.
92% of those taking part were praying for friends and family members to come to know Jesus - with nearly two-thirds (62%) of this group planning to follow up or talk to the people they were praying for.
70% of those who took part felt more encouraged to share their faith.
40% of respondents took part for the first time this year - which shows this is still very much a growing movement.
99% want to be involved again next year, the same figure as last year - demonstrating growth and value.
Prayer brings renewal
The initiative's award-winning app⁠—which offered daily video reflections, Bible readings, podcasts and alarm reminders to pray for five people to come to Jesus⁠—has now been downloaded thousands of times in 86 countries. And Thy Kingdom Come prayer materials have now been translated intoArabic, Finnish, Malagasy, Maori and many others as well as Gaelic.
Rev Dr John McPake, the Church of Scotland's Ecumenical Officer helped get the movement off the ground in Scotland.
"The participation of the Church of Scotland in Thy Kingdom Come 2019 has enabled local congregations to share in a global Kingdom-focussed initiative," he said.
"We are already anticipating the possibilities that 2020 will bring as we pray together for the renewal of the Church."