Upsurge in demand at Kirk run school uniform banks
Published on 14 August 2019
Hard-pressed families across Scotland are increasingly turning to "school uniform banks" run by Kirk congregations.
Co-ordinators of "used but still usable" clothing services have reported an upsurge in interest from parents and carers who are struggling to make ends meet.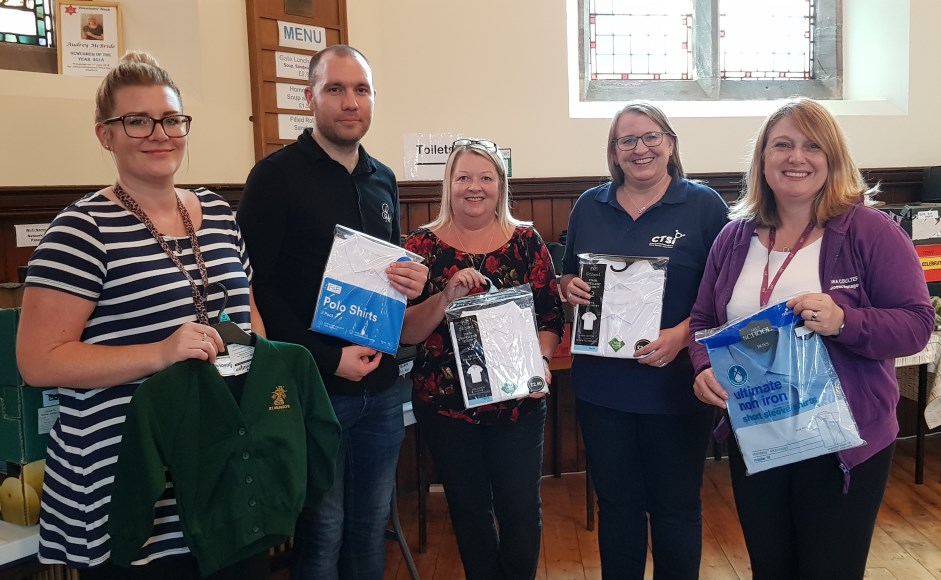 They cater for children and youngsters preparing to return to primary and secondary schools after the summer holidays and provide articles including blouses, shoes, school jumpers with logos, blazers, polo shirts, trousers, skirts, PE kits, school bags, lunch boxes and stationary.
Clothing is largely donated by parents of children who have outgrown them or no longer have any use for them.
Some of the items are brand new and have never been worn.
Environment
Co-ordinators say the scheme is good for the environment by encouraging recycling and ensuring pupils are properly clothed and equipped has a positive impact on emotional and academic wellbeing.
St Margaret's Parish Church in Forfar started a service four years ago after minister, Rev Maggie Hunt, moved to the Angus town and struggled to find a uniform for her daughter.
The demand for the service has grown to the extent that 2,194 articles have been given away since April this year.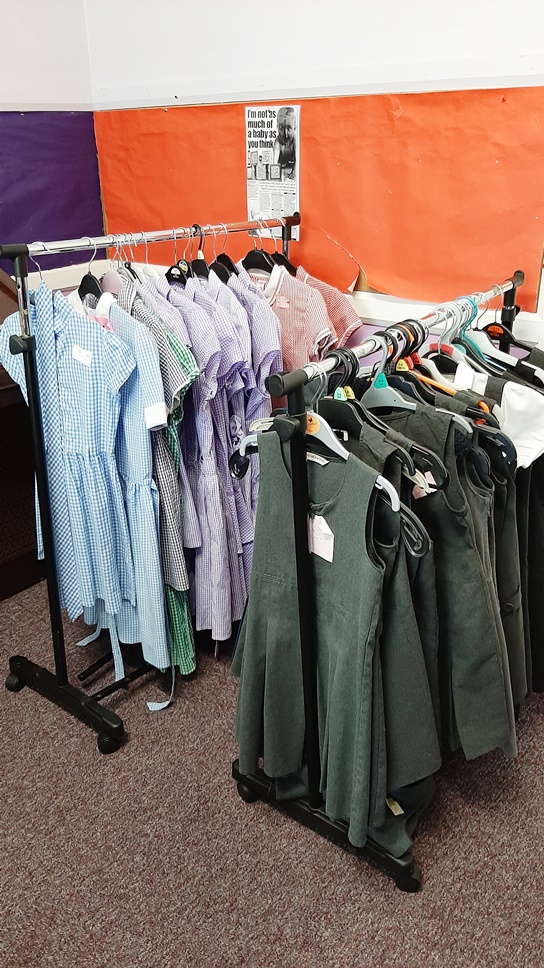 The church teamed up Monifieth Parish Church and St Andrew's Parish Church in Arbroath this summer to help parents prepare their children for the new academic year.
Mrs Hunt said: "Some families in Forfar can't afford to even go to Dundee to access bigger shops and value brands like Primark.
"Buying a uniform mid-year can be really tricky and if you don't have access to online shopping it can be so hard.
"There was no provision for hand-me-down clothes when I came to St Margaret's in December 2014 so that is why it started.
"School uniforms come to us from parents, grandparents and carers from the local schools who hand in 'too small' uniforms.
"Clothes can be left at the school - we do weekly pick-ups- the church halls any weekday morning and our local Tesco who support us and have a trolley for drop offs.
"So why buy new when you can help the planet by reusing good quality clothes with lots of wear left in them?"
Popular
Milton of Campsie Parish Church in East Dunbartsonshire started running a "used but still useable" clothing venture with the local primary school this year.
Minister, Rev Julie Moody, said: "This is the first time it's happened and parents were encouraged to hand in uniforms at the end of last term and to the church, which we opened every Friday in July for donations.
"Folks in the church then washed, ironed and sorted the donations and we were inundated.
"During our fortnight of Holiday Club at the end of the summer, the uniforms were available for parents/carers to browse and take away.
"There has been really good take up."
Ms Moody said the church was pushing the scheme as an environmental issue.
"Both the school and the church want to promote environmental care," she added.
"The leftover uniforms are now going to the school where they will be available at parent evenings, school discos, etc.
"The church will have them on offer at the Christmas Fayre and we'll ask for more donations in the New Year."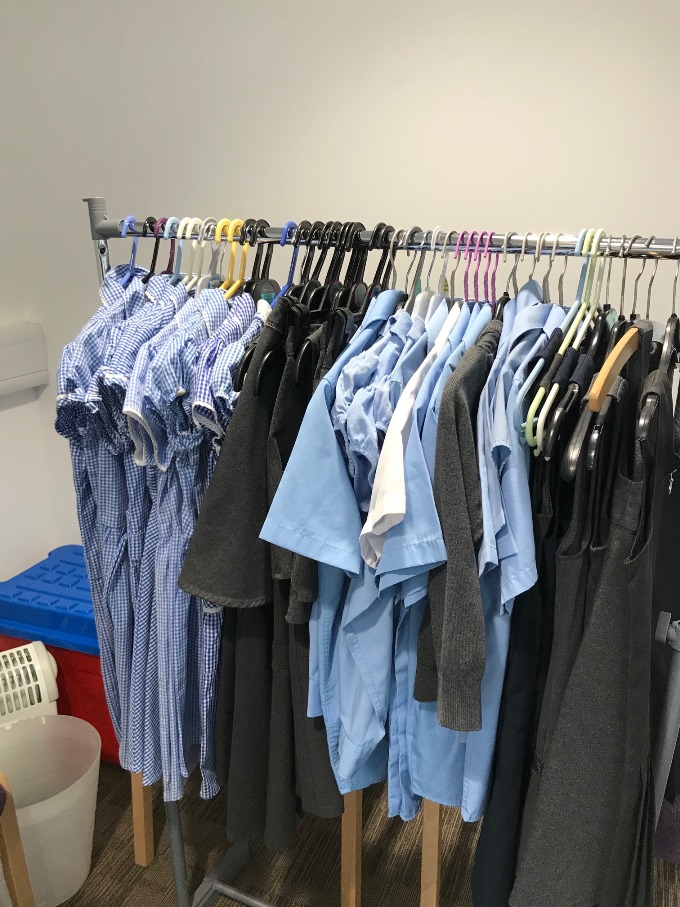 The Gate, a charity linked to Alloa Ludgate Church in Alloa, Clackmannanshire started its school uniform service four years ago and expects to cater for more than 400 pupils, aged 4-18, this year.
It provides new and secondhand clothing and equipment to pupils who attend 27 schools and nurseries in the region.
Dignity
Marie Brownhill, manager of The Gate, said: "School uniforms and equipment cost an absolute fortune and parents/teachers believe that a lack of money to make purchases affects pupils' emotional and academic wellbeing.
"The project doesn't only support families affected by poverty, the working parent also finds it difficult to purchase school uniforms and equipment as the cost is so huge."
Mrs Brownhill, a mother of three, said the project allowed the community to give something back through donations of clothing or time and receive help with dignity.
"Children grow very quickly and items that are donated are usually in very good condition and parents are really pleased to know that they have also helped others within the community by donating items back to the project," she added.
Mrs Brownhill said St John's Episcopal Church in Alloa used the proceeds of a collection to buy new clothing and equipment.
"The congregation kindly spent £500 on a jumpers, polo shirts and school bags for a local school that is always our highest referral," she added.
"We hold a three-day collection stand within supermarkets and customers donate hundreds of pounds worth of uniforms and items."
Other churches that run school uniform banks include Viewpark Parish Church in Uddingston, Chalmers Parish Church in Larkhall and Gilmour and Whitehill Parish Church in Hamilton.