Stirling event encourages churches to engage with dementia-friendly projects
Published on 9 March 2019
A conference highlighting the dementia-friendly community activities happening across Scotland and inspiring congregations to get involved is being held in Stirling on Friday 22 March.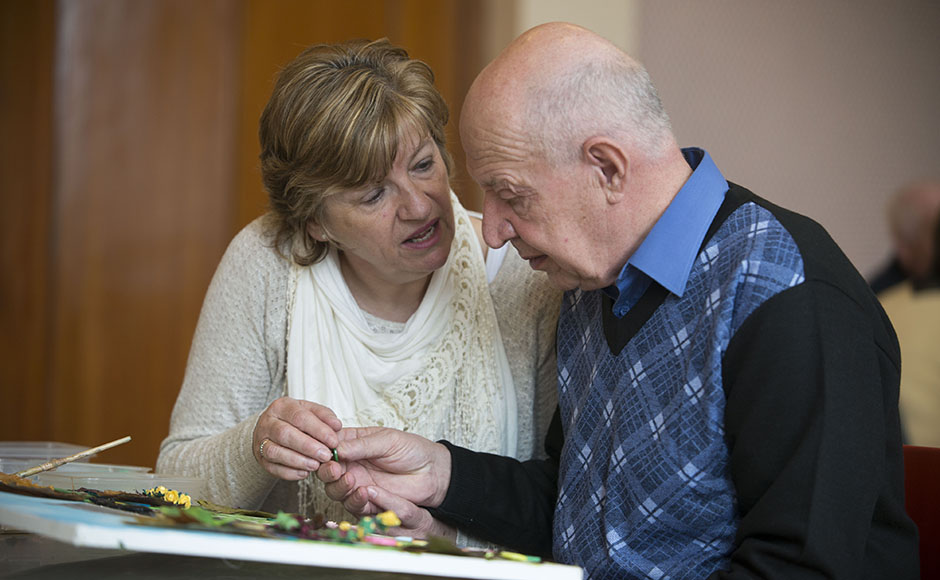 The one-day conference at Allan Park South Church, taking place between 10am-4pm, will feature presentations, workshops and keynote speakers on the topic of 'Being Together & Learning Together: Dementia Friendly Developments in our Communities'.
Dr Murdo Macdonald, the Kirk's policy offer for the Society, Religion and Technology project, said:
"It is clear that there are people within our congregations who are affected by dementia - people who care for loved ones as well as those directly affected.
"While it is good to note that many churches have been actively engaging with activities to support those who are affected, there are always advantages in seeking to learn from each other.
"Through this conference, we want to celebrate what local congregations in all parts of Scotland are already doing in relation to dementia, and to encourage others to join them."
The event is being jointly hosted by Stirling Presbytery and the Kirk's Church and Society Council.
Thought-leaders in the field of dementia
Those attending will hear from keynote speakers including:
Professor John Swinton of Aberdeen University, a Scottish theologian and researcher, who will be speaking on the topic of 'living together with dementia: family, friends, neighbours and community'
Dr Peter Murdoch, a retired physician in geriatric medicine and a trustee of the Dementia Services Development Trust, who will be presenting on 'a plain English explanation of dementia and its effects'
Rev Helen Jamieson, the minister of St Andrew's Parish Church in Carluke who helps run a drop-in support service at her church for people with memory difficulties and their carers. Helen will be speaking on 'discovering a calling to be dementia-friendly in the community'.
Sarah Metcalfe, chief executive of Playlist for Life; an initiative which uses the power of music to connect with those living with dementia. Sarah will be speaking about the resources available through Playlist for Life.
Rev Helen Jamieson is passionate about the need for sharing learning and experiences of dementia support with other churches.
"I'm looking forward to participating in the dementia event because it provides an opportunity for learning and sharing together around an issue that affects so many people and can have a huge impact on families," Helen said.
"Often, dementia is associated with older people but there are people who are diagnosed with early onset dementia and people with learning disabilities can also be affected by dementia.
"During my presentation, I will be telling the story of our dementia project which began in St Andrew's Church in Carluke a little over six years ago with six people attending. Through working in partnership with others, building relationships and networking, the project now reaches out to people who live not only in Carluke but within the wider Clydesdale area.
"With a small team of very committed helpers, the project continues to develop and grow and we often have over 80 people a month attending the drop-in support and various activities organised.
"As we have continued to respond to the nudging of God's Spirit, our ministry in St Andrew's has been transformed and we are delighted that a recent three-year funding award from Go for It will enable us to continue to grow our project through the appointment of a full time coordinator."
A series of presentations from communities from across Scotland will offer attendees additional inspiration and ideas.
Meanwhile, workshops will allow those coming along to share and learn with others and explore opportunities for dementia friendly developments in their own local areas.
Useful tips to help you make your church building more dementia-friendly
For those of you who aren't able to attend the conference on this occasion, but would like to implement more dementia-friendly resources or activities into your church, there are some useful guides available to download to help you make some changes:
Register to attend
The Being Together & Learning Together: Dementia Friendly Developments in our Communities event will be held on Friday 22 March between 10am-4pm at Allan Park South Church in Stirling.
To find out more or register your attendance, please email Bonnie McDowell, Stirling Presbytery's dementia co-ordinator, or call her on 07704 601983 by Tuesday 12 March.
Please note, attendees are kindly asked to bring a packed lunch. Teas and coffees will be provided in the morning and afternoon.