Moderator calls us to pray for everyone touched by the bombings in Sri Lanka
Published on 21 April 2019
Christians in Sri Lanka were devastated to learn that more than 200 people have been killed and 400 injured in a coordinated series of bomb attacks on three churches and four hotels in the country.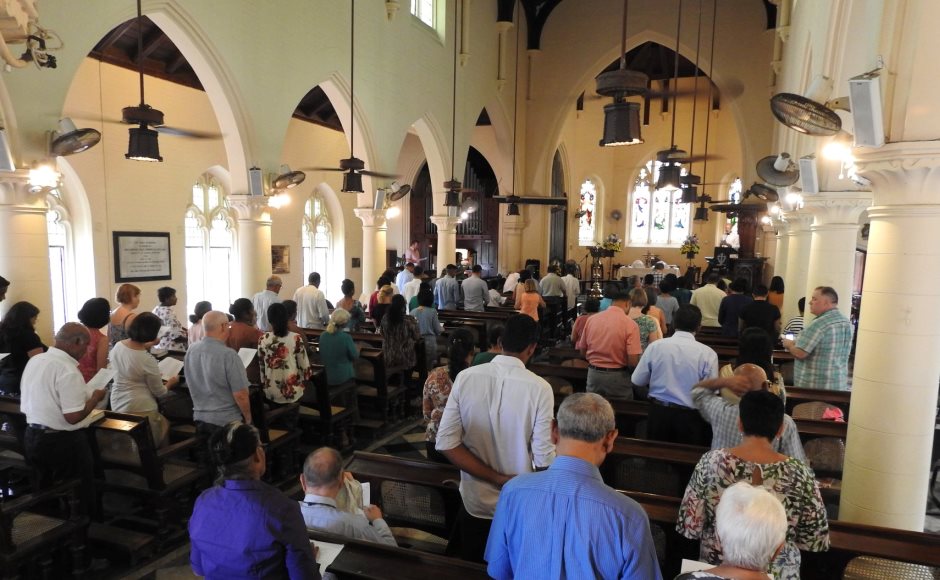 The bombs were detonated during Easter Sunday services when the churches were filled with worshippers.
Rt Rev Susan Brown said:
"We are tremendously sad to hear news from Sri Lanka that more than 200 people have died in bombing attacks targeted at churches and hotels.
"That these attacks have been perpetrated on Easter Sunday, the highlight of the Christian year, is devastating to all the churches in Sri Lanka and to Christians around the world.
"The World Mission Council has tried to be in touch with the local partners there, the Presbytery of Lanka and the National Council of Churches of Sri Lanka, but has had no news back so far.
"The Church of Scotland St Andrew's congregation was gathering for worship in the centre of Colombo when they heard the bomb go off in the neighbouring hotel.
"The minister gave people the chance to go home immediately, but most people did not leave, instead staying to worship God and to pray together for everyone touched by these dreadful acts.
"For many years we have supported the interfaith peacebuilding and reconciliation work done by the National Christian Council of Sri Lanka. It was a privilege to have the then General Secretary Rev Ebe Joseph participate in events in Scotland on interfaith dialogue just a few months ago.
"Let us all pray with and for St Andrew's, Colombo and all those caught up in the bombings, for those injured and for the families of those tragically killed, and for the leaders of Sri Lanka to offer wisdom in their reactions to these terrible events."
Chandan de Silva, session clerk at St Andrews Scots Kirk in Colombo, described the mood in the congregation as distraught but steadfast.
"We were close to one of the blasts - Cinnamon Grand - and felt it, although we didn't know what it was at the time. And this was about 15 minutes before the start of our service," he says.
"We had about a 100 people in church although some left during the service.
"Bill (Locum minister Revd Bill Davnie from PCUSA) made a very good call by saying that people were free to stay or leave after the service.
"And for those who decided to stay for the Easter brunch we would stand in solidarity with all those who had lost their lives and were injured.
"To my astonishment many people stayed for the brunch. We called for volunteers and checked the premises for suspicious items and found none.
"We are home now safe and sound. We have locked the church premises for the protection of all living there and there's a police presence both inside and outside."
The St Andrews congregation in Colombo has asked all of us to pray with them as they weep for the injured and for the families of those tragically killed this morning.
The World Council of Churches has condemned the attacks, calling them a "sacrilege" and "an attack on religious peace and harmony."
Rev. Dr Olav Fykse Tveit the council's general secretary said:
"While we still await information regarding the perpetrators and their motives, we strongly condemn these attacks on people gathered at worship and on tourists visiting Sri Lanka, and offer our heartfelt prayers for the victims and condolences to all those who have lost loved ones in these appalling acts of violence.
"As a global fellowship of churches, we stand in special solidarity with the Christians of Sri Lanka who have been attacked in this vicious way while celebrating the resurrection of Jesus Christ, the pivotal moment in the faith journey for all Christians."
"The targeting of churches in this manner is an attack on religious peace and harmony and on the social and cultural fabric of the nation, which has long struggled to uphold principles of religious harmony and diversity.
"Such acts of violence undermine the sanctity of life and constitute a sacrilege in many senses. Even as we cry out against this sacrilege, we resolutely affirm that violence must not beget violence.
"In the spirit of the love of Christ, on this Easter Day, we hold fast to the belief that violence, hatred and death will not have the last word.
"Our thoughts and prayers are with our member churches of the WCC's global fellowship, our ecumenical partners of the Roman Catholic Church, and the Government of the Republic of Sri Lanka which has rightly called upon all Sri Lankans during this tragic time to remain united and strong and is taking steps to contain this situation.
"A fitting tribute to the memories of those who lost their lives in sacred spaces of peace and refuge is for us all to live out the difficult task of demonstrating that the power of peace and love are far greater than the power of violence.
"Jesus Christ our risen Lord says, 'Peace I leave with you; my peace I give to you. I do not give to you as the world gives. Do not let your hearts be troubled, and do not let them be afraid.' (John 14:27)"
"May these words become all the more true to those who cope with the aftermath of these attacks. May they offer to all of us hope and healing."
Rev Liam Fraser has opened a crowdfunding page to help those affected.