Charity transport service enhances lives of those living with HIV
Published on 30 August 2019
Thousands of people living with HIV and Hepatitis C are leading easier and more fulfilling lives thanks to generous Church of Scotland members.
Money raised by congregations helps fund a "vital" transport service in Edinburgh and the Lothians run by a charity called Positive Help, which is celebrating its 30th anniversary this year.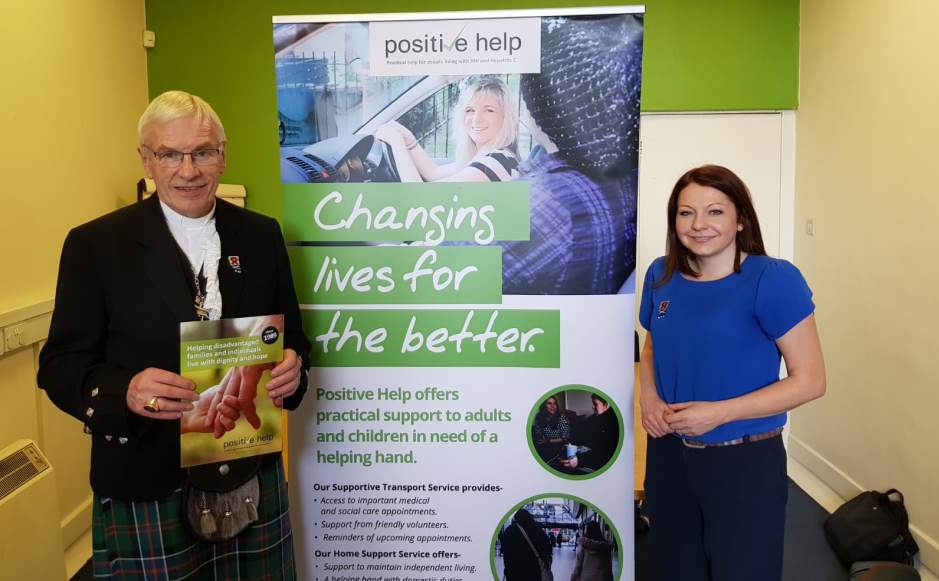 A team of highly-trained volunteers drive service users, many of whom are ageing with physical and mental health difficulties, to regular hospital appointments five days a week.
People living with HIV, of which there are an estimated 5,881 in Scotland, who consistently follow their treatment plan can ensure that the virus is "undetectable and untransmittable", meaning that the virus will not be passed on to a partner.
Volunteer drivers also give people free lifts to supermarkets and social and therapeutic support groups, supporting a holistic approach to treatment.
A total of 144 service users benefited from the "Supportive Transport" service in the last 12 months with 2,222 lifts given and 1,726 hours volunteered to the service.
Deeply impressed
Rt Rev Colin Sinclair, Moderator of the General Assembly, said he is "very proud" that the Church, through its HIV Programme, has supported the service since 2010.
He and his wife Ruth paid a visit to the charity's offices in Edinburgh on Wednesday.
Mr Sinclair said: "It was a privilege for us to be invited to meet some of the staff, volunteers and a service user.
"We met one of their longest serving volunteer drivers and were impressed with his commitment, discretion and care for those he was asked to transport.
"This is vital work and an extremely worthwhile partnership and as we listened to their stories and heard how they managed their work we were deeply impressed."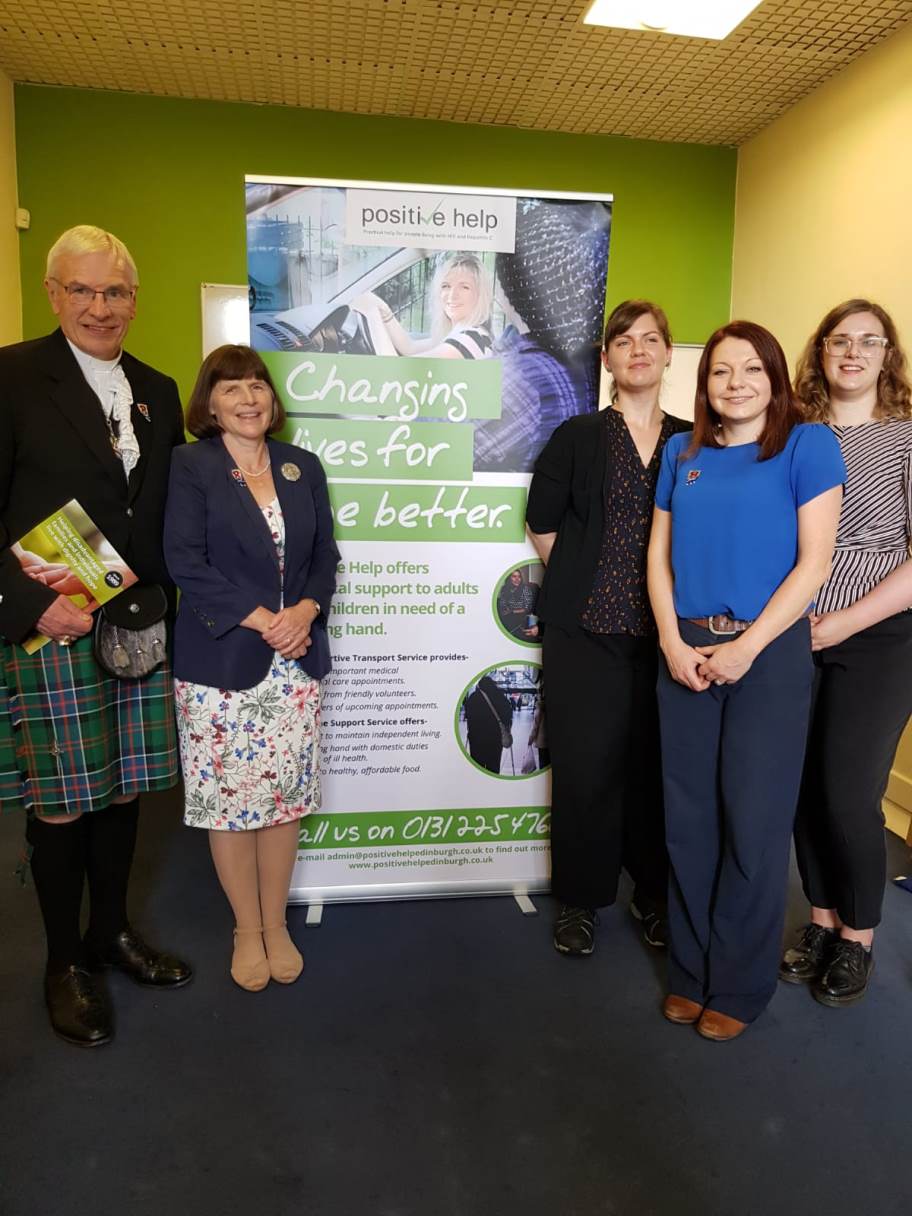 It is estimated that 1,405 people are attending specialist HIV services in the Lothians.
A recent survey showed that 94% of service users reported increased attendance at appointments due to Positive Help's Supportive Transport service.
Essential
Jim has been a volunteer driver for six years and takes people where they need to go three days a week.
"It is a fantastic service and essential for people because if it disappeared many would not attend hospital appointments," he said.
"Positive Help is like a family and I am very pleased to be a part of it."
Positive Help provides four services for individuals and families living with HIV or Hepatitis C:
Supportive Transport
Home Support for people living with physical and mental health problems
Study Buddies which pairs mentors with children and young people to help them with their schoolwork
Children and Young People's Befriending, which organises fortnightly outings to help expand children's horizons and give them new life experiences, while providing a positive adult role model and friend
Service user Chris has been supported by the charity for 17 years.
He has lived with HIV for nearly 30 years and feels like "one of the lucky ones".
Chris said: "I have nothing but praise for Positive Help because I get all the emotional and physical help that I need with cleaning, shopping and getting to hospital appointments.
"The support I get is tremendous and the volunteers lift my mood because I suffer from bouts of depression.
"Positive Help is my safety net and I would encourage people living with HIV and Hepatitis C to get in touch with them."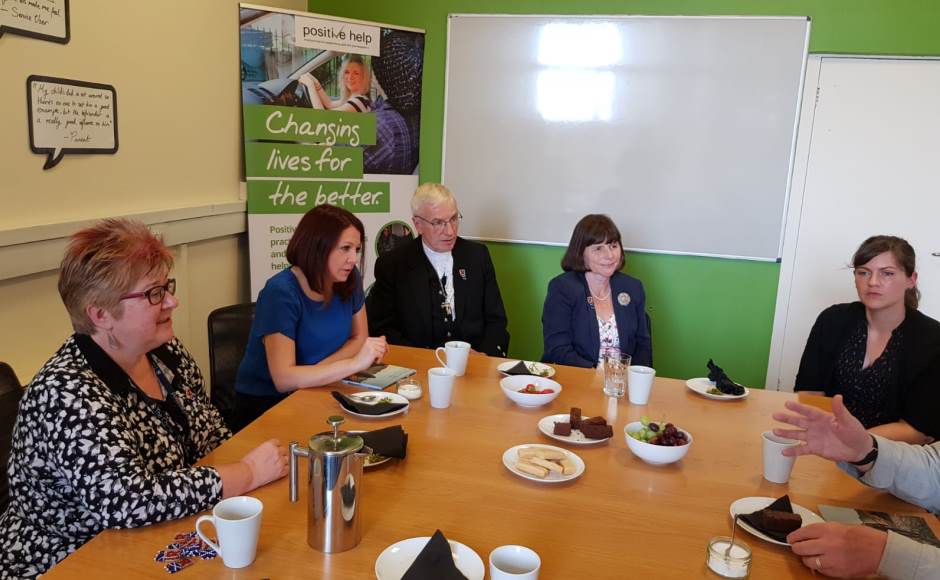 Positive Help is appealing for more volunteers to help them carry out rewarding, life changing work.
Gillian Frayling-Kelly, the charity's Chief Executive Officer, said meeting Mr Sinclair was an important part of the charity's 30th birthday year celebrations.
"Our partnership with the Church of Scotland goes back many years through receiving funding from their HIV programme," she added.
"We are thankful to everyone who has contributed to this through the collections all over Scotland.
"It has helped us to support thousands of people."
Common good
Mrs Frayling-Kelly said she was pleased to explain to the Moderator how Church-raised funds allow the charity to help service users to enable them to be consistent with their treatment.
"Positive Help is about relationships – with those who we support, our volunteers and our close partners with the NHS and Social Work," she added.
"We all work together for the common aim of enabling those living with HIV to access support and treatment."
The Church has raised more than £500,000 to tackle HIV and AIDS by serving hundreds of thousands of bowls of soup.
Volunteers in congregations across the UK and further afield are using their culinary skills to literally change the world for people living with the virus "one spoonful at a time".
Souper Sunday, part of the HIV Programme, is celebrating its 10th anniversary this year.