Barrhead minister takes to the skies to fundraise for CrossReach
Published on 29 July 2019
Rev Pamela Gordon, the minister at Bourock Parish Church in Barrhead, raised an impressive £1,650 in aid of CrossReach during her skydive over Auchterarder in Perthshire on Saturday 13 July.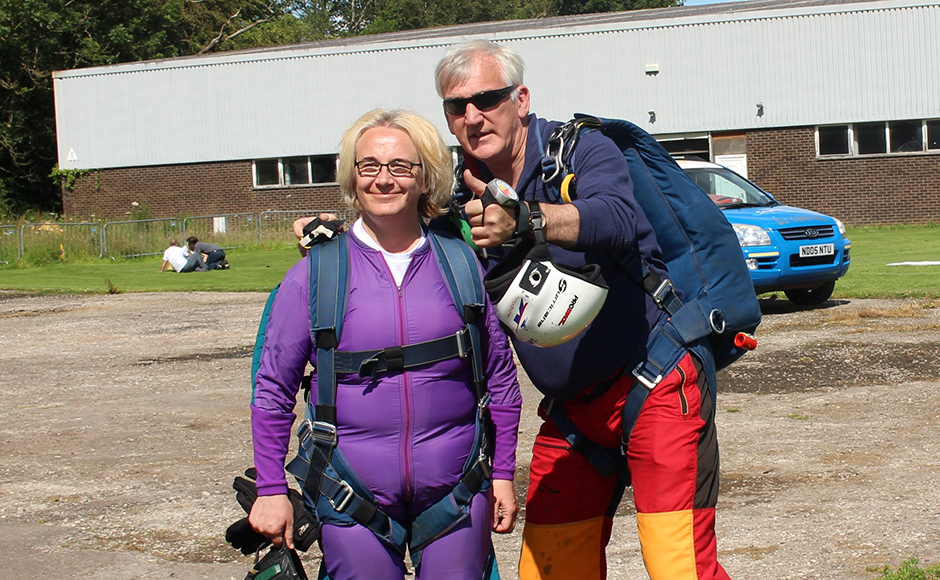 Pamela, who previously abseiled from the Forth Rail Bridge in Edinburgh last year and raised over £700 for the Kirk's Social Care Council, CrossReach, said the jump was "very scary".
"I have got to say; the jump was very scary – I was genuinely scared. When we were getting up to 10,000 feet, it seemed like it was taking forever, and I kept thinking 'I don't think I can do this'.
"There were two guys who jumped out before me because we were in a tandem and when they went, I thought 'wow, this is just horrendous'.
"But I was taken to the edge of the plane and we went out – I could just feel the force of the wind on my face.
"For the first 30 seconds, you are free falling at 120mph, then the person you're attached to opens the parachute and you're just floating. It was absolutely incredible, and the view was spectacular.
"When I think about it now, I would definitely do it again. At the time when I landed, I thought 'no, I don't think I could do that again', but I think I just needed time to process it.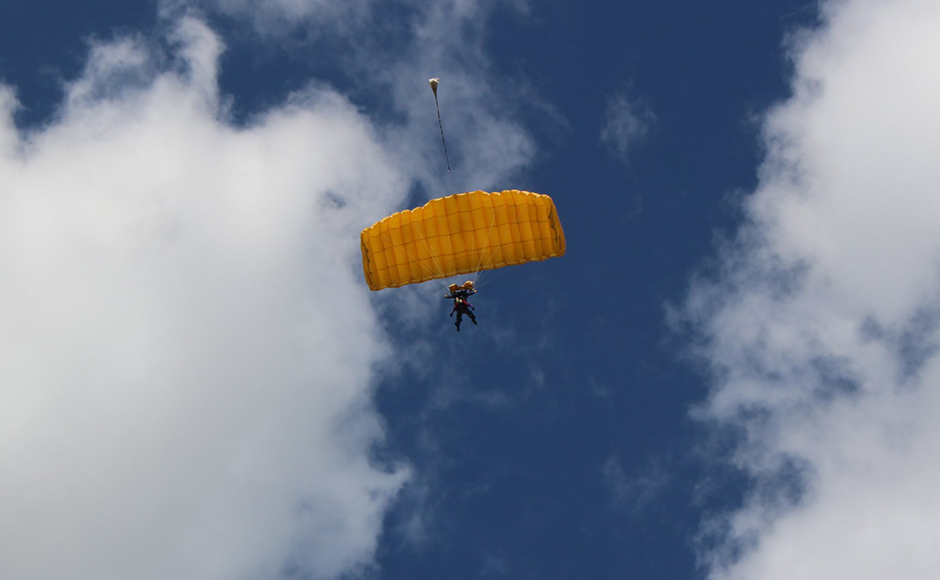 "Next year, CrossReach are looking to raise money by doing a zipwire up in Aviemore so I will be signing up to that – after this I think I can do anything.
"Neilston Church, St Andrew's Church and Bourock Church have really stepped up and sponsored me. Individuals and people I don't even know have also donated."
Pamela exceeded her initial target of £1,000 by 65%, raising over £1,650 – at the time of writing - towards the work of CrossReach.
CrossReach supports some of the most vulnerable people in Scotland in areas such as substance misuse, children and families, counselling and support, criminal justice, homelessness, learning disabilities, mental health and care for older people.
If you would like to make a donation, there is still time to do so on Pamela's JustGiving page.
CrossReach celebrates its 150th anniversary this year, with a long legacy of social care which can be traced back to 1869. During the year, we will continue to share the broad range of work they are doing as one of Scotland's largest social care services.
Feeling brave and looking to sign up for one of the annual CrossReach fundraising events? You can keep up to date on their events page where you can sign up to events such as zipwire challenges, marathons, abseils and skydives.