Young broadcasters from Glasgow embark on Zambian exchange
Published on 17 July 2018
Five budding radio presenters and producers from parishes in north-east Glasgow are embarking on a unique learning exchange trip to Zambia.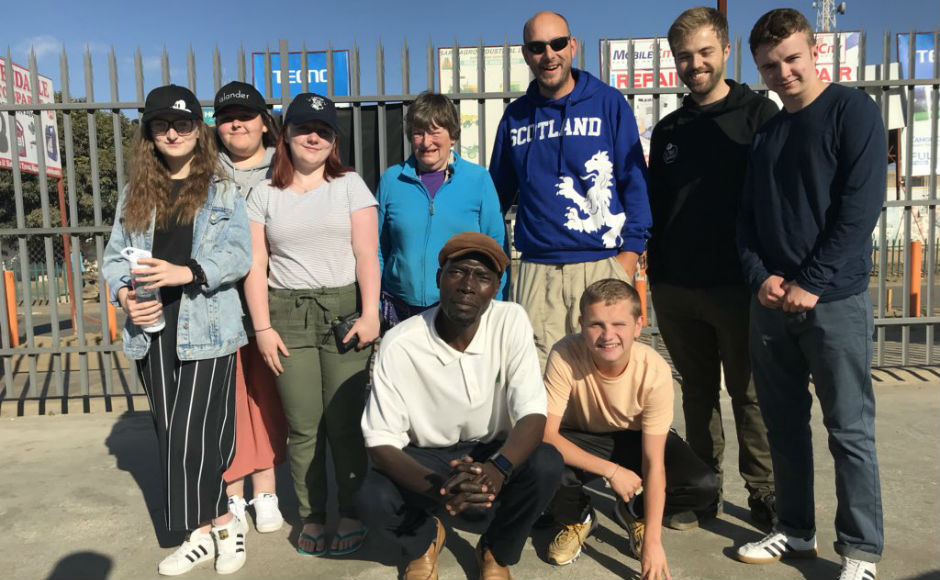 The young broadcasters, who are part of Kirk-backed youth project Bolt FM and aged between 16 and 18, will be hosted by the United Church of Zambia, in the centre of the country.
For two weeks they will travel to Ndola, a copper mining area, where they will visit a number of different projects with their hosts including local radio, print media and other broadcasters.
Strong ties
During the evening there will be time to discuss and reflect on experiences, and the group will also create audio and video clips to document the visit.
The first Bolt FM exchange to Zambia took place in 2005, organised through the Church of Scotland's World Mission Council and the United Church of Zambia, and evidence showed a strong benefit to those who took part.
A group from Glasgow set up a Bolt FM radio studio in Zambia as part of outreach connecting continents for the 2014 Commonwealth Games.
Started in 2001, Bolt FM is part of St Paul's Youth Forum in Provanmill, which is designated a 'priority area' by the Church of Scotland because it lies within one of the country's most disadvantaged parishes according to the Scottish Index of Multiple Deprivation.
Funding for the trip has been provided through the grant programme 'Together for a Change', which is a partnership between the World Mission Council and Priority Areas to widen access to overseas exchanges and further aims relating to individual growth, community development, and tackling poverty.
For young people
The ethos of the station is empowering the community by creating "radio for young people by young people."
Each year many elected members of parliament are interviewed by young people from the radio station.
Last year 10 young people visited the Houses of Parliament to meet with MP's David Linden, Hannah Bardell and Anne McLaughlan.
Ndola, which is the third largest city in the country, was chosen as a partner as the city faces similar challenges to the Kirk's Priority areas in Glasgow.
The group will also undertake a short cultural trip to Livingstone at the end of the exchange, to view the Victoria Falls and take part in a game drive to highlight wildlife conservation issues.
Transforming lives
Neil Young, Youth Team Leader at Glasgow St Paul's Church, who will accompany the group alongside two colleagues, described the trip as "the culmination of years of work" after researching the benefits of international residentials for his master's degree dissertation.
"We ran exchanges 10 years ago, but funders have been reluctant to spend the additional funds on what is seen as a luxury trip," he said.
Neil's findings challenge this misconception and he has been able to highlight the ways similar trips can transform the lives of those who are growing up in less-advantaged areas.
"In one of the longitudinal case studies, a young person we took to Zambia in 2005 showed such a dramatic change in lifestyle that we calculated over £1,000,000 saved to the economy by this international experience, changing from a life of drugs and violence and disengaged with education, to one where he went to college and within a few years was a manager," he said.
"It's exciting to take young people, who would never have the chance to travel to an area like this, to such a fantastic part of the world.
"Young people are facing similar issues globally, creating new forms of communication to have their stories heard, and I look forward to discovering with them, the great work that is being done behind the scenes that help their communities thrive.
Courtney Welsh, 17, from Cranhill in Glasgow says "I'm looking forward to the whole new culture that I will experience. It will be great to meet lots of new people, who are doing great things in their community"
James Gillan 16, from Blackhill says "I'm looking forward to travelling as I've never been on a long plane journey before, and excited to see new people. I'm scared that I won't like the food as it's so different from what I get at home."
The Church of Scotland is participating in Scotland's Year of Young People through a wide range of activities. Find out more by following on Facebook and Twitter @boltfm or by following the hashtag #ZamScot2018 #MediaForSocialGood.