Rev Robert Walker: from skating minister to anti-slavery campaigner
Published on 18 October 2018
On Anti-Slavery day, Very Rev Dr Russell Barr reflects on the link between the Rev Robert Walker, now famous as the 'skating minister', and the campaign to abolish slavery.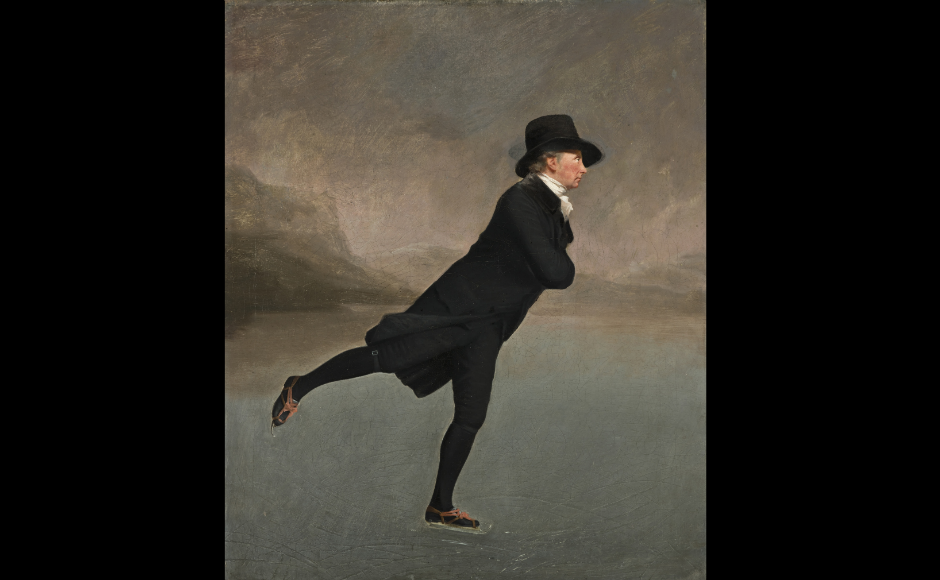 Who is Scotland's skating minister?
And what is his connection with the slave trade?
The Reverend Robert Walker is the answer to the first question.
From 1784 until his death in 1808, Robert was minister of Edinburgh's Canongate church.
As a young boy Robert had learned to skate on the frozen canals of the Netherlands where his father had been minister at the Scots Kirk in Rotterdam.
Robert became a member of the Edinburgh Skating Club.
The Club met on Duddingston Loch and Robert's skating elegance was captured by the artist, Henry Raeburn.
To answer the second question, Robert's connection with the slave trade, let me take you to Elmina Castle on Ghana's Gold Coast
For the better part of three hundred years, Elmina Castle was one the principle points of departure for the slave trade.
Hundreds of thousands of young African men, women and children were captured, shackled together in the castle's dungeons, herded onto specially built slave ships, and taken across the Atlantic.
Like Auschwitz or Srebrenica, Elmina Castle reeks of unimaginable human horror.
At Elmina Castle Robert Walker is honoured as one of the people who campaigned against the trade in human misery
Chaplain of the Royal Company of Archers, a member of the Royal Society of Edinburgh, chaplain of the Edinburgh Chamber of Commerce, and by dint of his appointment at Canongate, minister at the Palace of Holyrood House, Robert Walker was the epitome of an establishment figure and yet against the vested interests of many in Edinburgh and beyond, in 1788 Walker persuaded the Presbytery of Edinburgh to petition Parliament to end the slave trade.
The wheels of Parliament turned slowly, William Wilberforce championed the cause, and it wasn't until 1807 and 1833 the Slave Trade and the Slave Abolition Acts were passed outlawing slavery throughout the British Empire.
If only!
Human trafficking is the modern equivalent of the slave trade and the number of trafficking referrals to Police Scotland has steadily increased in recent years with 2017 seeing a 42% rise in referrals, 213, with 61 involving children.
Nail bars, car washes, building sites, seasonal agricultural work, cleaning companies and the sex industry - if these are where trafficked people are most often found I was saddened to learn how many Airbnb flats in Edinburgh are being used as brothels.
Dropped off and collected in overcrowded minibuses with little knowledge of the area where they are working, often poorly or inappropriately dressed, typically victims of human trafficking have few belongings, few if any forms of identification and, most tellingly of all, fearful of threats of violence to themselves or their families, they will avoid eye contact and be reluctant to engage you in conversation.
If you suspect someone may be a victim of human trafficking, please contact Police Scotland (101) or the Modern Slavery confidential helpline (08000 121 700).
On one of the dungeons at Elmina Castle where difficult prisoners were left to starve to death there is a plaque which includes these words;
May humanity never again perpetrate such injustice against humanity.
We the living vow to uphold this
Seeking to resolve the horrors of the slave trade of his day Robert Walker took that vow seriously
As we become aware of the horrors of human trafficking today, will we take it seriously too?
This is from a comment piece originally published in the Edinburgh Evening News on Tuesday 16 October.
Worship material themed around Anti-Slavery day.
Performance
London-based Rah Rah Theatre Company is in Scotland performing a drama about human trafficking called, "My Mind is Free". The company's tour of Scotland is sponsored by the Scottish Churches Anti Human Trafficking Group.
After successful performances in Dunfermline, Livingston and Dundee, the company will perform in:
Friday 19th Oct at 7pm: Morison Memorial United Reformed Church, Dumbarton Road, Clydebank G81 1UB
Sat 20 Oct at 4pm: Aberdeen Arts Centre, 33 King Street, Aberdeen, AB24 5AA
Following the performance there will be a panel discussion with leading activists for victims of modern slavery.
Tickets are priced at £8 - £10 and available from their website or at the door.