Christians and Muslims walking 'shoulder to shoulder' says Imam
A leading Muslim cleric has said the Church of Scotland is a "home" for him.
Imam Sayed Razawi, Director-General of the Scottish Ahlul Bayt Society, said those who followed Christianity and Islam represented "different shades of the creator".
He made the remarks in an address to the General Assembly in Edinburgh today.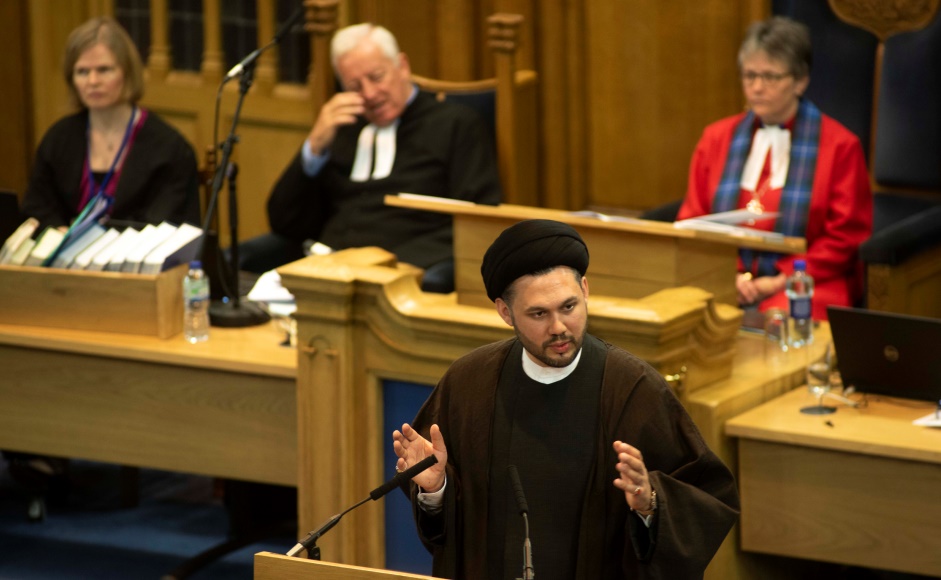 The Shia Sheikh said friendships lead to hope and the world is in need of hope because many people were living in a state of confusion.
He added that despite living in an age of social media, real dialogue was often lacking.
The Iman said: "There is a saying that hearts touch hearts.
"As I come here today, I feel at home and feel part of a family.
"I feel like a brother."
Brotherhood
The Sheikh said countries across Europe were witnessing the rise of far right and far left movements.
"There is a term I picked up in Sweden known as Liberal Fascism," he added.
"I did not understand what that was but I came to realise that it is intolerance from people who claim to be religious.
"In our strive to be equal, what we are doing is polarising people."
The Sheikh said different types of ideological extremism and fundamentalism was "plaguing our world".
Brotherhood is the most powerful position in Islam and that why is it important to extend the hand of friendship, he added.
The Sheikh told Commissioners: "We will be with you in times of difficulty in the same way over the years you have been with us in times of difficulty.
"The Church of Scotland, for me, has become a home.
"Whenever we have seen the rise of Islamophobia, you have been there to support us and just two days ago I was in Pakistan supporting Christians there.
"We are walking with you shoulder to shoulder - the days have gone just to sit opposite.
"To hold hands under the shadow of God and walk together with God."
Creator
The Sheikh told the General Assembly that religious people ultimately "believe in the same reality".
"An absolute being is found in all of us, we are the image of God," he added.
"We represent different shades of the creator."