St Rollox congregation prepares to move
Published on 19 October 2018
The congregation of St Rollox Church of Scotland came together last Sunday for a special service of celebration and thanksgiving as they prepare to say farewell to their church building and move to new premises.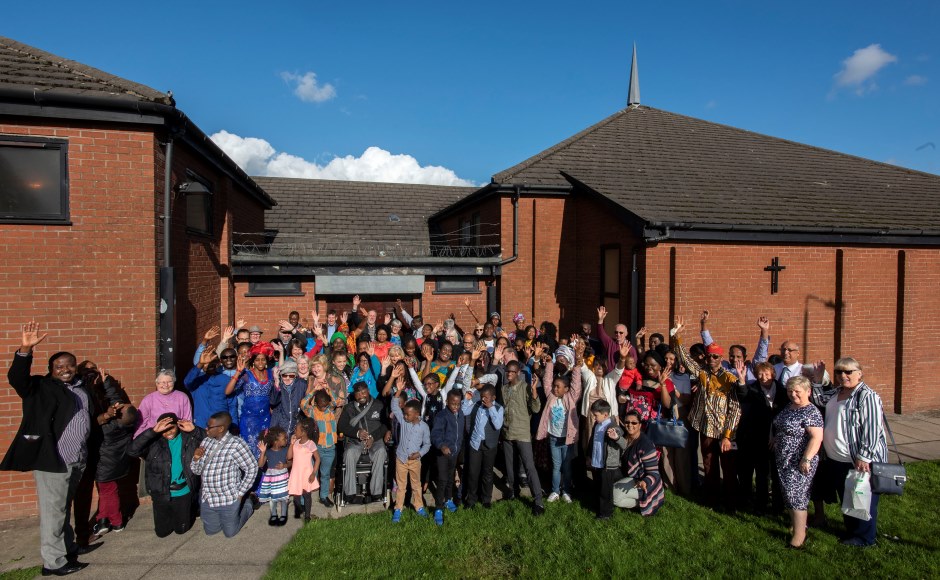 Around 200 people of all ages attended the service and sat down together over a feast of a lunch prepared by congregation members.
The congregation has been forced to move out of the current building because it stands in the way of a new road into Glasgow City Council's £250 million Sighthill regeneration area.It will be the fourth time St Rollox has had to move church buildings.
Since receiving a compulsory purchase order in late 2014 the congregation has been working with the council and the Church of Scotland General Trustees to commission and build a brand new worship centre and community building.
The new church building, just half a mile away from the existing church within the 800-home regeneration area, is now under construction and on schedule to open next summer. In the meantime the congregation is moving to temporary accommodation next to the site.
New church is growing up
Kenneth Lawani, a researcher in construction at Glasgow Caledonian University and St Rollox' session clerk, said the congregation has gone through a range of emotions about the move.
"Moving to our temporary church home will be a change but it is not a shock," he said. "Construction never goes exactly the way you imagine it should and the time frame is not absolute.
"Now we can see the new church building growing up the congregation is ready to move forward. We are not excited about our new building yet but we are getting there."
A light to those in darkness
In most construction projects the Church of Scotland General Trustees are on hand to advise the congregation as it manages each stage of construction. At St Rollox, after the compulsory purchase order arrived and the complexity of the project became clear, they agreed to play a bigger role.
Raymond Young, Chair of the General Trustees, told the gathering that he would walk with them on every step of their journey.
"This is a remarkable congregation and a remarkable place," he said. "I will always remember the warmth of your welcome and the quality of your hospitality.
"Today we have celebrated more than 30 Christ-like years in this community, being a light to people who may be in a dark place. That is why we are building the best possible building for you.
"I think when you have crossed the Jordan and entered into your new home, I think God will encourage you and you will be able to do things you have never done before. We are the people of the Resurrection."
Congregation with worldwide roots
St Rollox has a long history of outreach work with asylum seekers and refugees, a legacy that has made its congregation one of the most diverse in Scotland. Longtime church members who grew up in the Sighthill area worship alongside new Scots from all over the world.
Anna O'Neil, who has volunteered in the church charity shop for 17 years, said she has many happy memories in the building.
"I am not really looking forward to going to a new church, but we have to change," she said.
"I was baptised here and christened here and now I am a member and I believe in God. My life has changed since I came to this church. I have so many friends of different nationalities. I couldn't do without it.
"This new church will be for the whole Sighthill community and I hope the atmosphere will be the same."
Naheeda Phillip came to Glasgow with her family in October 2001 after fleeing religious persecution in Saudi Arabia. An elder, as is her husband William, Naheeda has been involved with prison ministry as a volunteer.
"When we came to Glasgow, we needed some spiritual support and we knew immediately that we had found it when we came into St Rollox," Naheeda said.
"This is the most welcoming place. We love the church and we love the people. We have moved twice since living in Sighthill, but we have stayed with this church. The church is not the building; it is the people."
Church for the 21st century
Joyce Davidson, clerk to the congregational board and a member of the project group that is coordinating the construction project, has been attending St Rollox since she was a child.
"When we learned we had to move we made it very clear that we did not want to move more than once," Joyce said. "But it has turned out that we will have to spend some time in temporary accommodation before our new building is finished. On reflection I think it will be a good opportunity for us to get to know people in the new housing beside the construction area.
"A lot of people have an idea about Church that is stuck in the past. Our Church today is something quite different and this will be an opportunity for us to reach out to people and show them who we are now."