New animated Go For It video aims to simplify the grant funding process
Published on 9 August 2018
A new animated video has been released by the Church of Scotland's Go For It team, making the process of applying for grants clear and accessible.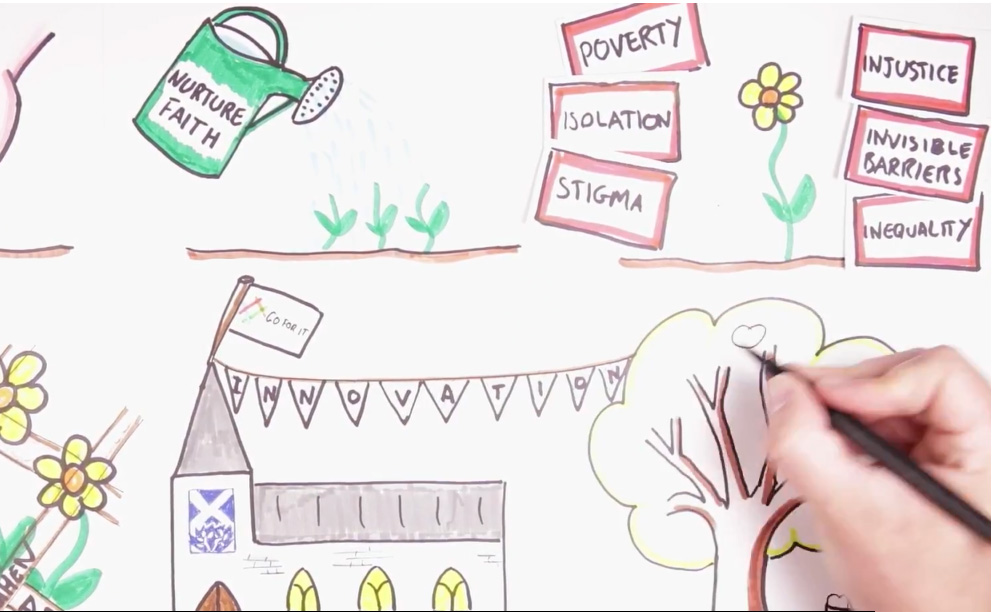 The video takes applicants through:
An explanation of what the grant funding awards can do for you,
Who can apply,
The different levels of funding available,
The criteria required to be met by applicants, and
Case studies of projects who have previously used Go For It funding.
Karen Bass, Go For It Fund Training and Development Officer, said:
"We are happy to launch our new animation for the Go For It fund and hope this short video will help introduce Go For It to those less familiar with the fund.
"This video is designed help inspire churches to see what is possible to enable them to reach out and make a difference to both their congregation and the local community."
Encouraging creative ways of working to develop the life and mission of churches
First established in May 2012, the Go For It fund's main focus is on funding change in churches and communities across Scotland. Over time, it has encouraged creative ways of working which develop the life and mission of local churches, and are transformative for both communities and congregations.
The fund offers small grants, main grants and continuation grants to applicant projects, the funding amount of which is dependent on varying factors. A small grant allows projects to develop their initial ideas and test them out, and applications are assessed on a monthly rolling period. The maximum award available for a main grant is £90,000 over a three year period. Continuation grants are aimed at continuing the funding after the main grant period has ended, with a maximum of £40,000 provided over a further two years.
Any Church of Scotland congregation is welcome to apply. If you're a voluntary sector organisation or another denomination or faith based group, you're still welcome to submit an application, but evidence will be sought that you have a close working partnership with the Church of Scotland.
Inspired to apply for a grant funding award?
Anyone feeling inspired to run a project of their own should get in touch with the Go For It team. We have over £500,000 available for the next round of grant distribution, with a deadline for applications of Friday 21 September.