Former Moderators hailed as true 'ambassadors' for Kilmarnock
Published on 28 March 2018
Two former Moderators of the General Assembly were the guests of honour at a civic lunch to thank them for promoting the good name of Kilmarnock.
Very Rev Dr Russell Barr was born and brought up in the Ayrshire town and Very Rev Dr David Lacy was a local minister for 29 years.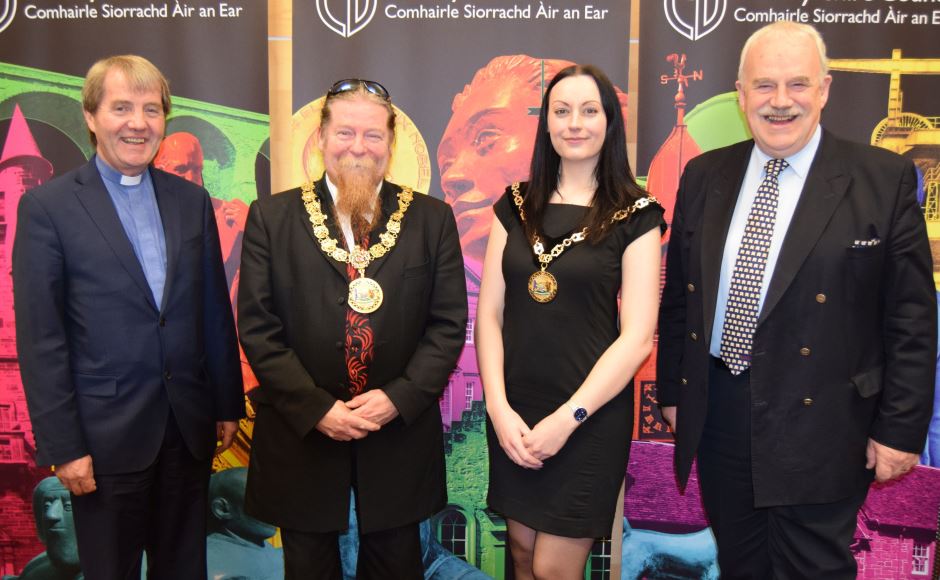 The lunch was hosted by East Ayrshire Council Provost Jim Todd and Depute Provost Claire Leitch at the council offices.
Mr Todd said: "I was delighted to welcome two such fine proponents of Kilmarnock to Council HQ.
"Both the Very Rev Dr Russell Barr and Very Rev David Lacy have made outstanding contributions throughout their working lives, as ministers and Moderators of the Church of Scotland.
"It is fitting that they should have some well-deserved recognition in the community where Russell was born and where David made such a huge contribution.
"Community is very important to us, and it was very interesting to learn about their lives, and in particular about the work which Russell is doing to tackle the complex issues of homelessness and housing.
"Sharing experiences, knowledge and understanding is so important in building stronger, happier communities and for me it was invaluable to meet with these men whose wisdom shone through.
"They are such fine ambassadors for our town, it was my pleasure to honour them."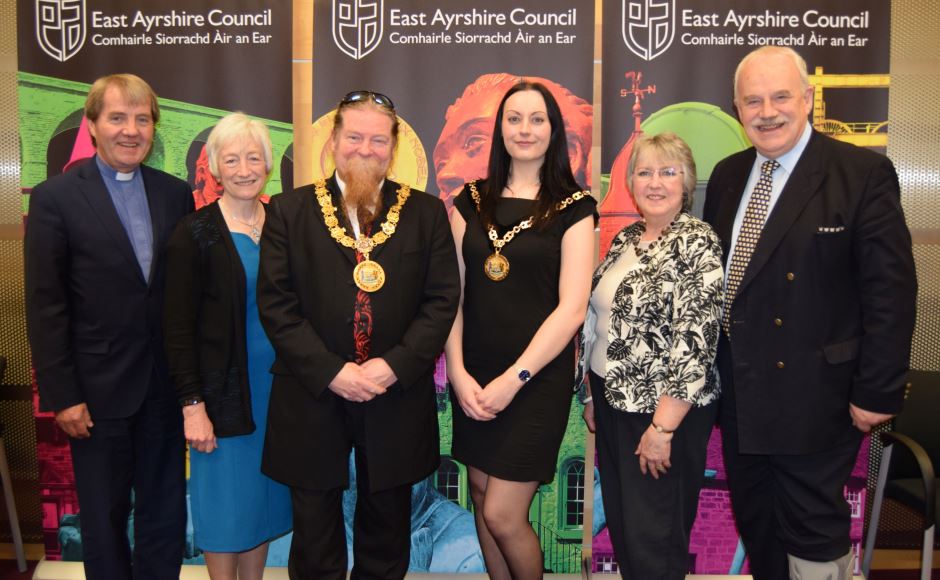 Dr Barr, minister of Cramond Kirk in Edinburgh and Moderator in 2016-17, said he was "very proud" of his Ayrshire roots.
"It was a great honour to be invited by Provost Jim Todd to the civic lunch and my wife Margaret and I could not have been made more welcome.
"As well as a very enjoyable lunch, it was good to hear from Provost Todd and his deputy, Claire Leitch, about some of the good work being done by East Ayrshire Council.
"I was particularly interested to learn what they are doing regarding issues of housing and homelessness.
"And of course being able to enjoy a world famous 'Killie pie' was the highlight of the day."
The lunch was held last Wednesday.
Homelessness statistics explained
Dr Lacy, who was minister at Kay Park Parish Church and Moderator in 2005-06, was joined by his wife, Joan.
He said: "The invitation to lunch from the Provost and Depute Provost of East Ayrshire is typical of their thoughtfulness and strong links with the community.
"Jim Todd knew that I had retired last May after 29 years in Kilmarnock; he knew that Russell was born and brought up in the town.
"So he invited us and our wives to lunch with him and Depute Provost Claire.
"After we were joined by the Chief Executive of the Council, Fiona Lees, Russell was able to ask after the current homelessness statistics and policies in East Ayrshire so it wasn't just a jolly."