Moderator celebrates young people at Scottish Parliament reception
Published on 28 February 2018
The Moderator of the General Assembly, Right Rev Dr Derek Browning, hosted a reception at the Scottish Parliament last night to celebrate the contribution of young people to society.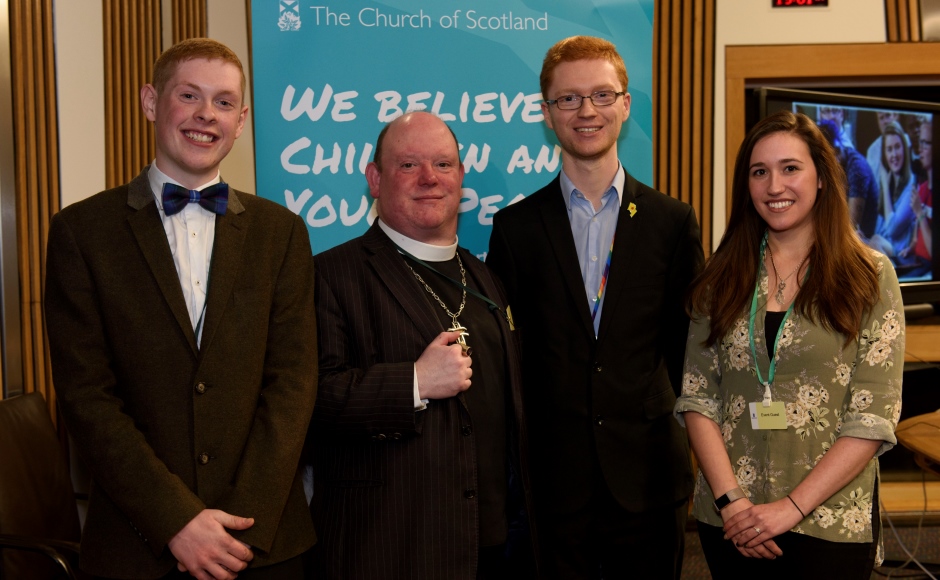 Speakers at the event, attended by interfaith partners and MSPs,included Church Youth Worker Gigha Lennox, who talked about being part of a group of young people who went to Rwanda.
National Youth Assembly Moderator, Robin Downie, reflected on a recent trip to Israel, Palestine and Jordan.
The Church of Scotland is taking part in the Scottish Government's Year of Young People and will mark the year with a series of events, workshops, services and gatherings.
MSP Ross Greer, who is the only member of the Scottish Parliament under 25, sponsored the event.
A member of Bearsden Cross Church in East Dunbartsonshire, he said it was "fantastic" to welcome guests from the Church, and other faiths, of different ages to Holyrood.
Dr Browning spoke of the need for politicians to engage with religious groups and his "genuine delight" at taking part in events in the Parliaments of Holyrood, Westminster and Brussels during his year as Moderator.
During his address, he also challenged the view that young people "don't do religion".
Dr Browning said: "Wherever I have met young people, questions about faith and doubt, the existence of God, the meaning of the Bible and other Holy Books, prayer and the point of religion are not only lively, they are perceptive and profound."
He highlighted the need to continue working closely with other Christians and faith groups.
Dr Browning said: "I believe faith is about bridge-building.
"Churches, and all faith communities, given the work that they do and the difference for good that they make, should not be one of our country's best-kept secrets."
Dr Browning delivered Time For Reflection in the Scottish Parliament yesterday and by tomorrow will have met all political party leaders.