Leading theologian to speak on young people and spirituality
Published on 22 September 2018
Young people, spirituality and youth work will take centre stage at two events in early October featuring leading Presbyterian theologian and writer Professor Andy Root.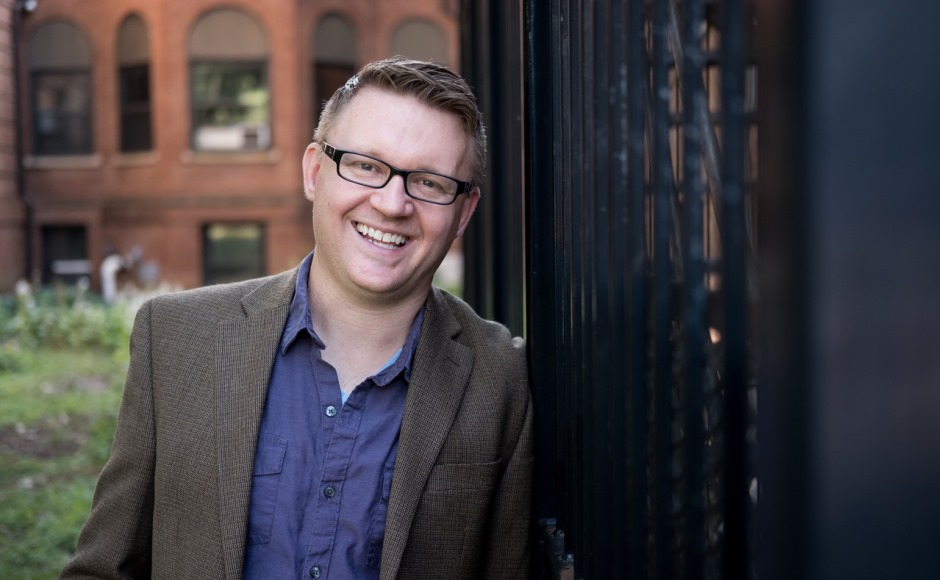 On his first visit to Scotland, the professor of youth and family ministry from Luther Seminary in St Paul, Minnesota will visit New College and meet academics from across the country. He will also lead sessions at two public events:
Faith Formation in a Secular Age, based on his book of the same name, on Thursday 4 Oct at Wellington Church in Glasgow
Relational Ministry Re-Imagined, which will be live-streamed from Dalziel St Andrews in Motherwell and to 17 church events across Scotland on 6 October
Rt Rev Susan Brown, who will chair the Glasgow event, said she is, "very much looking forward to taking part in one of the most important discussions the church will have during this Year of Young People."
Book your place at Faith Formation in a Secular Age
Book your place at Relational Ministry Re-Imagined
God breaks into our lives
Andy says his approach to youth work is grounded in his theology and his evangelical faith.
"Youth ministry is really about helping people encounter Jesus in their lives," he says. "Like Dietrich Bonhoeffer I believe it's important to help young people realise how and where Jesus is working in their lives.
"It is through the relationships we have that God breaks into our lives."
Andy and his wife Kara— a minister of the Presbyterian Church of the USA in Minneapolis— are parents to Owen and Maisy and have two dogs. An award-winning author his many books range from scholarly works to popular titles such as:
Faith Formation in a Secular Age: Responding to the Church's Obsession with Youthfulness
Exploding Stars, Dead Dinosaurs, and Zombies: Youth Ministry in the Age of Science
The Grace of Dogs: A Boy, a Black Lab, and a Father's Search for the Canine Soul
Revisiting Relational Youth Ministry: From a Strategy of Influence to a Theology of Incarnation
"I have a lot of faith"
Whatever the topic, Andy puts families, children and relationships that nurture faith at the heart of his work.
"When you are in relationship with young people the presence of God manifests within the relationship, he says. "In fact, I see relationship as a container for the presence of God," he says.
"Jesus actually becomes present in the relationship and that relationship in effect is an end in itself."
He does recognize the very practical challenges facing the traditional church but finds much encouragement and inspiration in the personal church.
The generation now coming of age in Western countries will be more secular than ever, he admits.
"People have a really hard time imagining how a personal God encountering them can transform their lives.
"So what should Church look like? I'm not sure —It feels like we're in whitewater or the middle of a wave trying to figure out what to do.
"Humans will always need structures and they are being reinvented. But I am looking at the theological questions such as Where is God? and How is God acting in our lives? How is God calling to us, speaking to us?
"And I know that sounds very pious but I guess I have a lot of faith and a lot of hope that we will get there. If we are faithful to the Gospels and how Jesus is working in our lives we will get there."
Events keenly anticipated
Youth workers familiar with Andy's books are encouraging church members to go along to an event or tune in to the livestream.
Isobel Booth-Clibborn children's development worker for the Church of Scotland said:
"We are very excited to have Professor Andy Root coming to speak in Scotland during the Year of Young People.
"His books are used widely in training youth and children's leaders across the world and we hope that his sessions will raise the profile and importance of a strong theological foundation for effective and relevant youth and family ministry."
Ellen Weir, youth and children's worker for Shetland Presbytery added:
"I used Andy Roots books on my youth work and ministry diploma and loved what he was saying about the importance of incarnational presence in life and how to live and share faith in a secular culture.
"I am excited that we can gather together to hear him - even in Shetland."
Book now to reserve your place
Faith Formation in a Secular Age Conference: Thursday 4 Oct. from 10-4 at Wellington Church, Glasgow
This key conference designed for church leaders (ministers, MDS, youth workers, elders etc) will explore the theological thinking behind faith formation and discipleship for all. Chaired by the Moderator, Prof Andy Root will lead sessions on theology and ministry with children and young people.
Cost £20 (including lunch) Book here for Faith Formation in a Secular Age
Booking closes at 10 am on Wednesday 26 September.
Relational Ministry Reimagined conference: Saturday 6 Oct from 10 - 4pm
Live-streamed from Dalziel St Andrews in Motherwell to locations in: Aberdeen, Arbroath, Ayr, Canonbie, Dingwall, Dumfries, Dunblane, Edinburgh, Glasgow, Gorebridge, Livingston, Largs, Shetland, Orkney and on the Church of Scotland website.
Prof Andy Root will lead three sessions :
The importance of and cultural shifts around relationships
The focus and purpose of our relationships with children and young people
Developing relational and incarnational ministry
Following each session, you will have the opportunity to explore and discuss these ideas with the other delegates in your location.
Cost: £10 including lunch. Book here for Relational Ministry Re-Imagined
Booking closes on Monday 1 October.
Read more about Professor Andy Root. Visit Andy Root's personal website.