Korean minister thanks Kirk for supporting peace efforts
A South Korean churchman has called for the "immediate" removal of all nuclear weapons across the world.
Rev Dr Lee Jae Cheon of the Presbyterian Church in the Republic of Korea (PCOK) made the plea at the General Assembly in Edinburgh today.
He told commissioners that PCOK would not have been able to pursue its agenda for peace on the Korean peninsula over the last 38-years without the support of the Church of Scotland.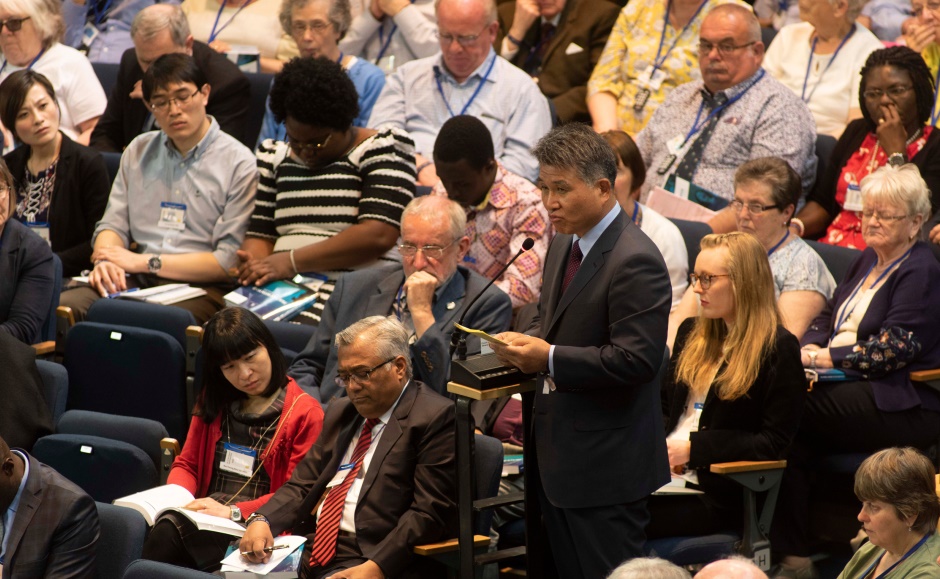 Dr Lee said the war between North and South Korea was not over, merely suspended, and stressed that peace "is not optional".
The Korean War 1950-53 devastated the Korean Peninsula, reinforcing the division between the North and South that had been in place since the end of World War II.
PCOK is observing events unfolding on the peninsular with great interest as the leaders of North and South Korea have promised to bring "lasting peace" with a commitment to denuclearisation and to ending decades of hostilities.
North Korean leader, Kim Jong-un, and the South Korean president, Moon Jae-in, recently issued a joint statement that offered cause for optimism as the world looks ahead to a landmark summit between Kim and US President Donald Trump.
Peace
Referring to the partnership formed between the Kirk and PCOK in 1980, Dr Lee said: "Since then your Church has always been with us and has never hesitated to support our peace movements.
"Because you have been with us as an ecumenical friend, PCOK could sustain our long march towards peace and reunification of Korea."
Dr Lee said competition for arms must stop.
"All kinds of nuclear weapons have to be removed immediately," he added.
"Unwanted armistice agreements should be traded for peace treaties."
Former Moderator of the National Youth Assembly, Andrew MacPherson, is travelling to the Korean peninsula next month to attend a series of events.
"It was very encouraging to hear the impact that the Church of Scotland has had on an important issue in the Korea peninsular," he added.
"Although actions are maybe difficult from so far away, our words have been a positive encouragement to the churches in that area and the work they are doing for peace."
Conflict
Mr MacPherson, a member of Broxburn Parish Church in West Lothian, is travelling to the Far East next month with David Frame, a member of the World Mission Council.
They are attending a peace conference in Hiroshima in Japan and visiting the demilitarised zone between North and South Korea as well as meeting South Korean government officials
Mr MacPherson, a West Lothian Presbytery representative, said: "I have always been interested in the conflict between North and South Korea.
"My grandfather was in South Korea after the war as part of the United Nations Peace Corp,
"So I am sort of following his journey and it will be great to see and better understand the situation first hand."
The trip is being organised by the National Council of Churches for Korea and the National Council of Churches for Japan.
Memorial
The Scottish Korean War memorial in located in Linlithgow, West Lothian.
Under a tree planted there, a plaque, written in English and Korean, reads:
"This Tree is planted in hope for healing and reconciliation; for all who died and were wounded, and for all who continue to suffer because of division on the Korean Peninsula."
Korean Christians have a special connection to Scotland because it was Balintore-born missionary, Rev Dr John Ross, who translated the New Testament into Korean and helped establish Christianity in Korea.