Hundreds gather to celebrate 50th anniversary of woman ministers vote
Around 500 women ministers and their supporters brought traffic to a standstill in Edinburgh on Tuesday 22 May as they marked the 50th anniversary of a historic decision to ordain women to the ministry of word and sacrament.
Holding a bright blue banner and singing the hymn, "We are Marching in the Light of God", they processed up the Mound to New College.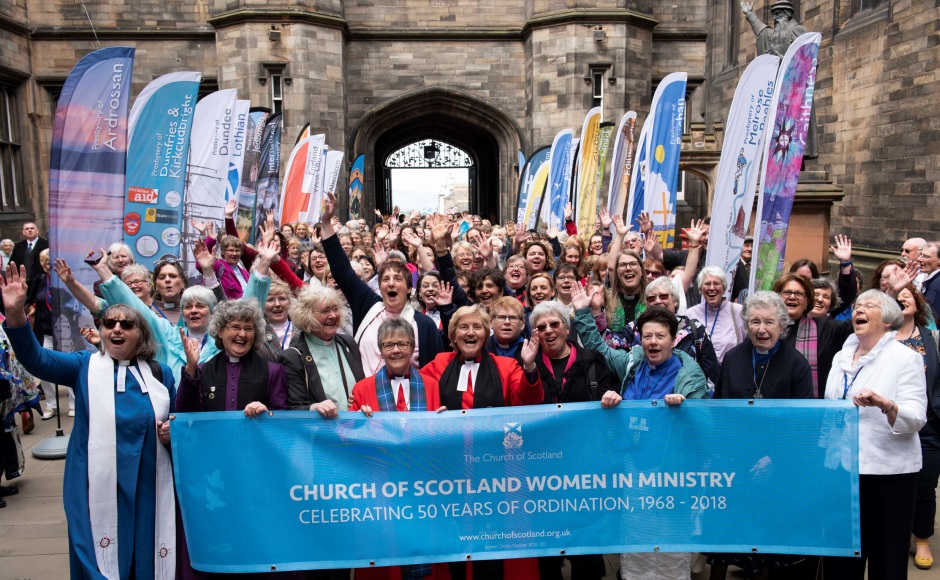 They were greeted by Moderator of the General Assembly, Right Rev Susan Brown, under the statue of Kirk founder, John Knox.
Very Rev Dr Lorna Hood, who was Moderator in 2013-14 and served Renfrew North Church for 37-years before she retired, was among those leading the procession.
The youngest to take part was a six-month-old baby and the oldest were some of the first women ministers to be ordained.
From the steps leading in to Assembly Hall, Rev Dr Margaret Forrester identified herself as commissioner number "007— licensed to preach" before speaking of her immense pride in the occasion and the long difficult journey she and other pioneers had taken.
Mrs Brown joked that the statue of "John Knox was pointing the opposite way" to the assembled group.
Historic
Rev Mary Morrison and Rev Catriona Morrison, the first mother and daughter to be ordained into the ministry, addressed the crowd and read a prayer.
Afterwards, a special celebration was held in Assembly Hall, with barely a seat available.
Dr Forrester, one of the most prominent campaigners all those years ago, spoke movingly of how women had been "gagged by the church we loved and sought to serve."
In 1967, having been refused permission to address the General Assembly on the matter of the ordination of women, she described how they were offered a room off site from New College.
Dr Forrester said: "Because no-one else would come we invited the press."
The tactic worked and the following year the vote on women's ordination as ministers of word and sacrament "was so decisive there was no need to count."
Dr Forrester paid a moving tribute to fellow pioneers, Dr Elizabeth Hewat, who "like Moses led her people to the promised land, though never entered it herself".
She hailed Mary Lusk, who was the first person to petition the General Assembly for the ordination of women.
Dr Forrester, who received a standing ovation from Commissioners, also remembered Rev Grahame Bailey, minister of St Martin's Edinburgh, who worked alongside the women campaigners of the church. His former parish was the first church to ordain women elders and Mr Bailey's two daughters listened to the speech from Assembly Hall.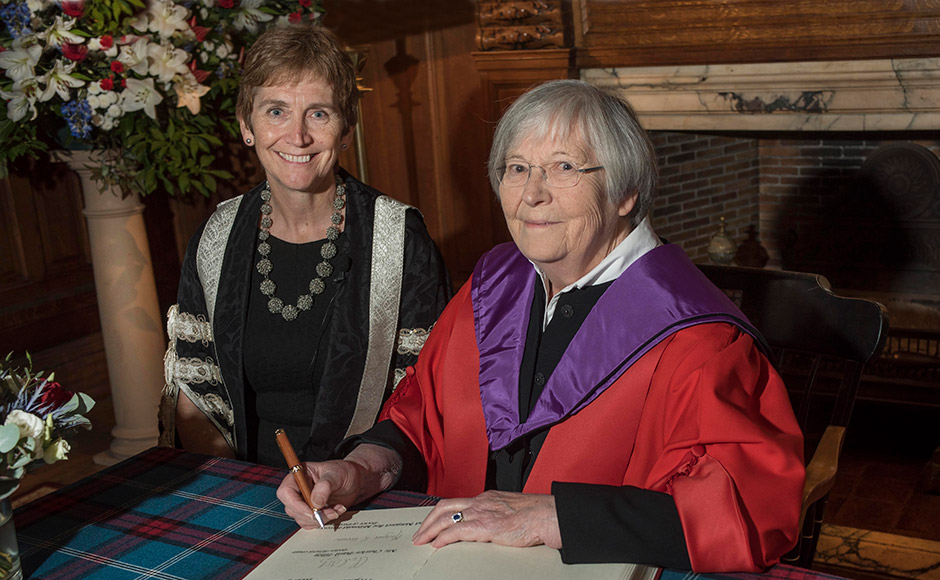 Rev Jean Montgomerie of Peterculter in Aberdeenshire, the longest living ordained woman, spoke of having watched the debate in 1968 from the public gallery as a student.
She remembered applying to around 35 parishes after completing training as a minister.
Miss Montgomerie said: "I feel privileged to have had the opportunity to minister and I am still passionate about encouraging women and men to consider the call to the ministry.
"And if there were moments when my gender affected folks' attitude to my ministry, these are now drowned in the sea of God's grace."
Inspiration
Rev Aquila Singh, minister of Fernhill and Cathkin Parish Church in Rutherglen who was ordained in January 2017, thanked those who had paved the way for her and so many others 50 years before.
"Because of these women I am stood here as a minister of word and sacrament", she said.
"It is a debt I can never pay."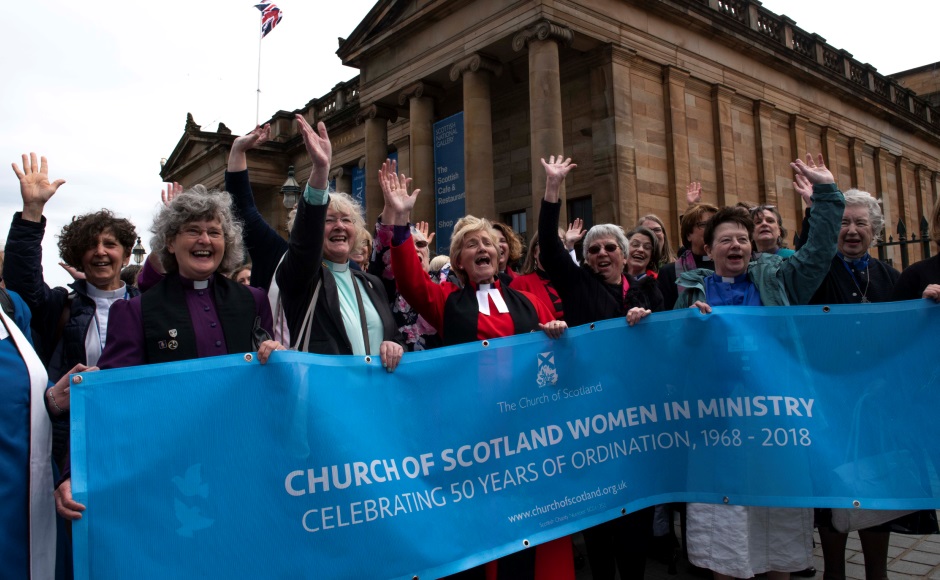 Mrs Brown, who has taken 12 months off from being the minister of Dornoch Cathedral, closed the session by speaking of her own call to ministry.
"I was in my mid-teens and it had never occurred to me that I had never met a minister who was female," she said.
"As I followed the call, I felt I quickly discovered that not all were enthusiastic in their support of what I could see was God's path for me.
"Although I did hope that they might see in me a real and a genuine desire to follow where Christ was leading.
"On the Black Isle in the rural Highlands, a congregation 32 years ago did see that desire and had the courage to call me as their minister."