Hollywood star opens community bank in Edinburgh
Hollywood film star Michael Sheen has officially opened a new branch of a community bank spearheaded by a Church of Scotland minister.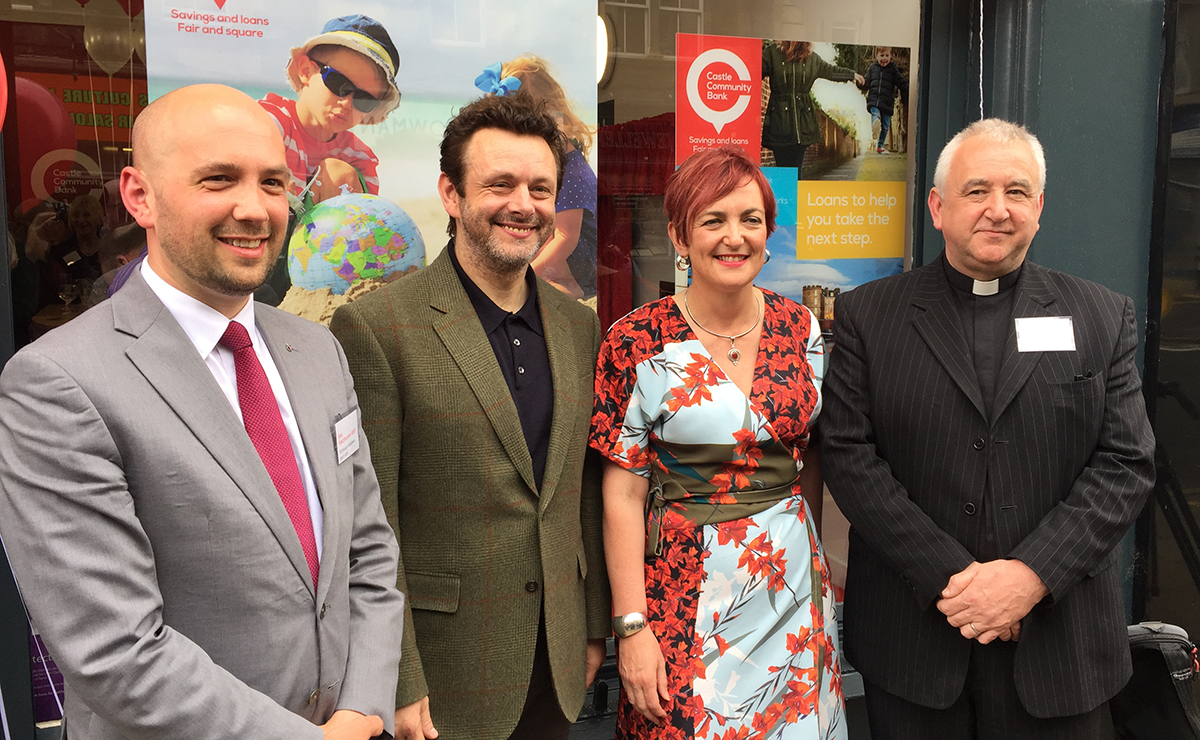 The actor, who is also a social activist, joined Rev Iain May at the premises of Castle Community Bank on Great Junction Street in Edinburgh this afternoon.
The minister of South Leith Parish Church used to work for the Royal Bank of Scotland, American Express and Allied Irish Banks.
After he entered the ministry, he decided to use his knowledge and expertise to embark on a what he calls a "social justice mission" that provides the community with an affordable alternative to payday lenders.
Castle Community Bank, formed by the merger of Castle Credit Union and North Edinburgh Credit Union in 2015, offers a range of savings products as well as loans, available to anyone who lives in an EH postcode.
The financial cooperative operates as a social enterprise and has helped more than 1,500 people get access to fair and affordable credit.
Mr May, chairman of Castle Community Bank, said: "This is an amazing coup for us and we're delighted to be bringing a touch of Hollywood to Leith."
Cabinet Secretary for Communities, Social Security and Equalities, Angela Constance MSP, also joined the Welsh-born actor to open the new branch.
Bold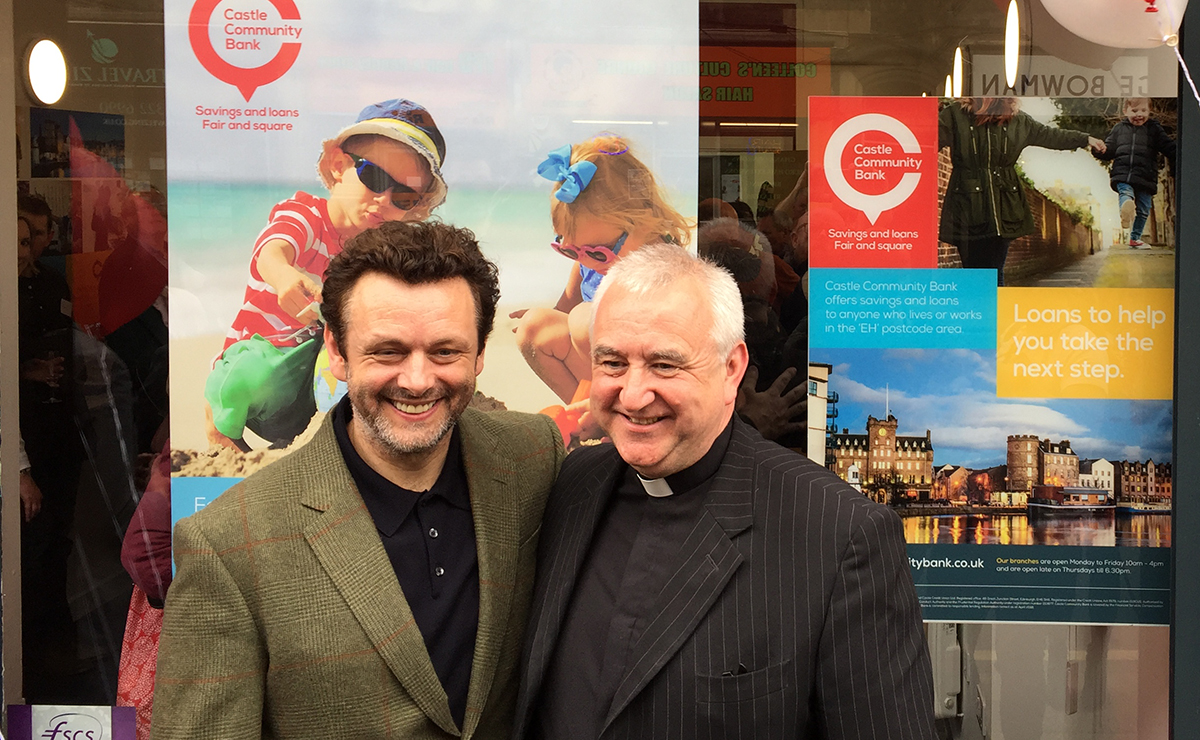 Mr Sheen, who is known for major roles as Tony Blair in The Queen, David Frost in Frost/Nixon and as bar tending robot Arthur in Passengers, was in Scotland recently to launch the End High-Cost Credit Alliance.
He founded it as part of his crusade against high-cost lenders – particularly "pay day loans" companies.
Mr Sheen said: "It's my great pleasure to stand here today not just as an actor but also, as part of a bold new movement to eradicate high cost credit, the founder of the End High Cost Credit Alliance.
"It is a real honour to be here in Leith to officially open the new branch of Castle Community Bank.
"Your local, fair and responsible finance provider.
"The work being done here by stakeholders, including the Carnegie UK Trust, Social Investment Scotland, Scottish Government and the providers of fair credit such Castle Community Bank, Scotcash, Conduit and others, has served as a real inspiration to me and the members of the Alliance."
Innovative
Mr Sheen said everyone has a "role to play" in promoting fair and responsible credit.
"The battle to make credit unions as effective as possible in taking on the high cost lenders can be a challenging one," he added.
"But Castle Community Bank shows us many of the characteristics I think are needed to take an innovative, bold approach to those challenges."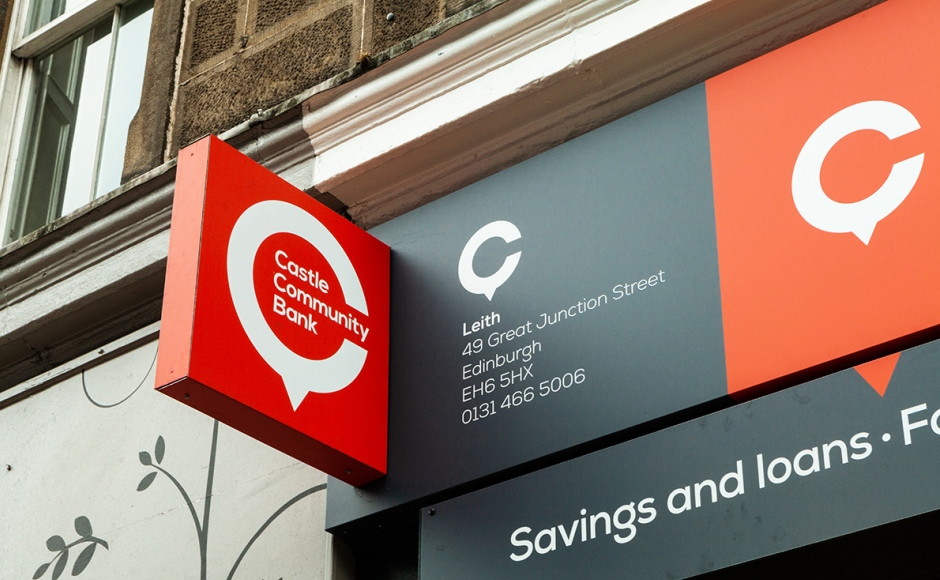 Mr May said it was a "great honour" to have Mr Sheen and Ms Constance open Castle Community Bank's new branch in Leith.
"When many other high street banks are closing branches, it is good we are able to open one to serve local people," he added.
"Sometimes people mistakenly believe that credit unions are only there for emergencies or for people who are on benefits but nothing could be further from the truth.
"In fact, every day we provide loans to ordinary people and families across Edinburgh and Lothians enabling them to do the things they want in life.
"Whether that is creating or improving their family homes, buying a car or to help prepare for and manage life events, like having a baby or planning their wedding."
Support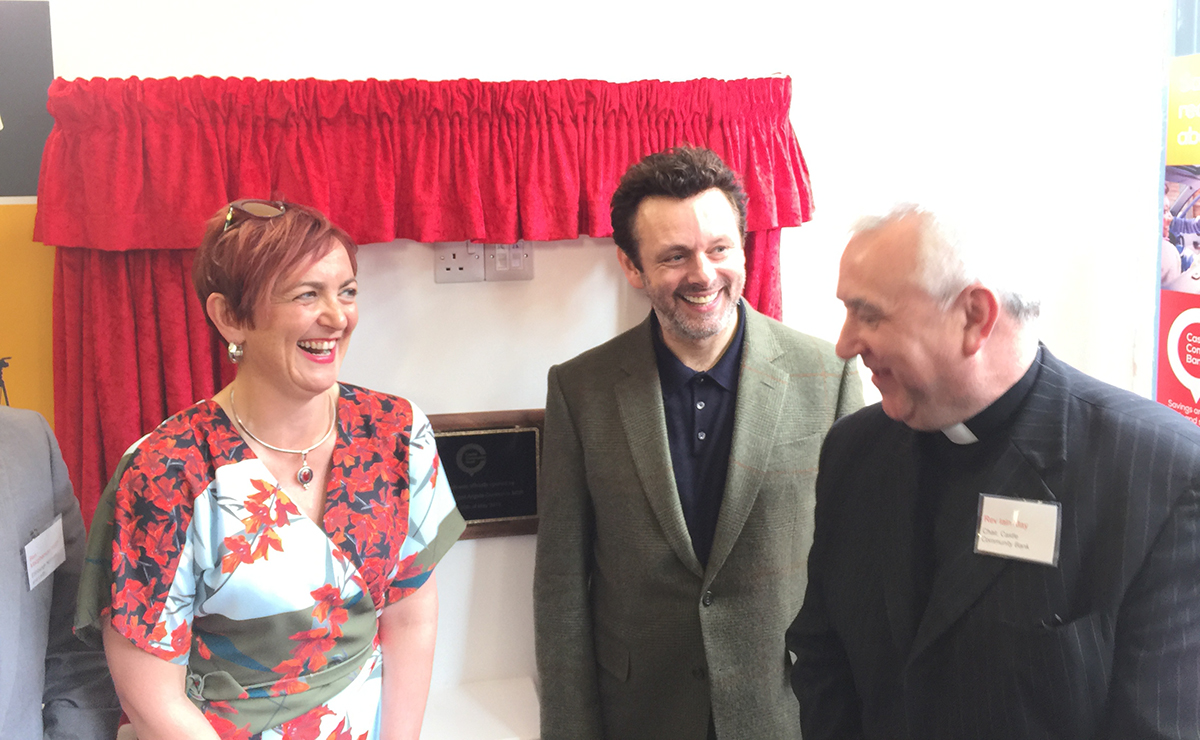 Ms Constance said everyone should have access to the financial products they need to help them get on in life.
"They should not feel that they have no choice but to turn to organisations such as payday lenders, which often charge extortionate interest rates, leaving people trapped in a cycle of debt," she added.
"Community lenders such as the Castle Community Bank are vital to helping more people access the support they need.
"The Scottish Government wants to tackle the poverty premium so many on low incomes familiesface, which is why we recently announced £1 million for the Carnegie Affordable Credit Loan Fund to help low income families have greater access to affordable credit."
Hope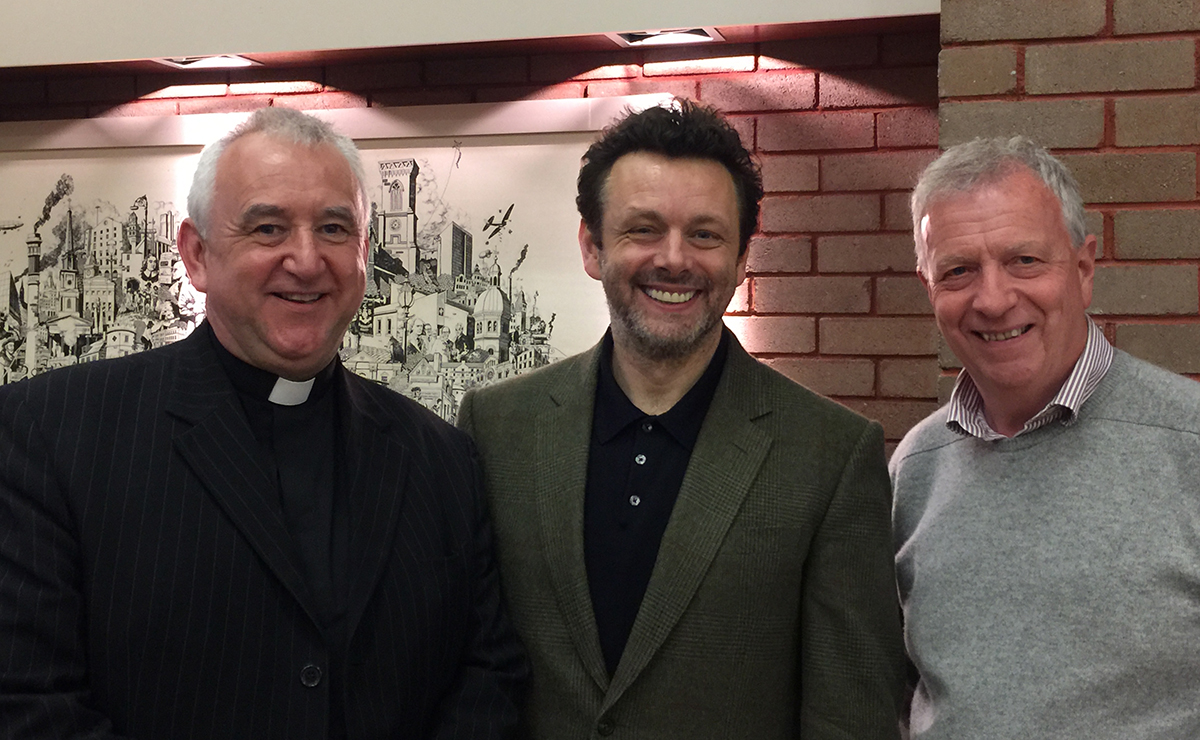 Gordon Buchanan, general manager of Castle Community Bank, said it is working hard to reach out to more people, who may otherwise find themselves falling into a cycle of problem debt.
"It's our very real hope that having Michael cutting the ribbon on our new branch will get our name in front of an awful lot more people who may be interested in finding out more about us and maybe using our services," he added.