Guild member volunteers for trip of a lifetime
Published on 15 February 2018
An office-worker embarked on the trip of a lifetime to help build a house in Africa after attending a talk at her local Guild branch in Falkirk.
Anne Stirling, 60, was inspired to volunteer after hearing a staff member from Vine Trust speak about the work of the aid charity overseas.
As she listened to the lecture she recalls being drawn to volunteering opportunities for building a home for a family in Africa.
"Tanzania I thought - that's the one", she said.
"I've never thought of doing anything like this before - it just sounded interesting."
Last autumn Mrs Stirling spent two weeks in Moshi, in the north east of the country close to Mount Kilimanjaro.
"There were three houses in total," she said. "The one I helped to build was the first to be finished."
"We started from the foundations working up. By the time we left we were up to the lintels.
"We all mucked in. The builders told us what they wanted then we did it.
"They also gathered beds, bedding and furniture for the house so it's not empty."
One of the biggest challenges was the heat, as the temperature hovered around 34 degrees.
"In the morning it was cooler but by the afternoon it was really hot. We had a lot of water breaks."
Volunteers of all ages joined the project from places across the UK, including Aberdeen and London.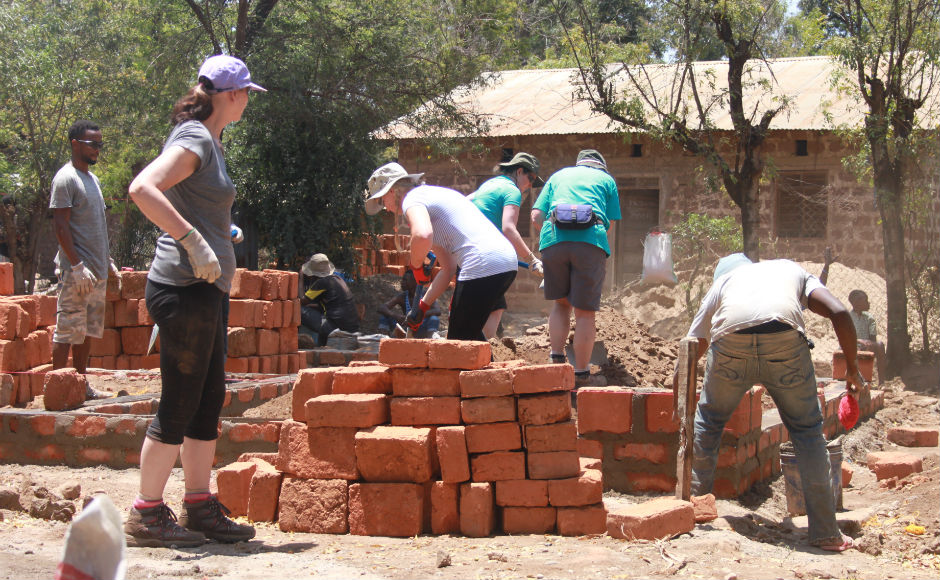 Mrs Stirling has been a Guild member for five years at Grahamston United Church Guild and joined after a friend suggested she come along.
"I would definitely recommend the experience," she said. "I was thinking about going back next year."
Louise Campbell, Programme Manager for Overseas Expeditions at Vine Trust, said "Vine Trust's volunteers are key to the work we do in Tanzania and Peru; without them, we wouldn't be able to empower our local partners and the vulnerable communities we work in together."
"It is always wonderful to hear our volunteers sharing their experience and the impact it has had.
"We are delighted that, after Anne's first experience on a Vine Trust expedition, she is already excited to return!
"We look forward to supporting many more volunteers take part in home-building expeditions this year, helping Vine Trust to connect people to change lives."
Vine Trust was founded by former Moderator of the General Assembly of the Church of Scotland Very Rev Albert Bogle in 1985.
They operate in Tanzania and Peru providing homes, healthcare and education services to communities facing challenging circumstances.
Princess Anne is the current patron of the charity.
For more information on the Vine Trust and their volunteering opportunities go to their website.
Find out more about the Church of Scotland's Guild.