New minister for Gourock welcomed from Chicago
Published on 12 March 2018
St. John's church in Gourock had to wait an extra week before welcoming their new minister, Rev Teri Peterson, as the service scheduled for last week was cancelled because of the heavy snow.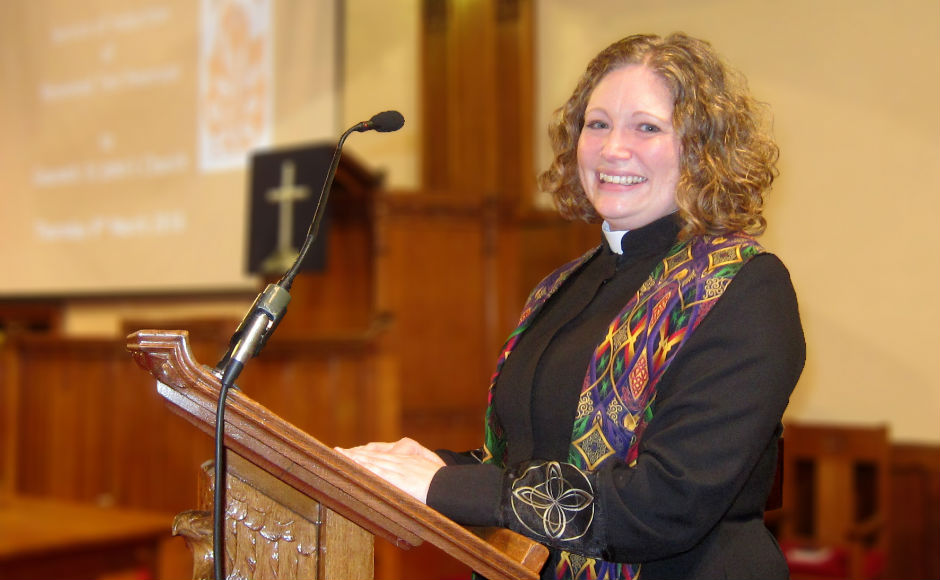 At a packed church on Thursday 8th March Teri, who comes from the Presbyterian Church in Chicago, was finally inducted.
Called to Scotland
Teri has felt called to be a minister in Scotland after volunteering with the Iona Community back in 2000 and wanted to work here while studying but events led her to minister in Chicago until the call to come to Scotland became too strong to ignore.
"I still regret not taking up the chance to come here before, but Scotland was always on my radar and I'm really delighted to be here now," she said.
When asked why Scotland seemed to call her she laughed and said, "I'm not going to say what every single American in the country seems to say - that my entire family hails from here! Though, maybe some do…"
She laughed again and added, "My mother's maiden name is Scott, so maybe that's something…."
A welcoming congregation
Speaking of her new congregation and why she accepted their call to be their minister she said, "Why? Because they are lovely! When I came for my interview here it had been a long day and yet after two and half hours I left feeling energised, not tired, and I thought, 'Oh! these might be my people!'"
Looking ahead she said that she hopes to "do good things with people, something meaningful in the community and be happy here for a long time."
Teri recently completed a familiarisation programme for overseas ministers as the Associate Minister at Marchmont St. Giles Church in Edinburgh but at the service inducting her to St John's local minister Rev Karen Harbison caused great hilarity by giving her a quick familiarisation lesson in local language explaining the real meaning of expressions such as 'ginger', 'a roll n slice' and reminding her not get 'crabbit' when she's feeling 'wabbit'.
The Moderator of Presbytery, Rev Jim Cowan, inducted Teri and added his warmest congratulations to her and wished her God's richest blessing in her new ministry.