Evangelist Billy Graham dies at age 99
Published on 21 February 2018
The Moderator of the General Assembly of the Church of Scotland has paid tribute to the "genuine love" and "powerful voice of Billy Graham, who has died at the age of 99.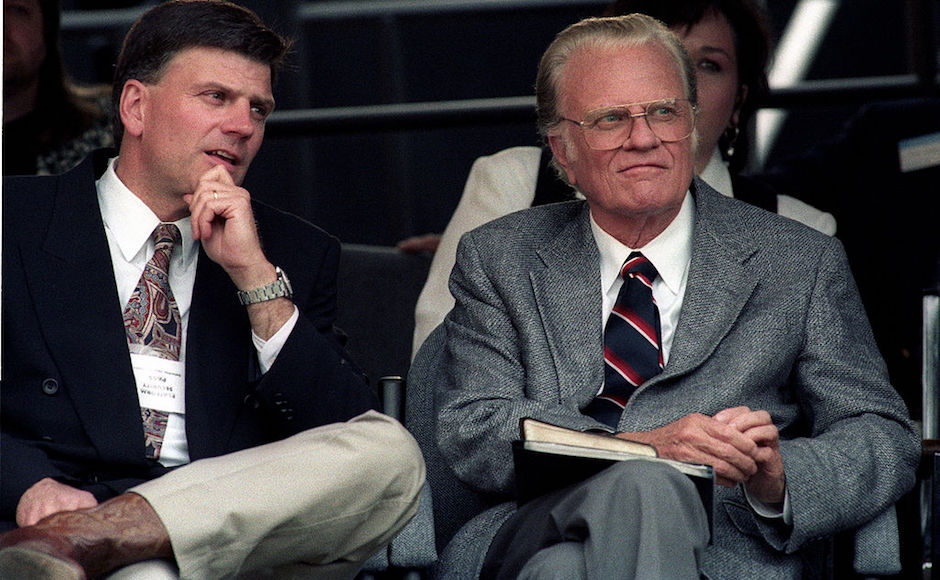 Rt Revd Dr Derek Browning, said:
"Billy Graham's ministry has for many people across the world played a significant part in their lives and their coming to faith. The sincerity and passion Graham brought to his preaching and witness to the gospel has left a considerable thumbprint on twentieth century Christianity.
"I heard Dr Graham speak at Murrayfield in the 1990s and was struck by the utter simplicity of what he said, the clarity of the good news he offered, and the genuine love he showed for those who responded to what he had to say.
"He has remained a powerful voice in the Christian world, capitalising on the development of the medium of television. He has been a confidant not only of the great and good, but of ordinary believers who have been drawn to his straightforward and searching message of personal hope in the mercy of Jesus Christ."
"Countless thousands will have been challenged by that message, and come through different routes to a living faith. This will remain the lasting testimony to Dr Graham's life-long work."
Gospel message resonated
The director of the Evangelical Alliance in Scotland, and Church of Scotland minister, the Rev Fred Drummond, said:
"I have lost count over the years of how many people have been influenced by Billy Graham and his trips to Scotland, particularly both the 1955 Tell Scotland one and in 1991.
" It seems that that clear Gospel message resonated with a whole generation of Scots, and interestingly, I have lost count of the amount of people who took their first steps into ministry in the Church of Scotland going back to the 1955 campaign.
"I think Billy Graham for many people was one of the examples of what it was to be a Christian leader, with integrity, lack of bias - praying for both Democratic and Republican presidents - and travelling the world with a simple Gospel message that touched millions and millions of people.
"Today, certainly from the calls I have had and stories people have told me, his life touched many, many people in Scotland."
First TV evangelist
Life and Work magazine covered the evangelist's visits to Scotland in the 1950s and 60s. In their obituary they say:
"He is thought to have preached to more than 210 million people worldwide between 1947 and 2005, and was the first to make widespread use of TV to reach millions more…
"He first visited Scotland in spring 1955 for the All-Scotland Crusade, speaking to 15,000 people every night at Kelvin Hall for six weeks, and with packed open-air rallies at Hampden, Ibrox and Tynecastle Parks. His words were relayed to missions in 45 centres throughout Scotland, and broadcast by the BBC.
"Life and Work reported that at the Kelvin Hall meetings 'there will have been almost 20,000 people committing themselves in faith to Christ'.
"Writing in Life and Work following the crusades, BBC journalist Glen Gibson described the Kelvin Hall meetings: "Slowly, as the evening goes on, we cease to have 15,000 separate identities; an invisible force draws us together in mind and spirit, and when Billy Graham comes forward to speak we are eager to hear his message.
"Right from the start we are aware of one thing. Graham speaks with authority. Confidence and sincerity ring out in every word. His authority is the Bible. He uses it as the Sword of the Spirit on us his audience."
Billy Graham, who also visited Scotland in 1961 and 1991, was married to Ruth, who died in 2007. They had five children, two of whom – Franklin Graham and Anne Graham Lotz – are also high-profile evangelists.
"The general director of the Evangelical Alliance, Steve Clifford, said today: "History will recall that Billy Graham was one of the most influential men of his generation. I was profoundly influenced by his life and ministry from afar.
"Beside a lake, in large auditoriums and through broadcasts, or watching him on TV – one could not help but be impacted by his passion for God, his commitment to the truth of the gospel and his life of integrity lived under intense media scrutiny."
"The Archbishop of Canterbury, Justin Welby, said: "Dr Billy Graham stood as an exemplar to generation upon generation of modern Christians.
"When it comes to a living and lasting influence upon the worldwide church he can have few equals: for he introduced person after person to Jesus Christ."