Emotional family tribute to Kirk missionary at Auschwitz
The niece of a Scot who gave her life to help protect Jewish schoolgirls during the Holocaust has paid an emotional visit to the Nazi extermination camp where she died.
Deirdre MacDowell said it was "overwhelming" to lead a memorial service to Jane Haining outside the block at Auschwitz-Birkenau where her aunt is said to have spent her final hours.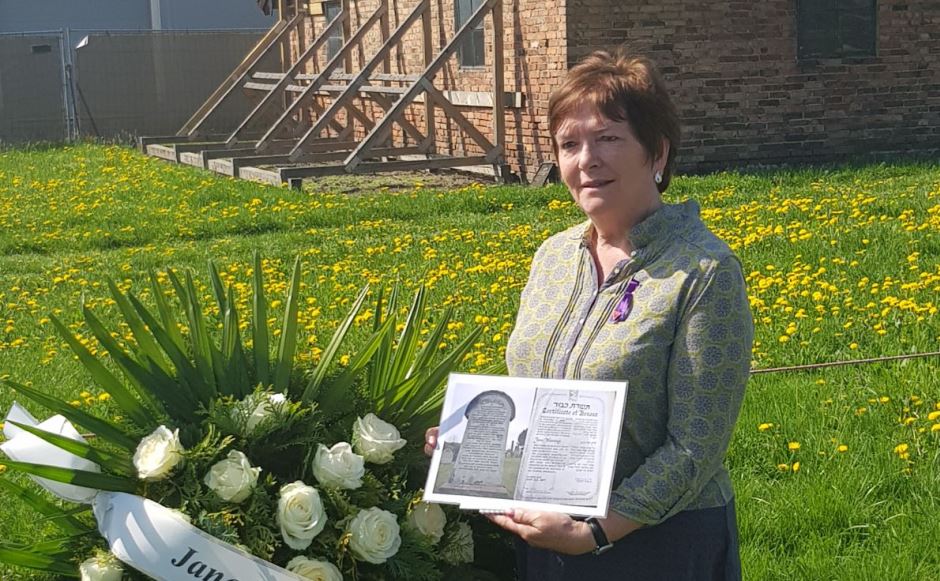 It is possible that this is the place where Miss Haining wrote her last letter to Margit Prem, headteacher of the Scottish Mission School in Budapest.
Written in German and in pencil on a letter-form headed Konzenstrationslager Auschwitz, it is dated July 15, 1944 – two days before Miss Haining is said to have died at the age of 47.
The missive read: "There is not much to report from here.
"Even here on the way to Heaven are mountains, but further away than ours. I send appropriate greetings to the whole family and kiss and embrace you. Your loving Jean."
Days of darkness
Mrs MacDowell, who was born in Dunscore near Dumfries – Miss Haining's home village, visited the camp near Kracow in Poland with her husband George and representatives of the Unison trade union's Renfrewshire branch on April 25.
Activists were on a study tour to raise awareness of the atrocities of the Holocaust and to honour Miss Haining, who worked as a secretary at threadmaker company J&P Coates Ltd in Paisley for 10 years before she moved to Hungary in 1932.
She worked as a matron in the Church of Scotland's Mission School for girls in Budapest, which had a mix of Christian and Jewish pupils.
The service at the camp included the reading of Psalm 121, the poem "In Days of Darkness" written for Miss Haining and concluded with laying of wreaths.
Mrs MacDowell of Londonderry, Northern Ireland, whose mother Agnes O'Brien was Jane Haining's half-sister, said: "It was truly a memorable occasion and will stay with me for a long time.
"I realise there were millions of people who suffered and died during the Holocaust.
"Numbers so big. it is hard to take it in.
"But it only takes one to make a difference.
"There were many stories to tug at the heartstrings but for us it was about Jane, connected through family.
"We like to remember her compassion her bravery, her trust as her last words to her children at the Church of Scotland school were 'I'll be back'.
"Jane knew she was on the way to heaven when she reached Birkenau Camp."
Warning from history
The trip was led by Mark Ferguson, branch secretary of Unison Renfrewshire and a member of Unison's international committee.
"Observing first-hand the atrocities which took place instils a responsibility on us all to ensure future generations do not repeat these murderous acts," he said.
"We were very honoured to have been joined by Jane Haining's relatives, Deirdre and George McDowell during the visit and in particular the memorial service.
"It was a very emotional experience for the delegates who visited various blocks used for housing those held in the camp including women and children.
"We also stood at the selection ramp, visited all four crematoria, Soviet prisoners of war graves, other open graves and the Canada area where the belongings of those arriving were sorted.
"We also visited the Sauna Building which was used for shaving the heads of those arriving, tattooing and disinfecting."
Mr Ferguson said delegates now planned to produce education materials for use in their local communities to highlight the atrocities of the Holocaust and campaign against racism, fascism and all forms of discrimination.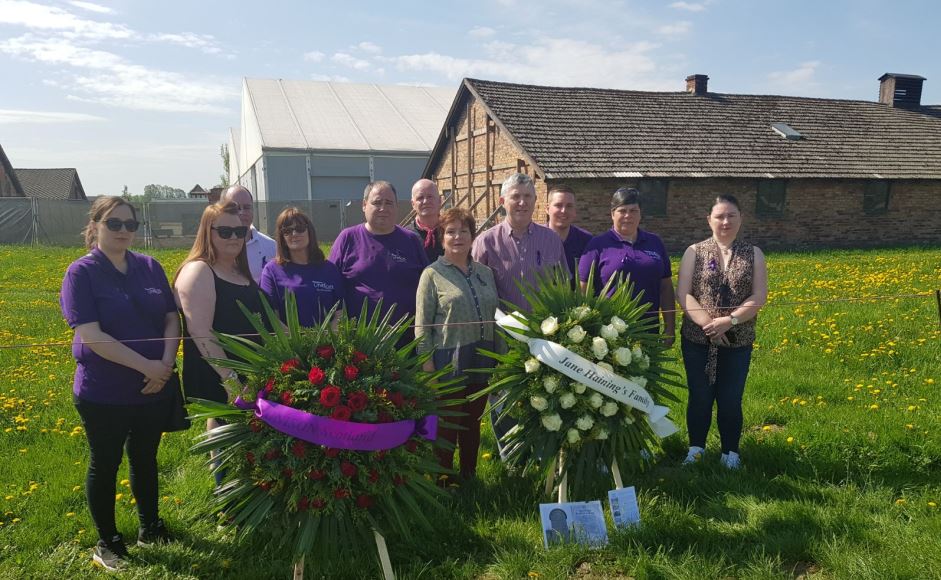 Miss Haining, a former Dux at Dumfries Academy who was fluent in Hungarian and German, was arrested by two Gestapo officers at the Scottish Mission in April 1944 not long after the Nazis turned their attention to Hungary, a former ally.
They gave her 15 minutes to gather her belongings and charged her with eight offences.
Miss Haining's last words to sobbing pupils were "Don't worry, I'll be back by lunch" as she was taken away.
She was accused of working amongst the Jews; weeping when seeing the girls attend class wearing the yellow stars; dismissing her housekeeper; listening to news broadcasts on the BBC; having many British visitors; being active in politics; visiting British prisoners of war and sending British prisoners of war parcels.
At least 1.1 million people died in the Auschwitz concentration camps, some of which were equipped with gas chambers, but the true circumstances behind Miss Haining's death are unclear.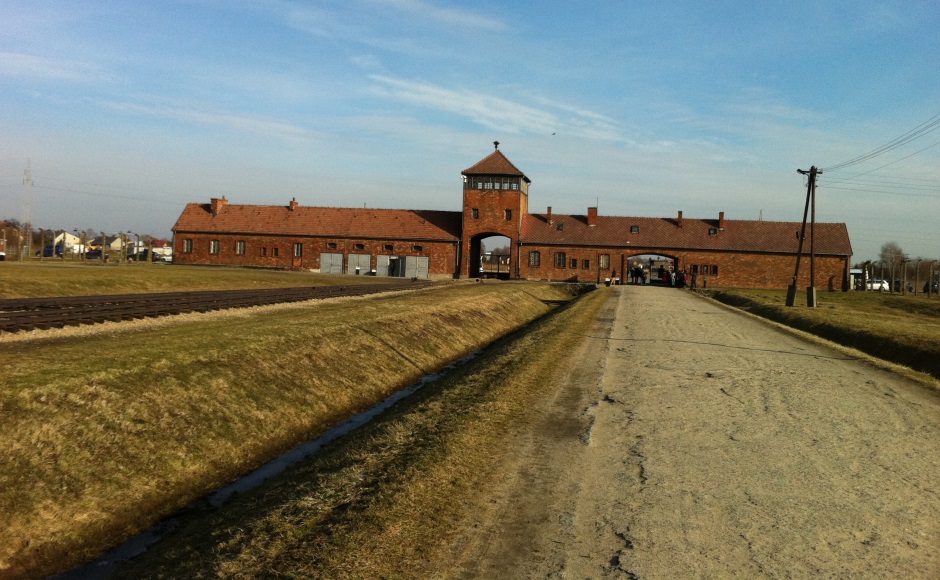 According to her death certificate, she died of "cachexia following intestinal catarrh".
In 1997, after an initiative from her former church Queen's Park West in Glasgow where two stained glass windows bear tribute to her "service and sacrifice", and a 10-year investigation by an Israeli board, Miss Haining was named as Righteous Among the Nations in Jerusalem's sacred Yad Vashem.
She has a memorial cairn at Dunscore Church and her story is on display in a heritage centre within the building.
Miss Haining was awarded a Hero of the Holocaust medal by the UK Government in 2010.
Rev Ian Alexander, Secretary of the Church of Scotland World Mission Council, said: "Jane Haining's story is heart breaking but also truly inspirational.
"Scottish missionaries were advised to return home from Europe during the Second World War but Jane declined, writing 'if these children need me in days of sunshine, how much more do they need me in days of darkness'".