Earthquake reconstruction money making "real difference" in Nepal
Published on 25 April 2018
The director of an organisation overseeing reconstruction work in Nepal following a deadly earthquake has urged Scots not to be "cynical" about foreign aid.
Joel Hafvenstein said it would have been "impossible" for the United Mission to Nepal, (UMN) and its local partners to help thousands of people rebuild their shattered communities if it wasn't for £310,000 donated by generous Church of Scotland members.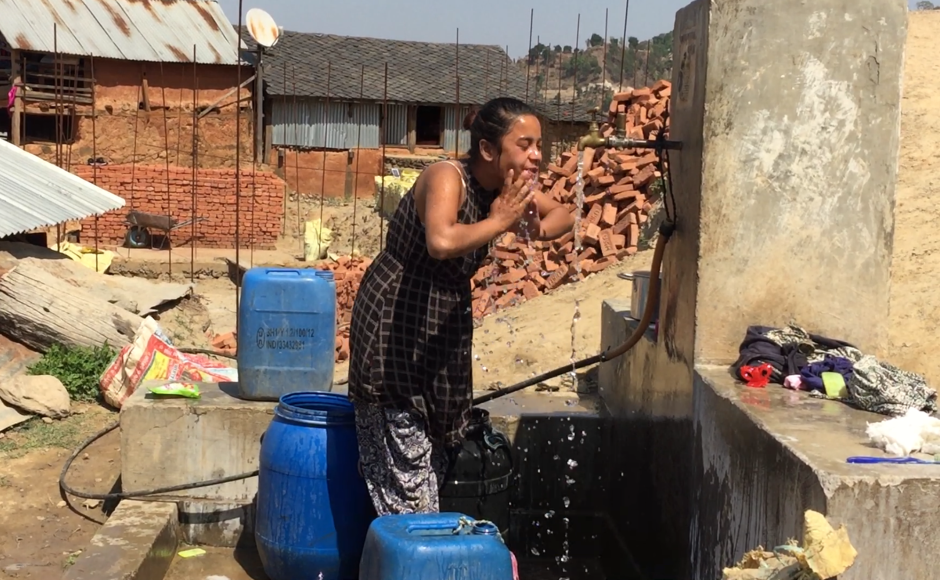 He said the money had made a "tremendous, transformational difference" in the Dhading region.
The 7.8 magnitude earthquake, which lasted 45 seconds and killed nearly 9,000 people, injuring 22,000 and destroying around 800,000 buildings, happened on April 25, 2015 - three years ago to the day.
Mr Hafvenstein said Kirk members should be "very proud" of the positive impact their donations have had on one of the worst hit regions of Nepal.
The Kirk's World Mission Council's Let Us Build A House campaign is the biggest fundraiser it has orchestrated in its 200-year history and it continues to generate much needed funding.
The money has enabled UMN and its partners to build 72 earthquake resistant schools, bio-gas plants, community water taps, toilet blocks, repair vital water irrigation systems and mini-hydro plants, reinstate 33 miles of roads and paths and kit out schools with computer suites.
The Kathmandu headquartered organisation has built five earthquake resistant demonstration houses across the Dhading region to inspire people to use the same building techniques and materials in their own reconstruction projects.
Nearly 600 masons have been specially trained to assist them.
Mr Hafvenstein, who is the Church of Scotland's Mission Partner, said: "The work we do would be impossible without the financial and prayer support provided by the Church of Scotland.
"We are tremendously grateful and Church members should be very proud.
"Initially, we had hoped to use to rebuild houses but when that proved impossible due to a Nepali Government decision, we decided to use it for the rebuilding of schools and restoring drinking water systems to villages.
"We have restored electrical systems, small hydro plants and canals that take water to fields that they grow their crops in.
"We have spent some of the money on trauma healing programmes, first aid training and helping people to improve their livelihoods so they have more options in earning an income than they did previously.
"The money is making a real difference."
Mr Hafvenstein said he understood why some people were cynical about foreign aid, particularly in wake of sex scandals that have recently engulfed two of the UK's biggest charities.
"We have seen there are good reasons to have safeguards in the international aid process," he added.
"But that should not be reason for cynicism and when you investigate some of the work, you will see there is tremendous good being done in countries like Nepal.
"It is all more important for us to speak out about transformational work that is being done so it is not swallowed up in cynicism."
A group of 18 Church of Scotland ministers and elders have just returned from a 10-day visit to the Dhading region to see first-hand the work being under taken by UMN and partners.
Some of them spent four days trekking in the mountains, up to 6,500ft above sea level, in the north to see community restoration work.
The others toured projects in villages in the southern part of the region.
Trekker David Chisholm, an elder at Fossoway St Serf's and Devonside Church near Kinross, described the trip as an "fantastic experience".
"Tragic as it is, the earthquake has spurred people on," he said.
"It is sad that it takes destruction to cause construction which is leading to progress.
"It is a kickstart that local people were not expecting but it has done a lot of good on the hill.
"I was very struck by the level of community spirit, we are not used to seeing communities working together in such an intense way."
Hannah Dunlop, an elder at Dalgety Parish Church in Dalgety Bay in Fife, added: "Being able to see how people in the mountains live was a unique experience.
"I got the impression that most people are not feeling sorry for themselves at all and just getting on and working together to do what they need to do.
"It was amazing to see.
"I was also very struck by seeing how faith plays a part in people's lives.
"We attended a church service and people seemed so open, happy and joyous knowing that God will help and provide for them.
"It was very inspiring."
Rev John MacGregor, minister of Cadder Parish Church in Bishopbriggs near Glasgow, said: "I was very moved by the sacrifice of people in order to rebuild their communities.
"It was amazing to see 80-year-olds struggling up the hill with such heavy loads on their backs and a smile on their faces."
Jennifer Elsplin, an elder of Dunipace Parish Church near Falkirk, said community spirit, hope and faith was strong in communities she visited in south Dhading.
"It was incredibly humbling and we learned so much that we can take back home and apply to our own lives," she added.
"I am so glad to have been part of it."
Rev Barbara Ann Sweetin, minister of Old and East Church in Forfar, Angus, said: "We read in the Bible about miracles and for me the United Mission to Nepal is one of them."
The Church of Scotland is one of the founder partners of UMN, which was established in 1954.