Church must be allowed to play a full part in supporting the vulnerable
Governments, councils and charities must take the Church of Scotland more seriously and work with it in partnership to tackle some of society's most challenging problems, a former Moderator has said.
Very Rev Dr Derek Browning said it was "beyond wearying" to hear that some people within civic society have the impression that the denomination is difficult to work with because they "don't do God".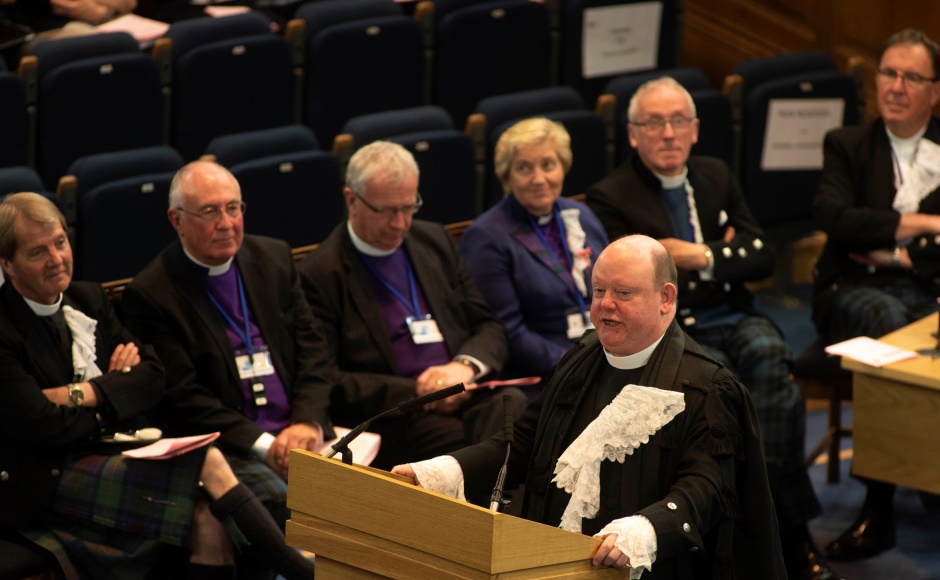 He said the Kirk was also in the business of "doing humanity".
Dr Browning made the remarks in his address as retiring Moderator of the General Assembly, which opened in Edinburgh this morning.
First Minister Nicola Sturgeon and the civic leaders of Scotland's local authorities were in the audience.
Kirk congregations across the UK and overseas work hard to support and welcome some of most vulnerable people in society.
Dr Browning, minister of Morningside Parish Church in Edinburgh said: "The challenge to the lonely and socially isolated is one recognised by governments north and south of the border.
"I welcome that the Scottish Government is reviewing the Connected Scotland consultation.
"The hidden hurt of loneliness and isolation in our world has many answers.
"I believe it is essential for national and local government to realise that in the faith communities, and the Church of Scotland in particular, resources, expertise and experience already exist."
Beyond wearying
Dr Browning said the Church's nationwide parish structure was unrivalled and it had been building bridges for centuries.
"The Go for it Fund and our Priority Area work touches urban and rural areas and CrossReach and its social care is sadly one of the Church's best-kept secrets," he added.
"It is beyond wearying to be given the impression that parts of civic Scotland find it difficult to work with us because they 'don't do God.'
"It's not simply about 'doing God – its about 'doing humanity.
"The Church is happy enough to do God, but for goodness sake take us seriously when we ask to work in partnership in our nation and offer to play our part in helping the vulnerable, the forgotten and the poor of our land."
Dr Browning said the Church has much to offer in any partnership.
"We don't demand participation from a place of privilege," he added.
"We demand to share in the privilege of serving others alongside national and local government and other NGOs, and not be excluded because faith is part of our profile."
Striving
Dr Browning said the Church of Scotland was reforming, not dying.
"Despite what some commentators say, the Church's obituary is premature," he added.
"With peace in our hearts we can still speak of God in a secular age and be listened to.
"With peace in our hearts we can take principled political and social stands and be respected not because we are perfect, but because we are still striving and offering to walk with others.
"With peace in our hearts in an age of celebrity we can show humility, that forgotten virtue, that has a power and presence of its own."