Church minibus dedicated to donor's daughters
Published on 6 September 2018
An Angus church has taken delivery of a brand new minibus gifted by a woman in memory of her two daughters.
Rev Barbara Ann Sweetin, minister of East and Old Parish Church in Forfar, said members were "overwhelmed" by Eleanor Stewart's generosity.
She donated £50,000 to buy and insure the red, wheelchair assessable vehicle which will be primarily used to ferry people to and from church and take them on outings.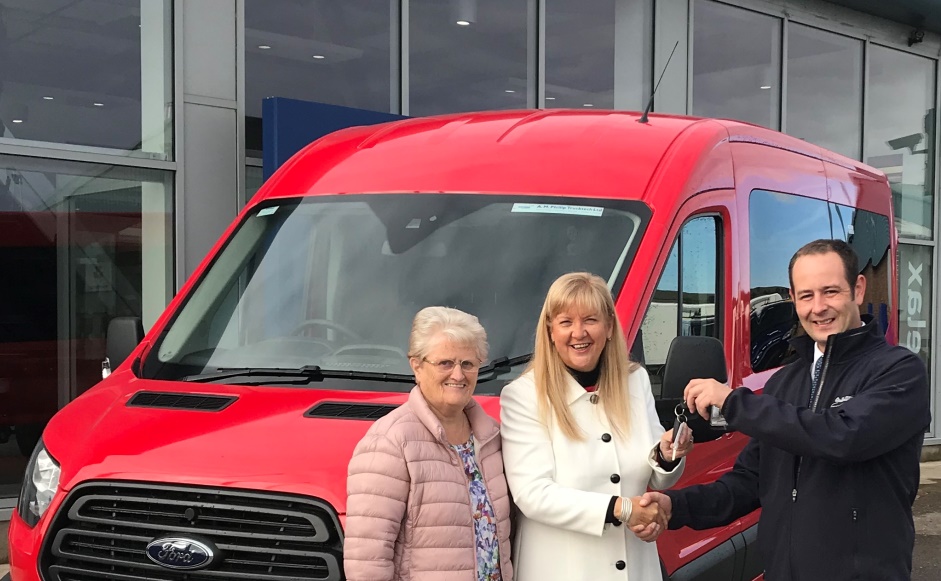 The Ford Transit minibus has been named for the widow's daughters Hazel, who died in December 2017, and Joyce who passed away when she was an infant.
The 15-seat vehicle will be formally dedicated in memory of the sisters at the church's morning worship service on Sunday.
Mrs Sweetin said: "We are overwhelmed by Eleanor's generosity especially since we are still fundraising for Phase 2 of our building refurbishment which she also contributes to.
"She is a member of the church and heard through the grapevine that our now old minibus, which had no access for wheelchairs, had gaps at the windows and the sliding door was hard to close.
"Eleanor wanted to do something in memory of Hazel, who had long standing health problems and lived with her until her death last December, because she loved coming to church where she was welcomed and given a lot of support."
Community use
Mrs Sweetin said the new vehicle, supplied by AM Phillip Trucktech in Forfar, was a blessing.
"The bus will be used to bring elderly people to church, to lunch clubs and dementia clubs and to take people on the many outings that we organise throughout the year," she added.
"It will also be enjoyed by members of the church walking group.
"Not only can we take wheelchairs now but the lift at the back means many people will not need to climb a steep entrance step.
"We will also loan out the bus to other charities and individuals in the community for a donation."
Growth
Mrs Sweetin said East and Old Parish Church had a growing reputation as a "giving church", which seeks to benefit the entire community of Forfar.
"The Holy Spirit is alive and thriving in the church and members say they feel is growing from strength to strength."