Breakfast will update business leaders on efforts to end homelessness
Published on 24 April 2018
A group of churches have invited business leaders to a special breakfast event in Edinburgh where they will hear about work underway to end homelessness and rough sleeping.
The Very Rev Dr Russell Barr, former moderator of the General Assembly of the Church of Scotland and long-term campaigner to end homelessness and rough sleeping, will address a business briefing on the issue this Wednesday 25 April hosted by The Together Churches (St Andrew's and St George's West, St Cuthbert's and St John's Episcopal Church in Edinburgh.)
Rev Tony Bryer, a former workplace chaplain for the city centre churches, and Convener of the Together Churches Homelessness Group, explained:
"The Business Breakfast was organised in response to concerns amongst city centre businesses about rough sleeping and begging.
"As a group we coordinate fundraising in the three churches for homelessness charities in Edinburgh. We also have teams which help to cater at the Bethany Night Shelter for the homeless.
"Following the fundraising success of Sleep in the Park in December and more recently the support from local businesses given to St John's when the church was open during severe winter weather, we thought it would be worthwhile to hold an event that drew together people from the business sector, charities and Essential Edinburgh to inform and explore the issues.
"Knowing that Russell was closely involved with the Scottish Government's response to the issue, he seemed just the right person to be our keynote speaker.
"So we are delighted to hear directly from him about the progress that has been made to address the challenges of rough sleeping and the use of temporary accommodation."
Scottish government accepted 20 recommendations
Dr Barr was invited by the First Minister to join the Homelessness and Rough Sleeping Action Group which was established by the Scottish Government on October 5 2017. The group reports to the minister for housing and local government, Kevin Stewart MSP.
During his moderatorial year (2016-17), Dr Barr frequently highlighted Scotland's problems of homelessness describing it as a 'damning indictment' on modern society. At best Scotland was managing, the problem, he concluded, but seemed to have lost the vision that it could be eradicated.
This week at the business breakfast he will update attendees on the progress that has been made by the Homelessness and Rough Sleeping Action Group's (HARSAG) panel of experts on the issue including recommended actions to prevent rough sleeping; empower frontline services; improve access to housing; strengthen legislation and develop a measurement framework.
The Scottish Government has accepted some 20 recommendations 'in principle' and will work with HARSAG and the Homelessness Prevention and Strategy Group (HPSG) to implement them.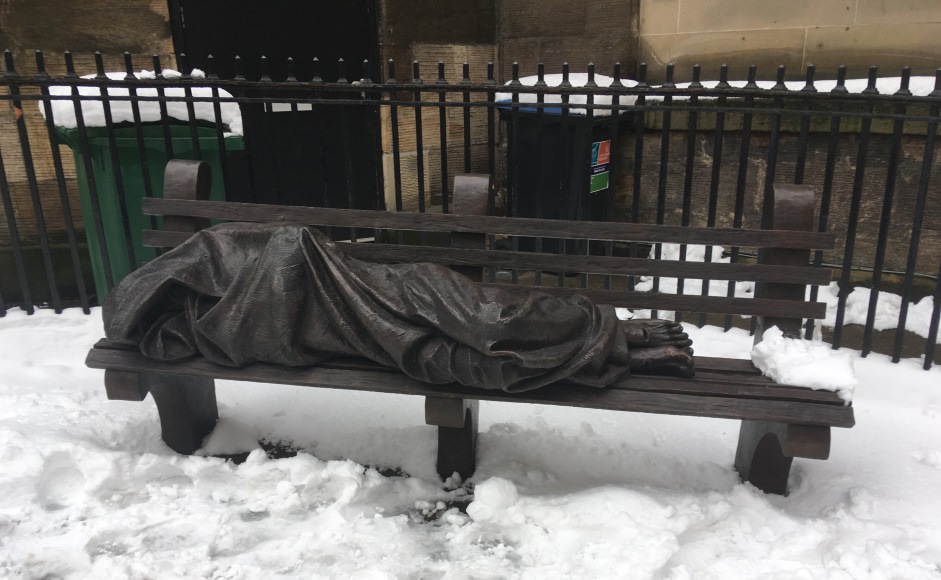 Homelessness no better than 25 years ago
Dr Barr, minister of Cramond Kirk since 1993 and founder of the homeless charity Fresh Start, which supports homeless people setting up their own home, said:
"Despite some good efforts to address the scandal of homelessness in Scotland over recent years, the sad fact remains that the numbers of people being assessed as homeless in Scotland today is little different from what it was 25 years ago.
"And included in that figure of 28,000 people homeless or threatened with homelessness are some 6000 children and young people.
"That's unacceptable - a stain on Scotland's national life - so I was pleased and relieved when last autumn the First Minister, Nicola Sturgeon, announced the establishment of a working group to advise the Scottish Government on questions of rough sleeping, temporary accommodation and homelessness.
"I am looking forward to being able to update Wednesday's breakfast meeting on the progress to date - the fact that all our recommendations on rough sleeping have been approved and funded by the Scottish Government - and the progress being made to deal with the problems of temporary accommodation.
"There is nothing inevitable about homelessness and if we can move towards a rapid re-housing approach then I am confident we will be able to transform the experience of thousands of people in Scotland and improve the life chances of many of our children and young people."
The business breakfast event takes place between 8am and 9am on Wednesday 25 April at the new Cornerstone Centre at St John's, Princes Street.
There will be an opportunity for those attending to meet representatives from homeless agencies working in Scotland and to find out how the business sector can be involved in helping to tackle the issue.