Asylum seeker brothers a "credit" to Scotland - First Minister
Published on 13 September 2018
First Minister Nicola Sturgeon has backed a campaign to stop two asylum seeker brothers from being deported from Scotland.
She described Somer and Areeb Umeed Bakhsh, who are 15 and 13 respectively, as a "credit" to the country.
Speaking during First Minister's Questions in the Scottish Parliament today, Ms Sturgeon said her government would examine what could be done to ensure the boys are not deported to Pakistan.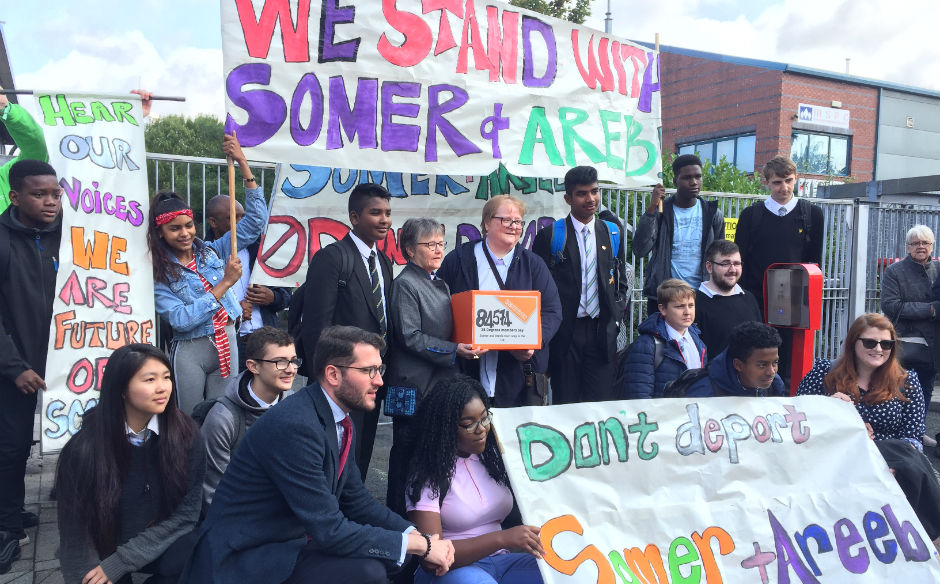 Ms Sturgeon indicated her backing for the Church of Scotland's campaign after Maryhill and Springburn MSP Bob Doris raised the Christian family's case.
The brothers fear they could be murdered by Islamic extremists if they are removed from their home in Glasgow and sent back to the country of their birth where blasphemy carries the death penalty.
A petition calling on the Home Office not to deport the boys started by Rev Linda Pollock, minister of the Possilpark Parish Church in Glasgow, has been signed by more than 85,000 people to date.
It was handed over to the UK Government's Immigration Enforcement Reporting Centre in Glasgow two weeks ago.
Credit to Scotland
Ms Sturgeon offered the family her support and best wishes.
"I am really heartened to hear how the community have rallied round the Bakhsh family and about the response to the Rev Pollock's petition," she said.
"I would also like to congratulate Somer and Areeb on what they have achieved in very, very difficult circumstances.
"They are an absolute credit to their parents, their school, their community and indeed they are a credit to Scotland.
"The Scottish Government will continue to look at what appropriate representations we can make."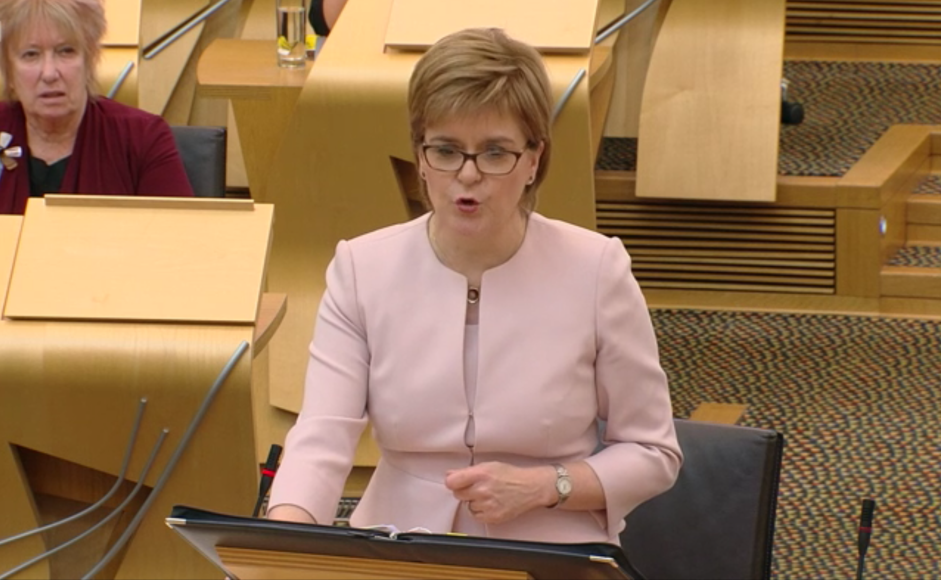 Ms Sturgeon said there were "deficiencies" within the UK Government's asylum and immigration regime.
"The Scottish Government believes very strongly that asylum seekers must be treated humanely and fairly with their dignity and rights upheld at every stage of the process," she added.
"The Home Office has a duty to ensure that full account is taken of all the individual circumstances in every case and this is particularly important when applications are refused.
"And absolutely imperative when children are involved."
The brothers and their parents, Maqsood and Parveen, fled to Glasgow in 2012 from Faisalabad in Pakistan after their father was subjected to death threats from Islamic extremists due to his Christian faith.
Labour Party leader Jeremy Corbyn met the two boys at their church in Possilpark last month and described them as "wonderful" with so much to offer their adopted home of Scotland.
He urged Home Secretary Sajid Javid to recognise the human value of people who have come to this country to "escape oppression".
The catalyst for the family's move to Scotland was the murder of two Christians who were gunned down outside a court, while in police custody, in Faisalabad in July 2010.
Pastor Rashid Emmanuel, 32, and Sajid, 24, were accused of writing a pamphlet critical of the Prophet Muhammad that flouted Pakistan's controversial blasphemy law.
Christians have been repeatedly targeted in a string of deadly terrorist attacks claimed by Islamic State in Iraq and the Levant in recent years.
The men were good friends of Mr Bakhsh and he believes Islamic extremists would kill him and his family if they had the chance.
The UK Government has repeatedly rejected the family's plea for asylum, largely because officials do not believe they would be at risk in Pakistan.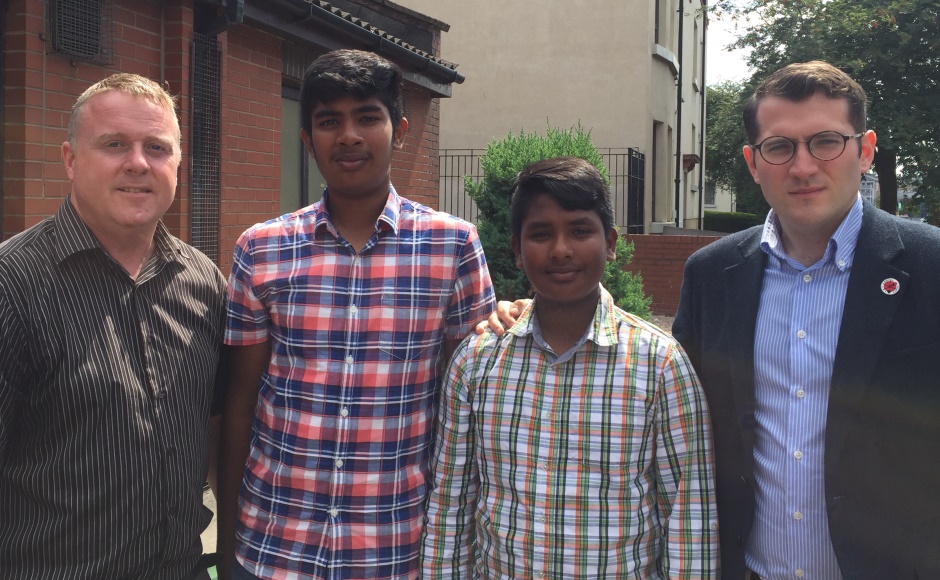 Right Rev Susan Brown, Moderator of the General Assembly of the Church of Scotland, welcomed Ms Sturgeon's remarks.
She added that she hoped that the Home Secretary would have the decency, wisdom and compassion to provide the boys with permanent sanctuary in the UK.
Mrs Brown said: "The story of this family has touched the hearts of tens of thousands of people who want those in authority to know how upset they are that they are being treated so dispassionately.
"If more than 85,000 people are willing to welcome them, why on earth can't the authorities?"
Unbearable
Despite the cloud of uncertainty and hardship facing the family, which means Maqsood and Parveen have been unable to work and earn money, Somer got six As and a B in his National 5 exams recently.
The aspiring astrophysicist is a pupil at Springburn Academy in Glasgow.
Ms Pollock said: "It is very heartening that so many people agree that it would be an utter travesty if two naturalised Scottish boys who have so much to give to our country were deported to a foreign land that is alien to them.
"We ought to be nurturing these youngsters, who still have so much to offer our community, not placing them in an unbearable situation where they are publicly begging for life.
"It feels as if Somer and Areeb are being treated not as boys, alive with hopes and dreams, but as numbers on a list."
Mr Doris said he was delighted that the First Minister promised to take up the case with the UK Government.
"It was heartening to hear Nicola Sturgeon show her support for the family and that she values the family's contribution to Scotland," he added.
"Its an unfortunate reality, however, that the Scottish Government has no direct power on these matters.
"However, I very much hope that the Home Office I'll listen carefully to the representations the First Minister will make to them.
"Momentum and support continues to build for the Bakhsh family to stay in Scotland and continue to contribute to their community.
"I very much hope that their future can be secured sooner rather than later".
The family are also being supported by Paul Sweeney, MP for Glasgow North East, who has raised their case with the UK Government.
Church of Scotland congregations the length and breadth of the country are actively working to support asylum seekers and refugees.
The Kirk is a leading member of theScottish Faiths Action for Refugees group.