Artist-in-Residence's Last Supper painting showcased in special edition book
Published on 29 March 2018
A special edition of the Gospel of St Luke will feature artworks by Iain Campbell, Artist-in-Residence at St. George's Tron Church in Glasgow.
Known professionally as I.D Campbell, he painted the spectacular Our Last Supper in 2015, which depicted homeless men in place of Jesus and his disciples in The Last Supper. The painting's subjects were guests of Glasgow City Mission, a charity that works with vulnerable and disadvantaged people in Glasgow and has a close relationship with the congregation at St George's Tron.
Now, Our Last Supper is being featured as the cover image of The Portrait Gospel, a special edition book of Luke's Gospel which is being published by Scottish Bible Society. The book also contains 13 brand new black and white portraits of other guests of Glasgow City Mission.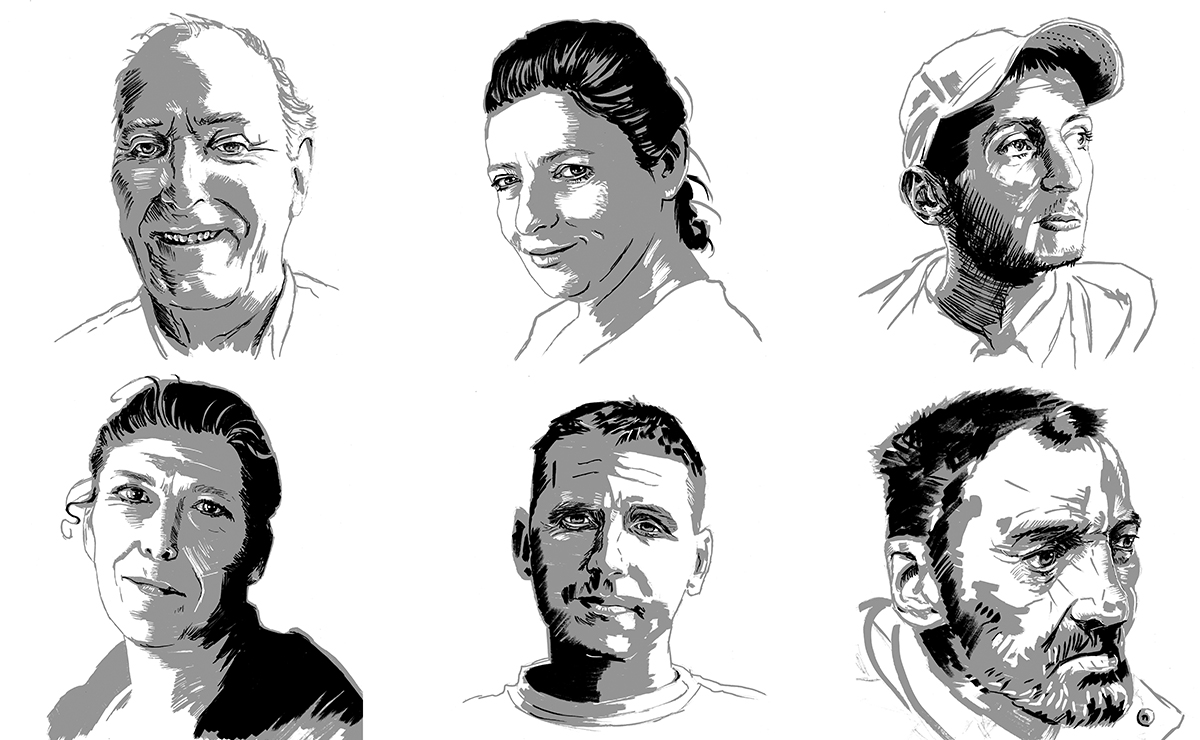 Elaine Duncan, Chief Executive of the Scottish Bible Society, says it was an easy decision to publish the book.
"One of the hallmarks of Luke's gospel is that he mentions so many encounters Jesus had with folk who were regarded as on the edge or margins of their community.The collaboration between Iain Campbell, the church and Glasgow City Mission expresses something of Luke's portrayal of Jesus.
"The Scottish Bible Society have been privileged to be part of this creative and imaginative project in the heart of Scotland's largest city. As you read the Portrait Gospel you will have a sense of encountering Jesus in urban Scotland."
Faith's depiction in visual art
Speaking of how his role in the Church has evolved and the way in which his faith inspires his work, Iain says:
"I started painting Our Last Supper when The Wild Olive Tree cafe opened in St George's Tron Church of Scotland, in September 2015. We set up a pilot project with me working in the church as artist-in-residence. At that time, we didn't know if the role would continue any further; The Church of Scotland didn't have a strong tradition of visual art, so it was a bit unusual.
" I thought that if I was only going to get one shot at this, I wanted to express what is important to me about my faith."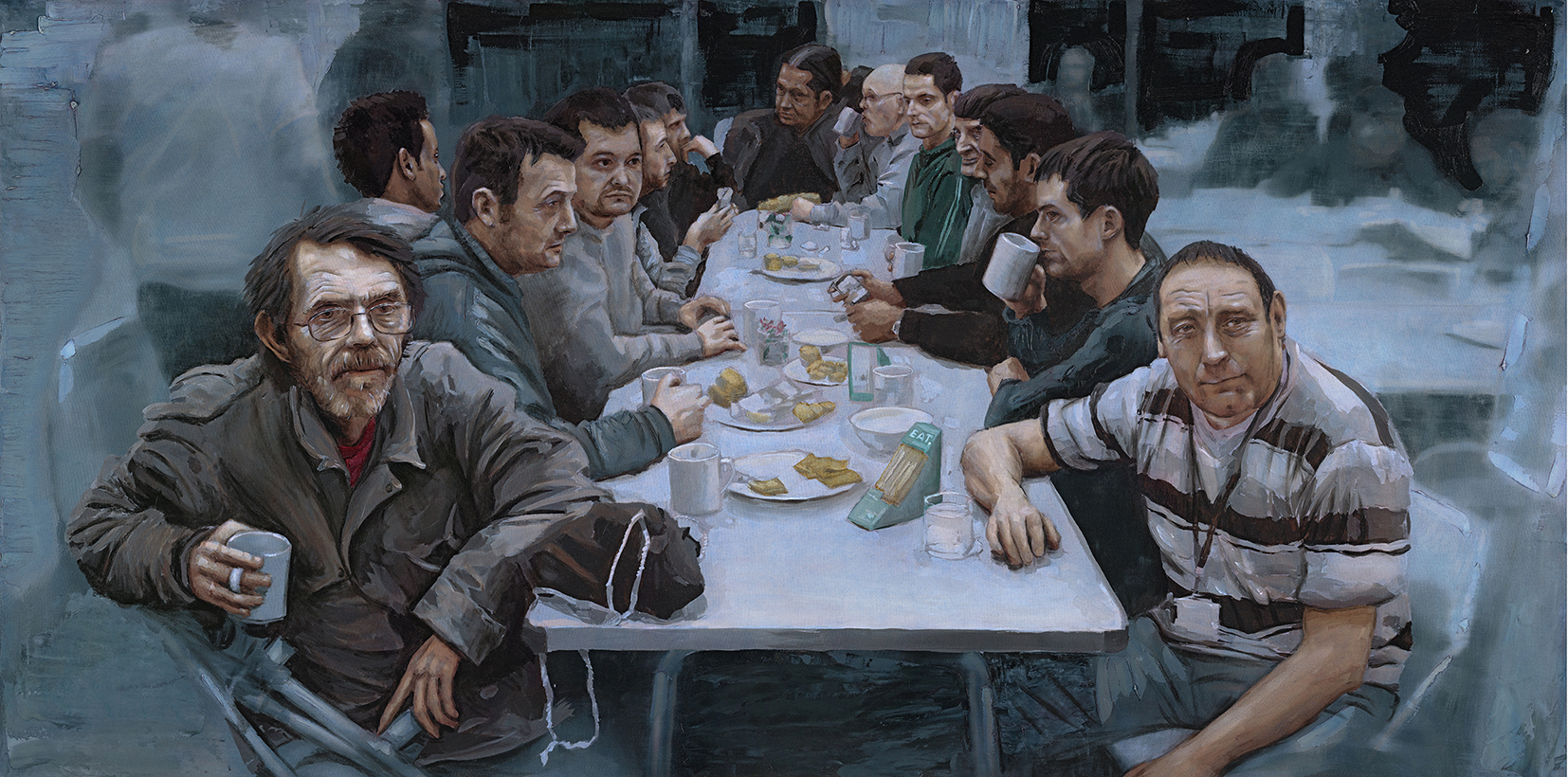 Of the decision to originally choose The Last Supper as his subject matter, Iain says:
"The Last Supper is, for me, the central image of Christianity. I think it's significant that this was the way that Jesus asked to be remembered – round a table, with food and friends. St George's Tron Church of Scotland has a strong partnership with Glasgow City Mission, and all the models for the painting are guests of the Mission.
"The title of Our Last Supper came when I was taking the source photographs to work from. Explaining to one of the models that this would be a Last Supper painting, he replied, 'I suppose, for anyone of us here being fed by the Mission, this might be our last supper.'
"The most common question I was asked was "which one is Jesus?". I deliberately didn't paint an obvious looking Jesus. I think it's really interesting when we read in the Gospels that when Jesus was arrested, they had to get Judas to kiss him on the cheek in order to point out which one he was.
"Clearly, Jesus just looked like everyone else in the crowd.
"Also, the whole time I was painting this picture, I reflected on Jesus' teaching that whenever we demonstrate love and kindness for the poorest and most neglected in society, it's as if they were Jesus. Any one of the people in the painting could easily be Jesus.
"The Gospel of Luke is so incredibly rich, written for people who weren't familiar with religion, telling us about Jesus' astonishing birth, his three-year mission to tell people the good news about the Kingdom of God (which he specifically described as "good news for the poor") and his death and resurrection. I think it's really important to read it for yourself, so you can understand what Christianity is supposed to be like."
Bringing together community spirit
In Iain's role, however, it is not just about the physical act of painting. Much of what he does involves engaging with local people on all manner of things from his artistic style to deeper discussions on faith.
"As well as creating compelling images, an important part of what I do is having conversations with folks who come in to use the cafe while I'm painting. People are really curious about what I do; it's rare to see an artist at work, so lots of questions come up about art, faith, the models I'm painting, and the setting that they are in.
"The process is both inspiring and challenging, reading and rereading the Bible afresh, rooting myself in this church-and-cafe community in the heart of the city, and stretching myself creatively to match the techniques I employ with the themes I am working with."
Copies of The Portrait Gospel will be available to purchase at St George's Tron Church on Buchanan Street in Glasgow or by visiting the Scottish Bible Society website.