Aberdeen ministers hold Beer and Carols event in pub
Published on 20 December 2018
Two Aberdeen church leaders have teamed up with the boss of their local pub to host a "Beer and Carols" night for the first time.
Rev Scott Rennie of Queen's Cross Parish Church and Rev Dr Robert Smith, minister of Rubislaw Parish Church, hope that the event at the Dutch Mill Hotel on Sunday evening will help get people into the Christmas spirit.
Around 100 people are expected to attend the concert in the main bar and will sing classic carols including Silent Night, Deck the Halls and Hark the Herald Angels Sing.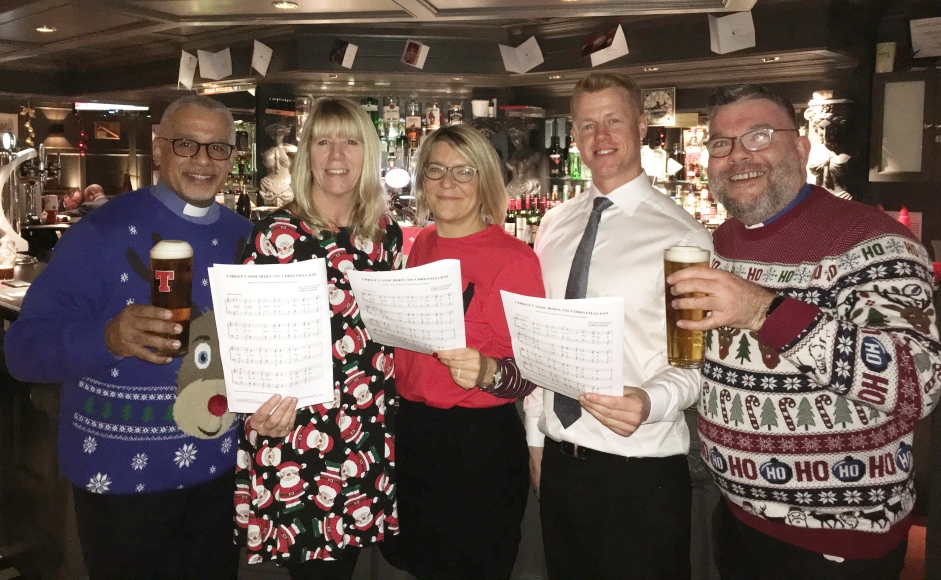 The Christmas story of how Jesus, the Son of God, came into the world will be shared with punters.
Mr Rennie, a Dons fan, said pub bosses were very enthusiastic and revealed that many people had booked tables for an evening meal so they could be there.
"Robert and I are usually at the Dutcher on a Sunday night to watch football but decided it would be great to lead Christmas celebrations in the heart of the local community at their local on Queen's Road," he added.
"We meet a lot of our neighbours there and we thought 'why don't we get out of our churches and meet people here?'".
Foodbank
Mr Rennie admitted that he and Dr Smith were a bit nervous about asking Richard Nicol, the manager at The Dutch Mill Hotel, about the idea and were "worried that he might think we'd gone mad".
"But he thought it was a great idea and is enthusiastically laying on free mince pies for the occasion," added the minister.
"He has been really encouraging about the event and I know he has had lots of interest from the public."
Mr Rennie said customers would be invited to contribute to a collection for Aberdeen foodbank, Instant Neighbour, which he said is a "great local charity".
"Robert and I are just glad to take the Christmas story out into our community, to give people an excuse to come together and celebrate it," he added.
Beer and Carols is being held at 6.30pm.