The Big Footprint
Hold your own Big Footprint event on Holy Saturday to celebrate the Church in your local community.
The Big Footprint event on Saturday 20 April is a chance for the Church of Scotland to show itself as a visible and active presence within local communities by walking together.
The Guild, along with Girls' Brigade Scotland and Boys' Brigade, are encouraging church groups to get involved by holding their own walks.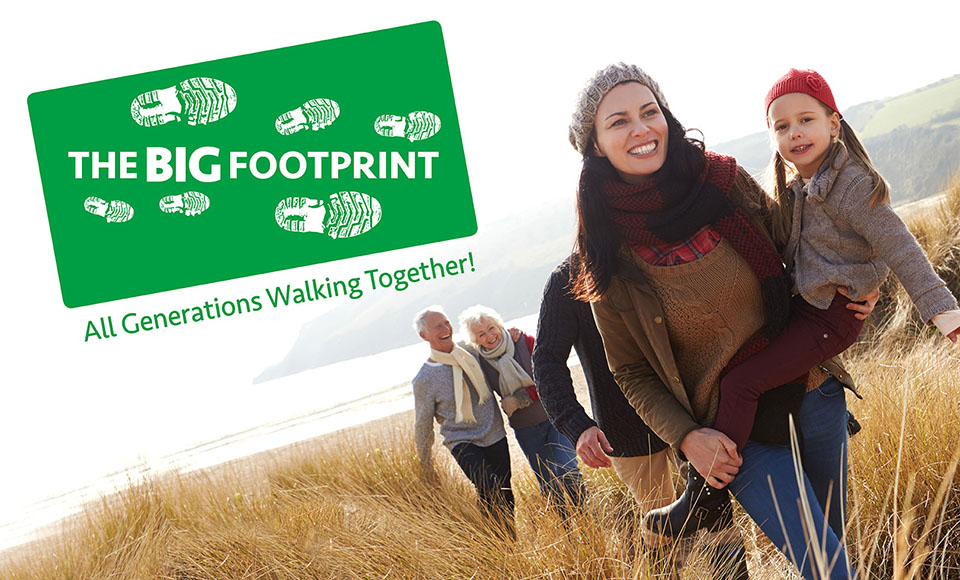 Most events will take place on Holy Saturday but you can choose a different date if this does not suit your group.
There are no rules on how long your community walk or journey should be – it could be a mile, or it might be longer. What is important is the act of coming together, going out in to a community and inviting others to join you on the journey.
Let us know if you are taking part in the Big Footprint by registering on our Eventbrite page.
If you have any questions about the Big Footprint, please have a read of our information sheet with FAQs.
Main Big Footprint events
You can take part in one of our main events in Glasgow, Edinburgh, and Dundee, on 20 April 2019. Please note: the Aberdeen event will take place on 26 May 2019.
The walks will begin at the following times:
Glasgow 10.30am

Starting at the Cathedral, going down the High Street before crossing the river over and back on the four bridges to the west of the High Court. This brings us back to Jamaica Street from where we walk to St Enoch Square then Buchanan Street, St Vincent Street to St Columba Church of Scotland near Charing Cross where refreshments will be served. The walk is 4.3km / 2.6 miles.

Dundee 10.30am

Location to be confirmed

Edinburgh 2.30pm

Starting at Polwarth Church the walk will go along the canal footway as far as the Slateford viaduct before returning to Polwarth where refreshments will be served. The walk is approx. 4km / 2.2 miles.

Aberdeen 2.30pm (Sunday 26 May)

Starting at Midstocket Church. It will be a gentle walk suitable for folk of all ages and abilities.
These will be gentle walks in urban areas so people should wear appropriate footwear and a rain jacket (just in case). Food will be provided at the end of each walk.
Walking Together cards
Our Walking Together cards can aid conversation and reflection with people of different generations. The cards can be used in any order and in any way you like.
Download the Walking Together leader's guide.
You can also order sets of cards from the following organisations:
Church of Scotland Guild: guild@churchofscotland.org.uk
The Boys' Brigade: scottishhq@boys-brigade.org.uk
Girls' Brigade Scotland: enquiries@girls-brigade-scotland.org.uk