Lin Macmillan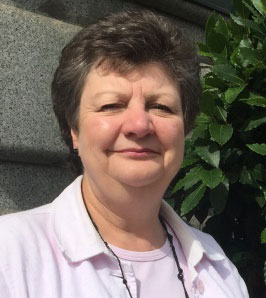 Lin is Vice Chair of the Pension Fund Trustees.
She was born in Glasgow in 1955 and has lived variously in Glasgow, Dundee, Leeds, Aberdeen, Lincolnshire and Leith. She now lives in Bo'ness.
After leaving school, she did a secretarial course, and worked for a year in the Department of Earth Sciences at Leeds University. She then decided to go to University as a student and did an MA at Aberdeen. Following graduation, she worked firstly for an oil service company in Aberdeen, and then for ten and a half years in retail management with British Home Stores, in Aberdeen and Lincoln. During this time she was also involved in opening branches in Oman and Dubai.
In 1990 Lin left retail and went to be a Primary Care Manager for a group of GPs in Newark in Nottinghamshire, where she stayed until 2003, when she joined the Church of Scotland as the Secretary of the Housing and Loan Fund. Lin retired from the Church in July 2019 after 16 years.
In 2016 Lin spearheaded a campaign to secure the pensions of former BHS staff following the closure of the company.
Lin enjoys travelling, singing in a choir, classical music and cooking.