COP26 and the Church of Scotland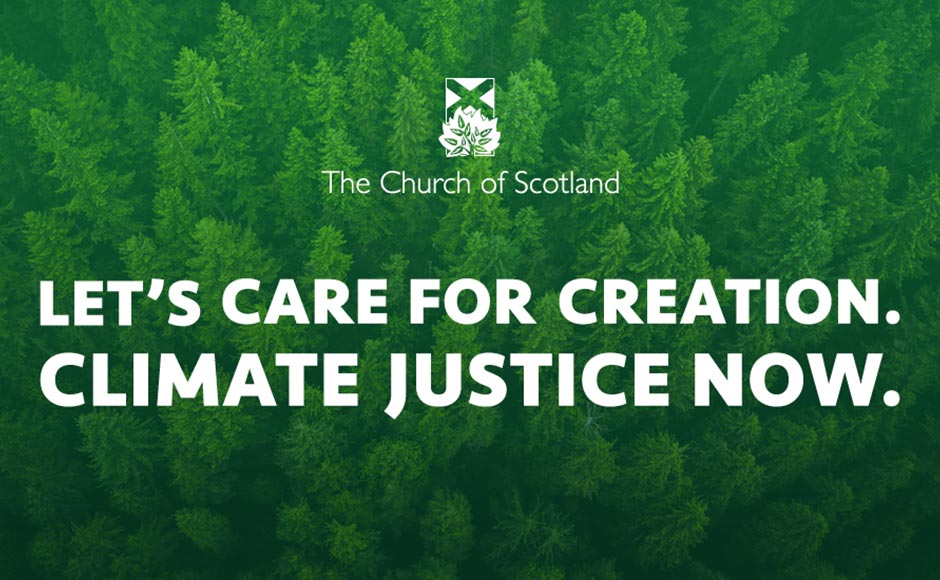 How the Church of Scotland is getting involved in the COP26 Climate Change Conference in Glasgow.
Glasgow is currently hosting COP26 – the United Nations Climate Change Conference.
This is the biggest international summit ever held in the UK, with delegates, diplomats and heads of state and government coming from around the globe – as well as scientists, campaigners, activists, businesses, human rights organisations and development NGOs.
COP26 is the most important gathering to discuss the climate emergency since the 2015 Paris Agreement. This is an important opportunity for countries to set out plans as to how to limit global warming to 1.5 degrees.
With COP26 taking place here in Scotland, the Church is especially interested in what is happening and engaging with the opportunities to share our belief in the importance of safeguarding the integrity of God's creation.
The Church is supporting strands of work around hospitality, worship and advocacy. We are also developing our own plans to move to be a Net Zero carbon emissions organisation, with the target of reaching this by 2030 set by the General Assembly.
For churches that wish to participate, we have designed images to use on social media, as well as posters and a banner. These are available to download below.
Video: Why is COP26 important?
Hospitality
The world is coming to Glasgow in a way we have never seen before. The city, and Glasgow's churches, have been preparing for months. In particular, we have been promoting the Human Hotel, a project that allows people with a spare room in Glasgow (or an hour's travel of the COP) to offer accommodation to climate justice campaigners from around the world.
Worship
We are working with a number of congregations and organisations to develop opportunities for prayer, worship and developing a spiritual life in connection with COP26 and the climate crisis.
We are members of Glasgow Churches Together COP26 Co-ordinating Group, and are promoting and encouraging congregations across the Church of Scotland to think and pray about climate change in the run up to COP26. Climate Sunday from Churches Together in Britain and Ireland has resources and ideas, and in our Weekly Worship resources for Creation Time (Sept-Oct) we provide additional material prepared by Eco-Congregation Scotland.
A number of pilgrim groups are walking to Glasgow in time for the COP26, and many have opportunities for visitors to join them for a particular leg of the route.
Advocacy
With Christians around the world we join with the voices of those who are suffering most because of global heating, sea-level rise and more extreme weather. Often it is those who contributed least to carbon emissions who are harmed the most, and are least able to adapt or mitigate the changes that are happening. This is an issue of justice, and so our concern for the integrity of creation is matched by a concern for fairness for fellow human beings around the world.
We are working with ecumenical partners to call on governments to:
Show courageous leadership, putting the wellbeing of future generations and the planet above short-term considerations
Ensure that the voices of people and communities on the climate frontline are heard and respected
Work together in a co-ordinated and joined-up way through agreements at the COP
Make more ambitious commitments to carbon emissions reductions to limit warming to no more than 1.5 degrees above pre-industrial levels
Stop subsidising fossil fuel production
Establish new sources of financing for climate related loss and damage to help people already suffering the consequences. This will require richer countries putting aside funds to assist poorer countries.
Social Media
We have specially designed Facebook page covers and art for Facebook events and posts available for download below.
Facebook Page Covers
Facebook Events
Facebook Posts
Banner and Posters
Below are a banner and two posters which we have designed for COP26. We recommend having these printed by a professional printing company. The print specification for your local supplier is as follows:
Dimensions: 1500mm x 600
Finishing: eyelets (corners and centre top/bottom
Colour: full colour, single sided
Materials: 500gsm PVC or mesh
Remember:
Allow for time to have this produced
Think about how this can have a life beyond COP26
PVC banners can be recycled by specialist suppliers
Banner
Posters