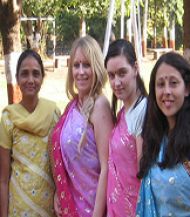 Whilst there is a great deal of talk about 'the problem of poverty' the real problem is one of wealth and our inability to share justly. In this area of work, the Priority Areas Committee supports a range of initiatives which help people struggling against poverty to be heard and organise themselves. It also encourages the sharing of knowledge and resources between wealthy and poor parishes.
Anti poverty networks
Priority Areas continues to work with a wide range of partners, including the Poverty Alliance, the Scottish Churches Parliamentary Office and the Church and Society Council, to ensure that people in poverty do not suffer unjustly, particularly in the light of extensive public sector cuts.

Poverty Truth Commission
Building of the success of The Poverty Truth Commission during its first two years, a new group of Commissioners was recruited in 2013 bringing together some of Scotland's key civic leaders and people at the sharp end of poverty. They have worked to challenge poverty and to encourage effective ways of working and to bring about change. The Commission continues to operate with the core principle that the direct involvement of people who experience poverty must be central to any plans to eradicate it – 'Nothing About Us Without Us is For Us.'
Priority Areas Forum
The Priority Areas Forum is a regular gathering of representatives from the different councils of the church to share our joint work in the poorest parts of Scotland.
Together for a Change
Together for a Change brings together people, and communities, who have a direct experience of poverty in Scotland with similar people, and communities, in other parts of the world. Over the last six years it has helped to support four main exchange programmes: Ruchazie (Glasgow) and Malawi; Royston (Glasgow) and the Gambia; Greenock and Zambia; and Drumchapel and Kenya. In each of these communities it has brought about real and lasting change. A new link is now being established between the East Jerusalem and communities in the east end of Glasgow.
Together for A Change resource pack

Together for A Change - The Story

Twinning
Twinning brings together churches in a relationship marked by a genuine friendship, solidarity and a genuine desire to accompany each other's faith journeys. Currently there are 14 twins involving 28 congregations in Scotland. If you are interested in twinning please contact our office.
A number of resources are available explaining Twinning: