Chaplains
Some Church of Scotland ministers have an important role serving as chaplains in non-parish settings. Chaplains provide spiritual comfort and support to men and women in challenging and demanding situations.
The chaplain has to be a listener, an advisor, a counsellor, an administrator, a befriender, a leader, an enabler, an organiser of acts of worship, and work within a lively and largely youthful community of all faiths and none. Such work demands a high degree of commitment, ability and sheer hard work, but it is important that the Church maintains its presence and provides the opportunity to experience God's love and care in many key areas of Scottish life.
Healthcare
Chaplains provide spiritual care and support to patients, relatives and staff in hospitals and other healthcare settings, and act as a resource in ethical, religious, pastoral and ecclesiastical matters. Good relationships between the Church and National Health Service Boards and the development of training for chaplains have been increasingly important in recent times as the demand for chaplaincy grows. For more information, visit www.nes.scot.nhs.uk/spiritualcare/
Universities
University chaplains are involved in caring for the whole community including students, teachers, administrators and ancillary staff.They need to be easily recognisable amongst the university population and be involved in a wide variety of situations, whether religious or not. Many of the people with whom they are in touch have little or no contact with the institutional Church. Chaplains need to be infinitely resourceful and extremely sensitive and are often needed by students in times of crisis, such as illness, or if they are in financial or emotional difficulty.
Prison
The Scottish Prison Service (SPS), in co-operation with the churches in Scotland, appoints ministers, priests and others to be chaplains in prisons, providing pastoral care for the whole of the prison population and enabling them to practise their religion. Most chaplains come from parishes close to the prison and are regarded as a strong link between the communities outside and the community inside.

Work places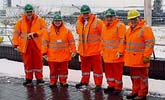 The opportunities for chaplaincy in Scotland are immense and indeed in the present climate of uncertainty there has never been greater need for the churches to be fully engaged with all people wherever they are living or working. The Church deploys a small team of organisers and chaplains providing spiritual support in work places across Scotland.
Historically these chaplains have been ordained clergy of the main churches, but in recent years there has been the welcome advent of 'lay' chaplains. You can find out more about chaplains' roles in the workplace at www.wpcscotland.co.uk/index.html.
Armed Forces chaplains
All chaplains in the Armed Forces are fully ordained into the church of their denomination before they can be commissioned into the Chaplain's Department. Chaplains wear the uniform of the Armed Forces to which they are attached, but do not carry arms. They are non-combatant but accompany their units in war and on operations around the world providing the service of the Church in difficult situations. You can find out more about chaplaincy in the forces and recruitment.